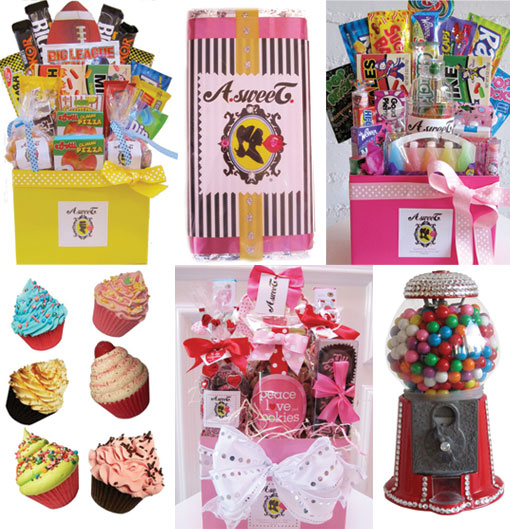 If you love SWEETS & FASHION as much as us at The Blonde & The Brunette, you will LOVE this new company a friend of mine recently introduced me to.
"Life Is Not Complete Without A.sweeT!"– With a slogan like this, how could you not love it!
About A.sweeT, taken from an excerpt on the companies website:
"Andrea Trujillo opened the doors to A.sweeT. on October 6th, 2009. On that day, Andrea introduced to the world a one-of-a-kind concept, mixing both candy & fashion – her two (as well as The Blonde & The Brunettes) favorite indulgences – together, in one boutique. Andrea's mission was to provide a happy place for people to come and treat themselves to something that made them feel good, whether it be a piece of candy, piece of jewelry, or a piece of clothing."
" To ensure such quality, the boutique offers candy fanatics over 90 bins of bulk candy – everything from traditional items like gummy bears to more unique items like chocolate covered potato chips (yes, that's right)- in addition to a range of retro candy (remember Chuckles?), novelty candy (Gummy Bacon anyone?), and gourmet candy (rich handcrafted truffles. yum.); while also offering fashionistas sweet style fixes (sans the sugar & the calories, of course!) on designer duds & accessories. Custom gift baskets are also available if you'd like to show a special someone that your heart is sweet."
Not only are the clothing, accessories, beauty supplies and novelty items in the store adorable as well as affordable, the gift baskets are absolutely to-die-for! Not to mention, Andrea has gone a step further and created a unique one for each and every occasion (even the Superbowl!). So next time your wondering what to get your friend or loved one, think no further! A.sweeT will surely have their mouth watering, their jaw dropping, and will definitely get you a spot on their "favorite people ever" list!
Xx. Jadan