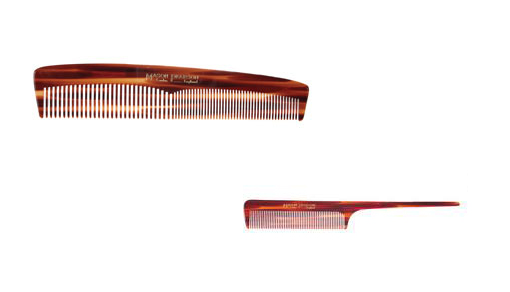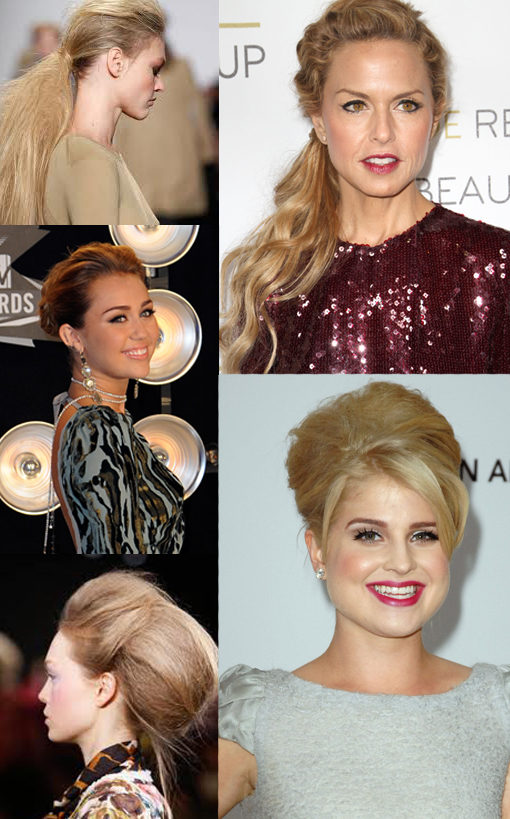 If you think larger hair or "the bump" is out, think again. It is literally making a comeback. Originating with the giant wigs from the 18th century, the towering beehives of the 50's (think Mad Men) and the debatable big hair of the 8O's, it is once again becoming popular for stellar evening events, dramatic daytime pony tails and center stage in numerous fashion editorials. Rachel Zoe, Miley Cyrus and Kelly Osborne are all showcasing a slightly different version.
Angelica at Jose Eber, who is the Queen of the Up Do, gifted me two Mason Pearson styling combs because getting to the salon is not always an option. Handmade from the finest celluloid material in the world, this is the same material used to make designer costume jewelry, hair ornaments, and eye-wear, both combs are the key professional tool used for teasing and other sorts of styling "tricks". The tapered "rat tail" handle is used to pull through wisps, as well as turn flips and curls out from rollers (and I have two rollers at home and pack with me whenever I travel, to add body when I do my hair myself for big events). The styling comb creates a giant, voluminous mane or adds a little body to your hairstyle depending on the look you want.
Because teasing is an essential skill worth perfecting on your own, you've got to have the right tools. Go to Tressence for the lowest prices on these combs at $17.95. Here's two more styling hints from Angelica. Tease 21 times in one place, and from the crown back and start at the roots and move outward. This gives your hair the added support you need to keep it perfect all night long. Make sure you also spray at the root of each section as well as from each side to add height. My go-to hair spray, along with every great celebrity stylist, is Elnett Extra Strong Hold. Go ahead, be a tease.

– NJ, The Brunette