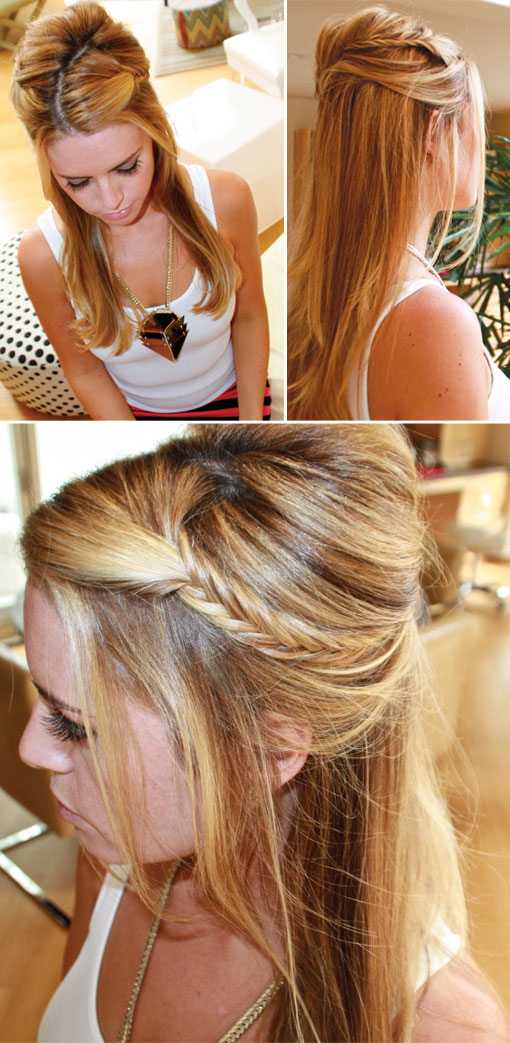 I love accessorizing with braids in my hair because a braid updates any outfit.
My favorite look right now is fishtail braids with a half-up hair style. I took one piece of hair on each side of my side part and did a fishtail braid. I started pinning pieces of my hair back with bobby pins. I like to leave a few pieces in front of the braid out.
Fishtail Braid How-To:
Divide hair into two sections, one for each hand.
To start the fishtail pattern, take a small piece of hair from the outside of one section. Depending on how you feel most comfortable, you can use one hand to hold both sections or use your pinkie.
Take the small piece of hair and cross it over and combine with other section. This should leave you two parts again:
Then you'll pull a small piece of hair from the outside of the section that you didn't take from before, and cross it over and join it with the other section. Once again, this leaves you with just two halves.
Continue repeating the pattern of grabbing a little piece from one side, then crossing and combining to the other side. Keep pulling tight! Once you get into a rhythm, it's hard to stop.
Or, go to the Braid Bar in West Hollywood Salon, Nine Zero One, and have a professional do any braid imaginable. I hope this inspires you to add a braid to any hair style.
– Kathryn, The Blonde