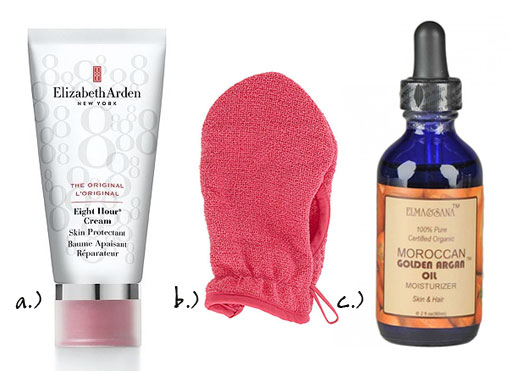 We are in the dry season which is nothing short of crackling dry skin everywhere! The all-day and all-night dryness is not fabulous or fashionable. Our mission? Find a way to soothe chapped lips, hydrate dry hair and scalp and smooth rough elbows and heels. Here are some of our favorite products for the dry winter. What are your favorites?
a.) Elizabeth Arden 8 hour cream $19.70 This fragrance free version of the legendary skincare classic works wonders to moisturize and protect anytime, anyway you choose. Shape brows, revitalize shine, soothe dry hands and smooth cuticles and nails. Makeup artists all over the world know it's also the secret to keeping legs, lips and eyelids shiny, eyebrows in place and cuticles perfectly manicured.
b.) Sephora Squeaky Clean Exfoliating Face and Body Mitt, $12 Scrub off the dead skin everywhere. Face, lips, and body!
c.) Pura D'or Pure & Organic Argan Oil $48 Pura d'or argan oil is produced using the highest standards in the industry. Cold Pressed, unrefined, all natural and unscented. I put argan oil all over my hair before I wash it, at night all over my body, especially hands and feet to nourish the dryness. Its also great to use right after a hot shower for an all over body moisturizer. And you can seal it with your regular body lotion too if you prefer.
-Kathryn, The Blonde