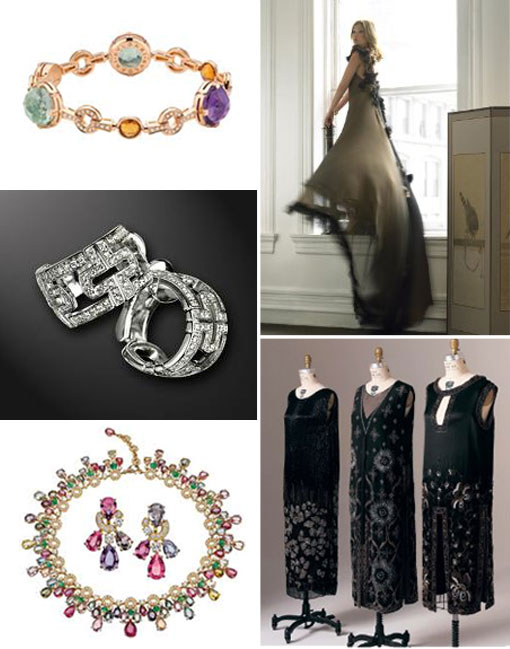 Monday at Bulgari in Beverly Hills, Jennifer Hale, Editorial Director of C Magazine, along with the fabulous designer Monique Lhuiller, and the fashionable foursome of Cameron Silver, Susan Casden, Larissa Sabadash and Gelila Puck, hosted a special cocktail hour to celebrate Tatiana Sorokko's exhibition at the Phoenix Museum. We were all there to toast her coffee table book "Extending the Runway: Tatiana Sorroko Style".
Sorokko modeled for Yves Saint Laurent, Gianfranco Ferré, Chanel, Vivienne Westwood and others, until she retired in 2000. Still very much involved in the fashion world, she has been a contributing editor for Harper's Bazaar since 2006. Married to San Francisco art gallery owner Serge Sorokko, she has immersed herself in the study of clothing construction, fabrics and fashion history, and began to collect distinctive pieces.
The exhibition contains 85 pieces from her closet, including vintage coats by Jeanne Paquin dating to the 1920s, a pleated dress from the same period by Mariano Fortuny, a strapless gown with Lesage beaded embroidery by Cristobal Balenciaga from 1964, and a silk chiffon gown by Jean-Louis Scherrer from 1970 worn by Sophia Loren to a state dinner hosted by Yugoslavian President Josip Tito.
There's also an Emanuel Ungaro haute couture wedding reception outfit with other beautiful pieces by Madame Grès, James Galanos, Jean Paul Gaultier, Vivienne Westwood, Yohji Yamamoto and Rucci also figures in her collection. Available on amazon.com this is a wonderful peak into the couture world and a unique fashion experience. And of course, we saw jewelry that was just as dazzlingly especially the beautiful and wide array of famous Bulgari stones.