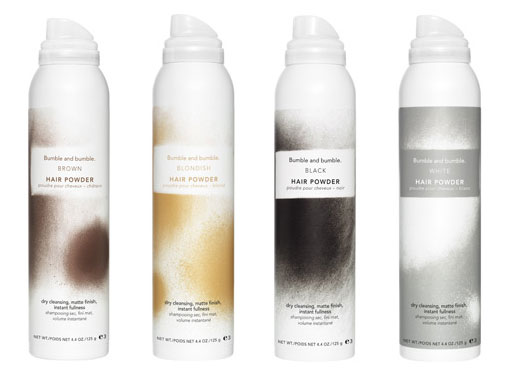 Where do you think the name powder room came from? No joke!
OK, The Blonde & The Brunette are on a quick "beauty fixes" binge this week and we found this celebrity secret. Enter Bumble & Bumble Hair Powder. What is it? None other than a great product for instant fullness, no-slip up dos, blended roots, and dry cleansing. The other secret, which no one is talking about, is the powders are all colored, so you can literally touch up you color or hairline with a few quick sprays and your hair lasts so much longer after being styled. I found out about it at the Garren Salon in New York City while I was getting ready for The Met Gala. Why didn't I know abut this sooner? I just had to share. Here are the things you need to know.
The product is designed for styling ease, dry cleansing and tinting.
Who: Ideal for oily (or less-than-clean) hair, styling fine hair and root touch-ups.
When: On dry hair.
There are four perfect shades. Brown for chocolate, mahogany and chestnut brunettes. Blonde for for darker blondes and lighter brunettes. Black for inky brown (that's me), Asian, Hispanic, afro and goths. White for silver, platinum, ash and champagne blondes.
How to style or tint: The Hair Powder requires a slightly oily surface to adhere to (we recommend a light application of Styling Wax as a base if hair is clean); section dry hair at the scalp; hold can 10-12 inches away from hair and spray thoroughly, being sure to penetrate all layers (if an overall effect is desired); let dry; shake out excess with fingers and style.
How to absorb oil (dry cleanse): Hold the can 10-12 inches from dry hair; spray thoroughly, concentrating on oily areas; let dry; brush out thoroughly and style.
Important note: Be sure to protect clothing, bath and bed linens during use (spots can be easily removed with a mild soap and water).
Available for brown, blonde, black and white hair on BumbleandBumble.com. It's also perfect for travel when you have a hair emergency. I've already taken it to New York and London. It literally saved the day after my recent and very spectacular fall that left me unable to wash my own hair for a few days. 4.4 oz for $35.
xoxo
NJ, The Brunette