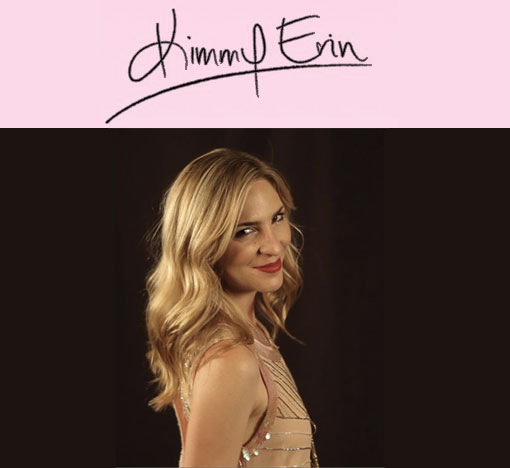 Growing up behind the Hollywood Hills didn't keep Kimmy Erin Ratican from being in the spotlight. At 16, Kimmy was already styling magazine spreads on the beaches of Malibu and in 90210's most famous hotels. As a stylist, her fresh take on fashion and steely eye for detail has been sought by stars such as Josh Kelley, Katherine Heigl, AnnaSophia Robb, Michael Yo, Sally Pressman, BC Jean, Jasmine V, Jessie James, Haylie Duff, Olivia Munn, Mary Steenbergen, and Lauren Conrad, to name a few.
I sat down with this beautiful fashionista to get all of her tips, tricks and secrets! And she knows some good ones!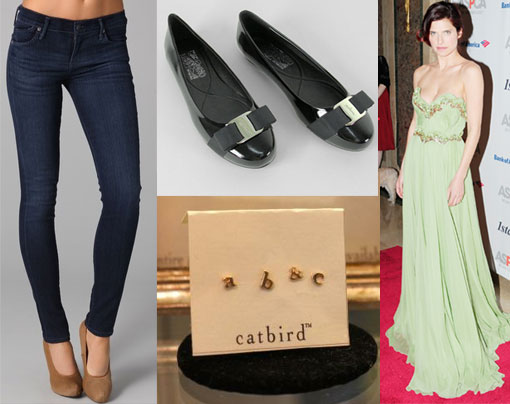 FASHION QUESTIONNAIRE
How would you describe your personal style? Colorful and detail-oriented, daring with masculine influences.
Celeb fashion crush: Lake Bell.
Where is your favorite place to shop? In Paris, Maje and Printemps. In L.A., American Rag, Stacey Todd and Curve. New York and London, Topshop. Everywhere: J. Crew.
Favorite designer: Can't pick one, but the houses of Lanvin, Chanel, Dries van Noten, Valentino and Prada (and all their labels, too!) continue to inspire.
You would kill for front row at: Valentino.
Most flattering Jean style and brand: Classically, I love Citizens of Humanity and their Avedon Skinny, as well as Paige Premium Denim's Verdugo skinny. At this very moment, I'm obsessing over !item denim's racer skinny and twisted drop crotch (they are ¼ of the price of DSquared2's!).
Go-to travel outfit: Citizens of Humanity skinnies, James Perse tank, oversized cashmere sweater, slip on boots with socks.
Fashion jewelry: Catbird's tiny letter earrings, Renee Sheppard everything, Dani Stahl's Lia Sophia collections for events.
Accessory you most adore: Valentino handbag.
Secret to hide least favorite area: I love tops that are shorter in the front and longer in the back to hide my butt.
Outfit your man wants you to wear: He's cutely protective in public so nothing uberly sexy, but he loves when I wear short LBDs.
Favorite heels: Gucci sandal stilettos with butterfly ankle clip from 2001. They've still got it.
Favorite flats: Ferragamo black patent with bow.
Running around shoe: San Edelman and Zara flats.
Favorite sweater brand: J.Crew and Inhabit.
Best tank: James Perse and American Vintage.
Favorite dress: Most of my vintage pieces.
Favorite Blazer: Sequin sleeve from Maje.
Leather jacket: Diesel BlackGold.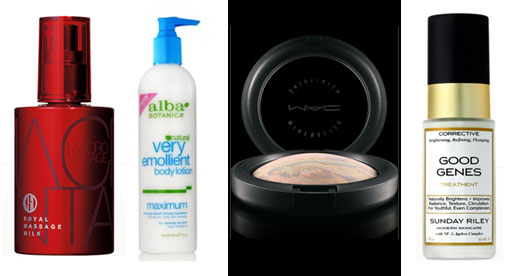 BEAUTY QUESTIONNAIRE
Do you have a signature fragrance? Two! Dior Addict and Frederic Malle's Carnal Flower.
Curling iron, blow out or flat Iron? All of the above.
Out-of-the-shower hair product: Shu Umera Hair cream.
Favorite dry shampoo: Oscar Blandi. S mells so good.
Sunless tanner regime: NEVER. Nope, hate. I use a slight white shimmer lotion from Burt's Bees for special occasions. I can't stand my skin looking unnaturally tan.
Eyeliner? Make Up For Ever's waterproof eyeliner. INCREDIBLE. Also can blend and be used as eyeshadow.
Mascara: I hate mascara so I Lashdip as much as possible.
Blush: MAC's Mineralize Skinfinish.
Can't live without beauty professional: Myself. I've learned that you can't rely on anyone, and I don't mean that cynically, but there are just so many opinions, styles, techniques, etc. that you really just have to educate yourself and then follow your gut.
Most effective face product: Sunday Riley's Good Genes, Mario Badescu's Glycolic Cleanser, No No Zit zapper, Koh Gen Do's cleansing wipes and Massage Milk Moisturizer.
Favorite beauty treatment: Glycolic Peels and Vitamin C masks.
Favorite drugstore Product: Burt's Bees and Alba Botanica's moisturizers.
Nail polish: CND's Shellac in 'Romantique' and 'Iced Cappucino'.
Necessary pamper: Pedicures!
Secret weapons: Red lipstick.
Eye cream: Somme Institute and Revision Skincare's Teamine.
Nighttime Foundation: Koh Gen Doh's massage milk.
Lip regime: Sally Hansen's Overnight lip treatment at night, brush my lips with my toothbrush in the morning, and light application of Make Up For Ever's waterproof, lip-colored pencil.
LIFESTYLE/HEALTH QUESTIONNAIRE
Favorite workout: Runyon Canyon and any first 5 minutes from one of Amanda Russel's YouTube workouts.
Best diet trick: Water and gum. And more water.
Best Diet advice you have gotten: Eat organic as much as possible, avoid white flour and sugar, and use digestive enzymes.
Favorite Vacation Destination: I just love a vacation. Every vacation is a favorite.
What is your necessary extravagance? Mineral water, blow dry's, handbags.
What book is on your nightstand? Vogue's March issue. Does that count?
Do you have a motto to live by? Many. But the one I keep coming back to is "Do good." Simple advice. But whatever the situation, just do, be, act your best.
What or who inspires you? I find many of my friends keep me inspired. I keep myself in good company.
-Kathryn, The Blonde