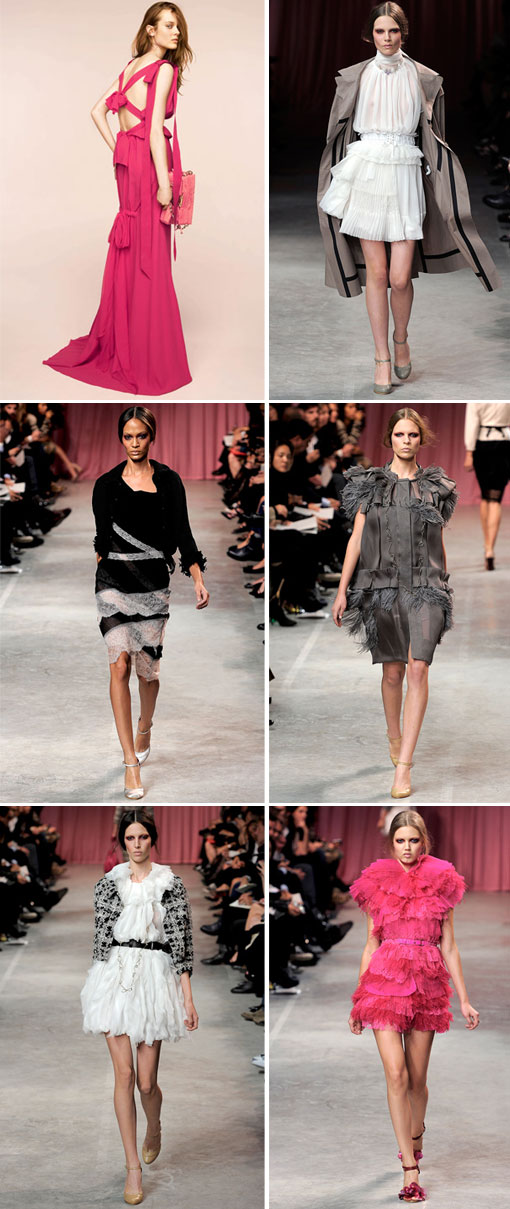 I'm going to be honest. I still don't know exactly what resort is (warm vacation attire or the transition to Spring) but I know when I like something. Last night the Nina Ricci 2011 Spring Collection (with some Resort) floated into Barneys New York in Beverly Hills.
Nina Ricci Designer Peter Copping was there (and he couldn't be nicer or more talented) to introduce his vision. He's certainly pushed the brand to new heights. It's a collection that is soft, feminine and powerful while being everything from modern, young and wearable. The fabrications ranged from lace, flounces, feathers and subtle embellishments exquisitely combined with beautiful brights, (lingerie-like) blacks, whites and soft pinks. The best-kept secret might be the evening gowns. Each one dramatic without being overpowering.
Hosted by Colleen Bell, Mary Alice Haney, Kelly Meyer, Amber Valletta + Elizabeth Wiatt, the event also supported The Natural Defense Council's Clean by Design Initiative. Guests included Tracey Ross, Cameron Silver and Jane Ross along with the new Barneys New York CEO, Mark Lee and forward-thinking, Fashion Director, Julie Gilhart, Elani Jankowsky, Store Manager, Bibi Dang, Department Manager and our favorite Jennie Baek. Apparently, it's not too early to start thinking about Spring especially since it was a record-breaking 95° in LA today.
-The Brunette