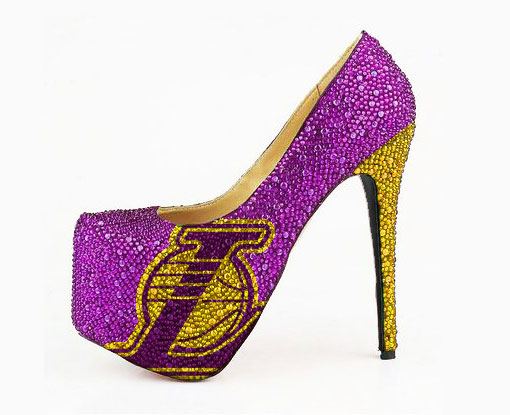 The basketball and football seasons are underway. Many us are off to the arena with our guys or finding new ways to support our favorite teams. Ladies, look what we discovered! We haven't seen a more fashionable sports item. Who would ever think we'd be writing about sports and fashion in the same sentence? Now we can!
Show up to a game, or after party, in a pair of these HERSTAR™ Custom Crystal Pumps with skinny jeans and you will be sure to turn heads away from the game! Yes, these are fun, cheeky and just ever so tongue-in-cheek sexy. If anyone questions it, just remind them Beyoncé sat in LA Laker floor seats, with hubby Jay-Z, last year in her $6,000 Louboutin White Crystal Daffodil pumps and jeans. So can you! These pumps are a steal in their fully bedazzled hand-selected Middle Eastern crystals offset by a sky-high 6" heel and 3″ internal platform. Also available in Swarovski Crystals, some sizes and team style are in stock and others are custom made and require an estimated 10-12 weeks for delivery; but, yes, they are absolutely worth the wait.

Naturally, living in LA, we're highlighting HERSTAR™ Los Angeles Lakers Limited Edition Crystal Pumps $294.99 and Clippers pumps. For teh full line-up, click here for more fabulous HerStar NBA Crystal pumps . All $294. For college and NFL football fans, team color pumps are also available in over 16 stunning multicolor suede options starting at $79.