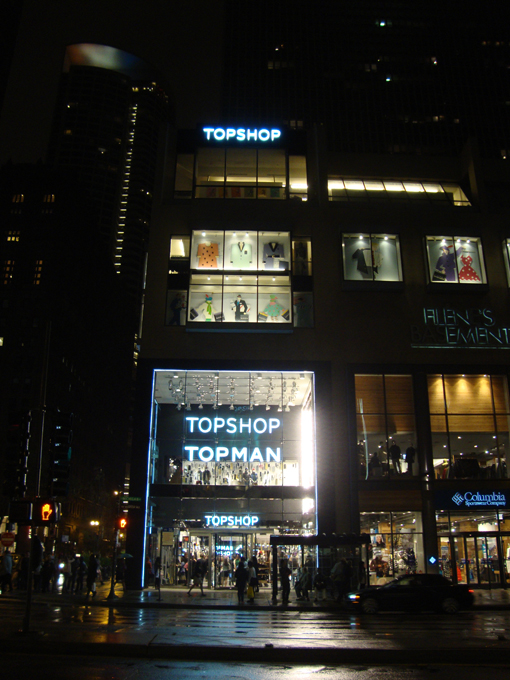 The Blonde & The Brunette are almost everywhere including Chicago for FNO. We sent guest blonde contributor, Alexa Fifield, on a mission. Tell us what happened at Topshop and other hot spots on FNO. Alexa told us,
"Chicago retailers' Fall collections couldn't have debuted at a more perfect time. The early September temperature drop had windy city fashionistas pulling out their trench coats and rain boots before the colors on the leaves had even changed. Naturally, the damp and breezy weather didn't stop the ladies from flocking to the opening of London-based Topshop on 830 North Michigan Avenue. It might have even helped jump start the Fall shopping season."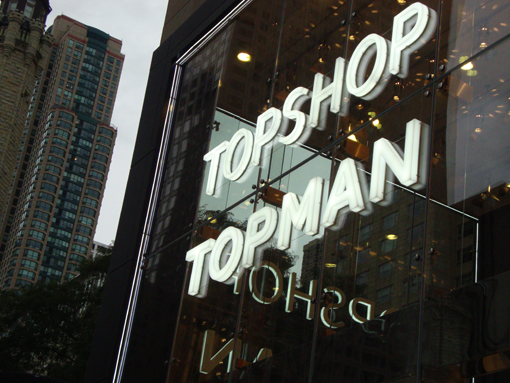 Alexa also told us she thought "there was going to be a line out the door by the time she got to Topshop at 6 pm, but the huge crowd had died down since their 11 AM opening". We asked her to tell us more. Go Alexa!
"Walking in to the store is truly an experience. The minute you come through the revolving doors you are bombarded by leopard jackets matched with sequins and rainbow knits and you have to wonder if that combination would look sane or fashionable walking down the Magnificent Mile (or anywhere)." But she admitted, "the store is a must for the fashion crowd who has been yearning for animal prints, soft patterned knits, and delicately beaded blouses as well as loyal Topshop lovers who have long been craving a midwest flagship.

Since it was the opening day, there were tons of salespeople and personal shoppers that walked around to help customers find their fashion fancy. It truly is a challenge to figure out what you want when you are surrounded by so many beautiful crafted pieces like an ostrich feather jacket in fall colors or a leather pleated skirt."
Alexa also selected some of her favorite pieces and looks from the store opening to share with us along with a few of her fashion tips.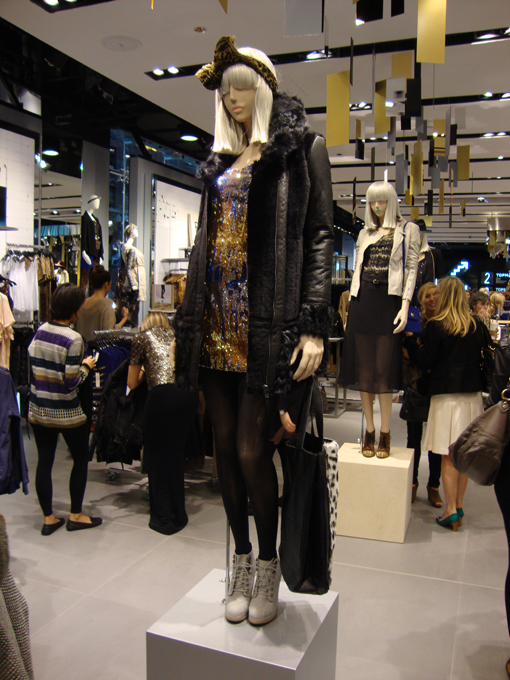 "I love this edgy Autumn look that pairs a party dress with tights. Combining it with a long leather jacket also gives it a more urban twist. It's great for staying warm to looking fashionable for cocktail hour, after work activities, or weekend nights when the seasons slowly change."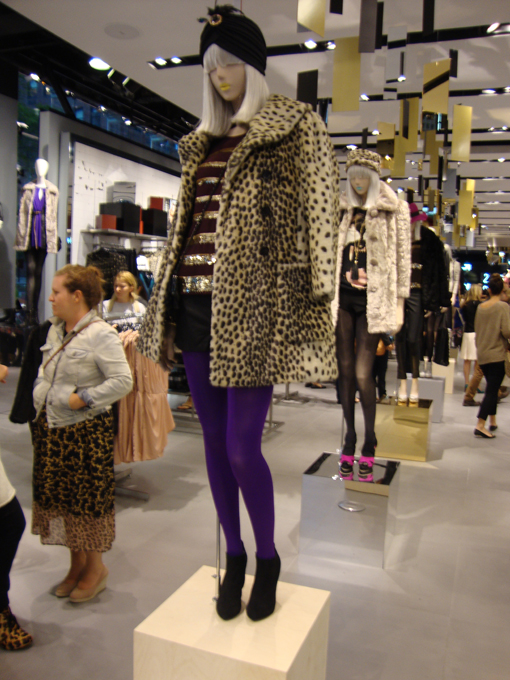 "Another fall fashion trick is to take a classic pattern like leopard or hounds-tooth and add a bright color like purple, orange, or red somewhere in your accessories so you can add some flair to your winter wardrobe!"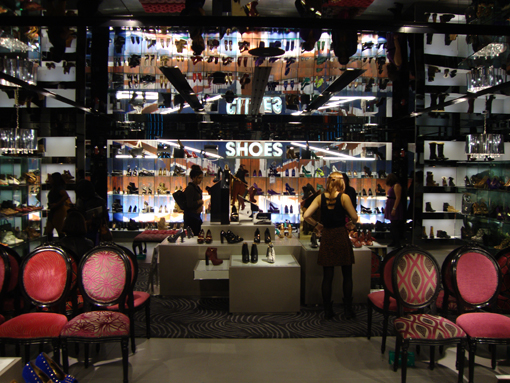 "For me, the most drool-worthy display of the night was the shoe department on the lower level of Topshop. I was dazzled by the leopard print calf skin booties and metallic rose gold stilettos. There was also a wall just for flats in every color of the rainbow, one just for short boots that are going to be especially hot this fall, and shoes organized by type of wear whether it be for the office, business, casual occasions, dances or dates, and even hiking excursions! Love that.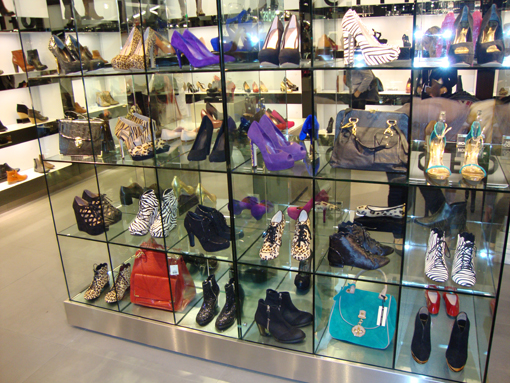 Two other Topshop opening day touches that blew me away were hair dressers creating quick up-dos for the shoppers and waiters passing around sprinkled cake pops. It was just the right touch to make the event even more fun and memorable. You know I'll be going back in the future (maybe too frequently) to get my fashion fix! And, hey, the prices are so right.

Some of my other fashion adventures of the night were: Going to Macy's and getting my Fashion Fortune read by the Couture psychics. Supposedly my fashion aura color is poppy red and my perfect outfit is a cowgirl chic look with suede boots. I don't know how accurate that was, but it was such a fun, girly thing to do, and I definitely got a new perspective on what to wear!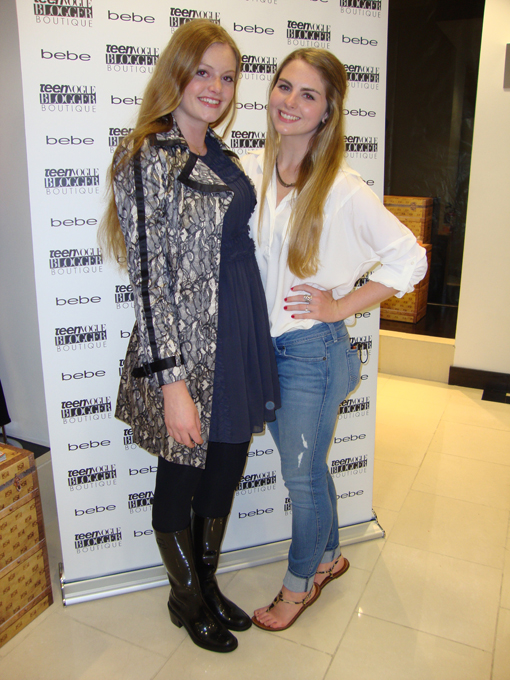 The other highlight of the evening (besides Topshop) was getting to see my friend (on the right) and Teen Vogue Fashion Blogger, Claire Schultz, who was hosting her own Fashion Night Out party at Bebe with delicious macaroons and a DJ! Together we agreed knits and boots might be the perfect Fall wardrobe additions to keep us warm on a long winter night! Try a patterned coat over dark colors to stand out in a crowd. One last style tip: a 3/4 boot height can also lengthen your leg. Click here to learn more about Topshop and Bebe in Chicago."
Happy shopping.
xo
– Alexa, Guest Blonde Contributor & NJ, The Brunette