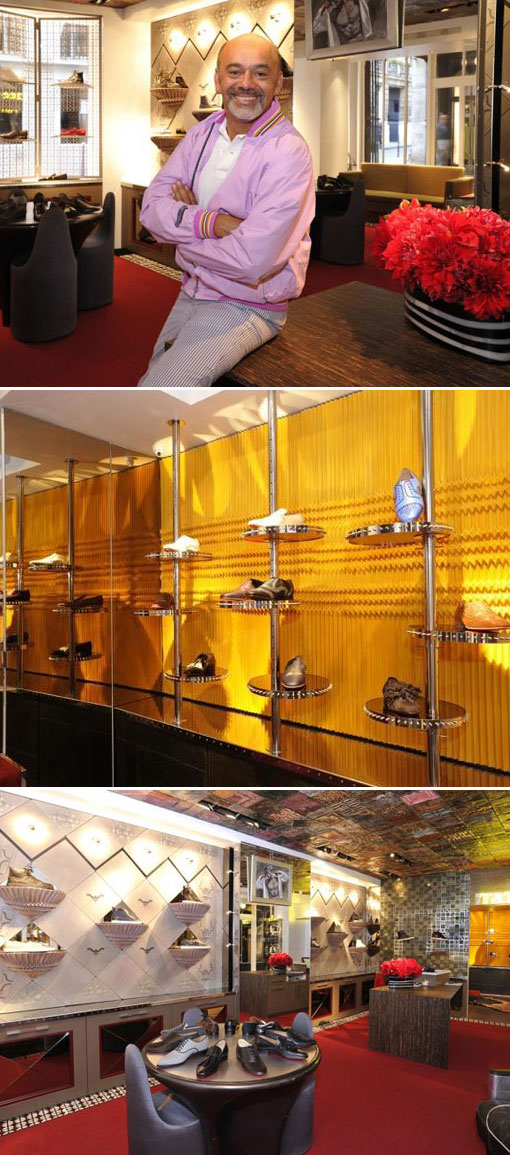 We are literally on the heels of another fashion week. This time Paris. In case you are going to be in the City of Lights, Christian Louboutin (well-known for his men's studded loafers and successful menswear footwear line expansion which debuted in 2008) is once again in the headlines for the discrete opening of the brand's first-ever men's shop in the Galerie Véro-Dodast in Paris, France. This time with the help of designer Eric Clough, they took his signature themes and literally incorporated them into the store with studded leather floors and embroidered leather walls. They gave the store a masculine appeal with vintage airplane seats, a tin ceiling, and a Star Trek table and chair all assimilated to create a a bold, distinction interior very different from the nearby women's boutique. The shop, which is geared to the luxury customer and Louboutin shoes addicts, offers a new array of custom services by offering a special, made-to-order service area of the store known as the "Tattoo" room. The selection includes shoes with a much higher price point and offering clientele the option to customize their shoes to be "inked" with personalized tattoos, which Louboutin has described "as a modern-day version of family crests, embroidered onto shoes". The service takes about three months.
Rumor has it that since the store opened in August, sales have been more than brisk with an average of 25 pairs or more selling daily — each costing hundreds and, sometimes, thousands of dollars. Apparently, the more lavish models are most popular, along with the iconic stud loafer. Bestsellers include his studded high-top sneakers ($993) and a more elaborate version with crystals ($2,278). I guess Louboutin has tapped a physiological nerve. Hmmm…men want studs, or perhaps to be one?
The new boutique can be found at 19 Rue Jean-Jacques Rousseau in the first arrondissement.
– Astrid, Style & Beauty Expert & NJ, The Brunette