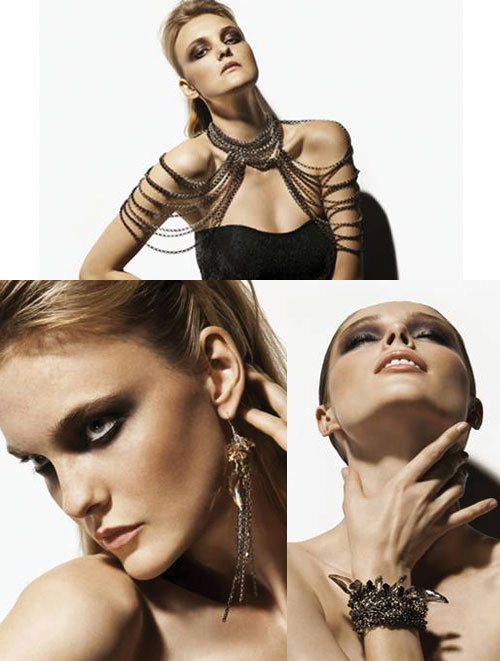 You know everyone at The Blonde & The Brunette is obsessed with statement accessories. Coca Rocha and her team reached out to us last week to let us know all about the debut of her new collection, Cocoa Rocha for Senhoa. Wow! It's definitely fierce.
A fashion jewelry line designed by the supermodel herself and handcrafted by survivors of exploitation in Cambodia, these newly skilled artisans have been taught the trade of high-end jewelry making and now use their talents to support themselves and their families. Proceeds from the sale of each piece go directly to fund Senhoa's community development projects, which provide income-generating opportunities and aid in the rescue, rehabilitation, and education of young women in South East Asia. The collection, above, was created using clear, black, and multi-colored Swarovski crystals and many of the pieces are shaped by a distinct chain-link arrangement of draped silver and gunmetal in various textures. Retail prices range from $85 to $195 and launched online at http://senhoa.org/cocorocha.
In the fashion world, it's great to have girlfriends who share the same beliefs. To support the launch, Rocha enlisted her supermodel friends Iman, Caroline Trentini, and Behati Prinsloo to be featured in a series of campaign photographs shot by Nigel Barker and Jamie Beck. Both photographers' images portray a strong and powerful woman symbolizing liberation and empowerment of the Senhoa women who use their newfound strength to overcome their victimized pasts, and are building a brighter future. Let's help them build it along with Coco.
xo
NJ, The Brunette