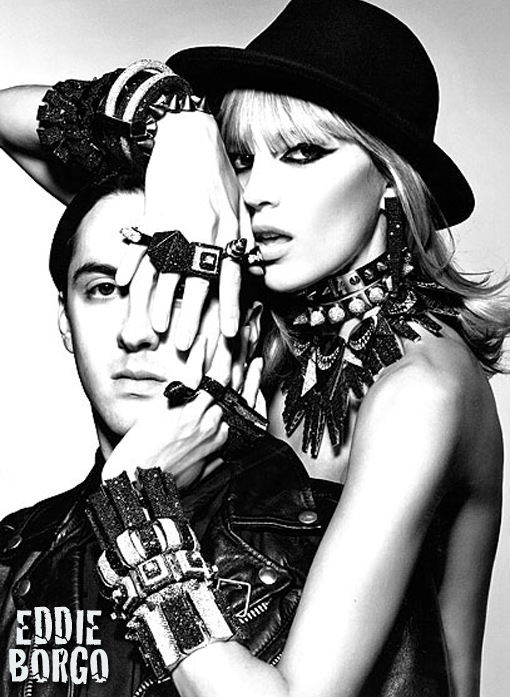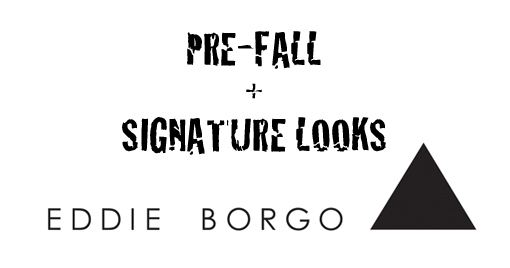 A few weeks ago edgy jewelry designer, Eddie Borgo, with an amazing celeb following and imagination for the luxe, winged his way to La LA Land for a very special Neiman Marcus trunk show. Borgo is well-known for infusing a downtown edge into a luxe sensibility by creating statement-making pieces that strike the perfect balance between rough and refined. Donning the necks, wrists, and fingers of "It" girls and fashion insiders alike, Borgo's bijoux lineup is the epitome of new "status" symbol coolness.
B &B got the word and was lucky enough to snag Eddie for some fascinating, truly in-depth Q & A. It was the perfect unexpected launch pad for us to get the inside scoop from the 2011 CFDA Swarovski Award Winner for Accessory Design.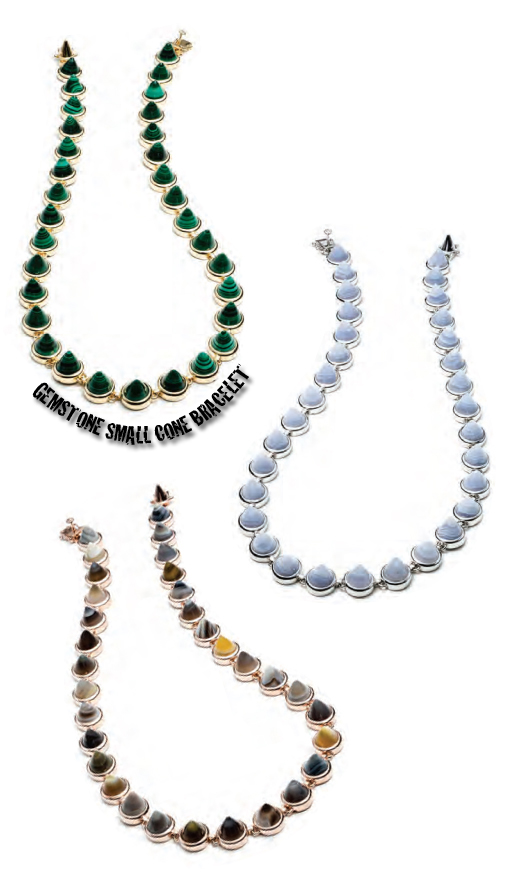 B&B: We've come to expect geometry, boldness and of course, rock 'n' roll and bad girl elegance from you. Rumor has it that your pre-fall and fall collection is literally all about earthiness. Stones like Agate and Malachite. What was the inspiration? A little bit of healing power? A drop of witchcraft?
Eddie – I think that with our (latest) collection, we're taking elements of street culture and things that you see in urban landscape, whether it be rock 'n' rock influence, or mechanical architectural influence. We look at a lot of engineering systems that exists within major metropolises and we take all of those things, that upon first glance, might be a little bit rough and tumble, or they might be a bit aggressive, or specific to street culture and we refine them.

We do that through either covering them in rose gold, or covering them in pave crystal or cutting semi-precious stones in those shapes. With Pre-Fall, we really looked a lot at feminizing the collection; how do we take these aggressive symbols and make them elegant and approachable for a sophisticated women.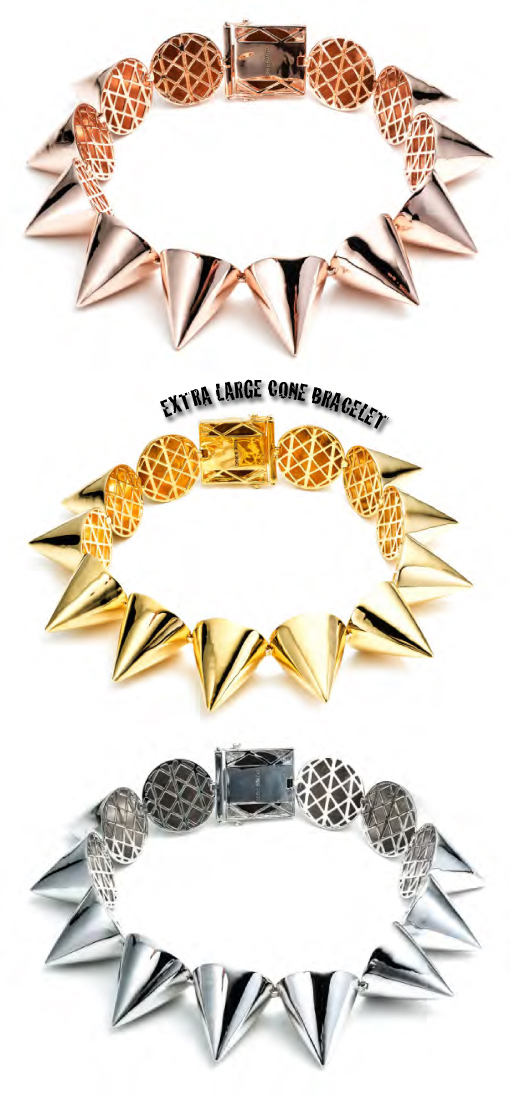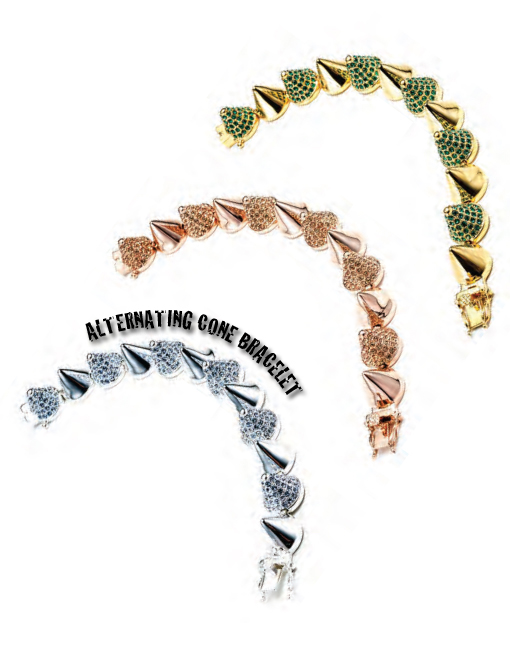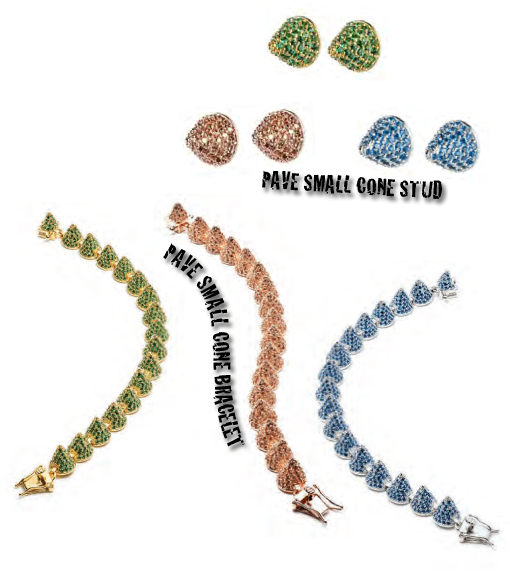 B& B: Let's start at the beginning and bring our readers up to speed. How did you hit on your signature, now iconic,"cone" design?

Eddie- We made it (the cone bracelet) originally for a W Magazine editorial, for Tilda Swinton, then it just took off. It's one of those things, that any young designer, you don't know what the reaction is going to be. Sometimes it really works out, and sometimes it doesn't.

Honestly, women really wanted a modern option for their jewelry. There is so much jewelry out there. The market is really saturated, and with the (original) collection we just happened to find this moment where women really wanted something new, with kind of a more modern voice.
B&B: How did you get interested in design, what was your big break?
Eddie- I went to school for art history at Hunter College in New York. I'm currently based out of New York, but dreaming of LA. I started off making jewelry for editors for photo shoots, and that snowballed into commissions for runway shows, and after a while I decided to start my own collection, so we are about four years old now.
B &B- So was there a moment? A big break?
Eddie- Phillip Lim asked me to do his runway jewelry for his Spring '09 show. With the payment for doing the runway jewelry, I launched my collection.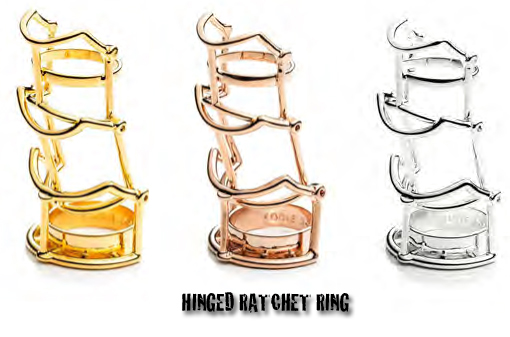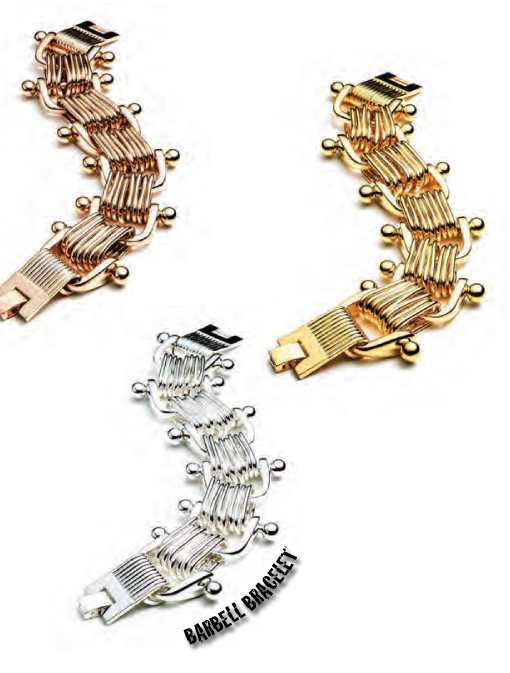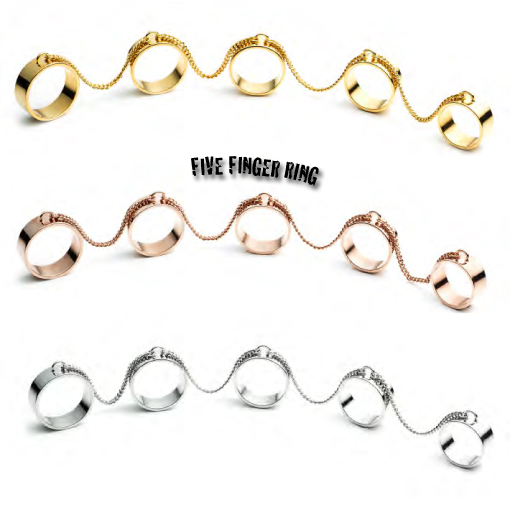 B&B: If you had to select one piece from the latest collection as the must have item for fall, what would it be?

Eddie- These 5 finger rings, they have become really popular. A great style option. We made this ring initially for a photo shoot for Interview Magazine. A lot of these types of pieces we don't think that they will become commercial pieces. Suddenly the buyers start seeing them in the magazine(s) and they start asking us if they can receive it, have it delivered, and then we end up producing them.
NJ- It's a great recurring theme. To your point, the consumer sees it in the magazine and they feel it's a unique piece.
Eddie- Exactly, and they want it. They want to be able to wear it too. Now!

And we live in a time where we're surrounded by fast fashion, and she sees it in a magazine, and she wants it. She doesn't want to hear that it's not available or that it's custom or one of a kind. She just wants to know where she can buy it, she wants to be able to wear it too; and that's something, as a young brand, you have to be conscious of in today's world.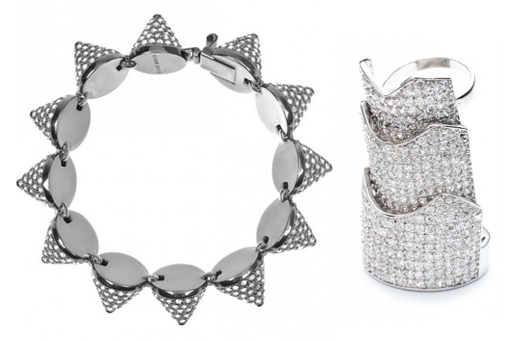 B&B: If you are new to Eddie Borgo, what's your starter must have? Missioni has the swimsuit, Eddie has the…?
Eddie- Our cone bracelets, in all the different sizes and colors. We also make them covered in pavé, we do them in semi precious stones, so there's one for every woman. It's a good way to start collecting our jewelry. This bracelet, in particular, people buy it and everyone says the same thing to me. 'I wear this bracelet every single day.'

It has that kind of impact, where you are looking for something unique and special that's becomes a signature element to your style and that people are going to appreciate. You know, it's like wearing a little piece of sculpture or something. People really love that.
B & B: Do you like certain metals or stones better on a blonde versus a brunette or redhead?
Eddie-Our rose gold, because it's very,very pale rose gold. It's not very coppery. It was very hard to create and we did it ourselves. It also depends on the time of the year and more on on your skin tone rather then your type of hair. Also, we really believe, as a brand, clientele should mix their metals together. It's a very modern way to wear jewelry.

Now there's a value in costume jewelry that hasn't existed previously. Women are wearing their costume alongside their fine jewelry and time pieces, and that's a new way of wearing jewelry. It's something that women are now finally getting comfortable with today.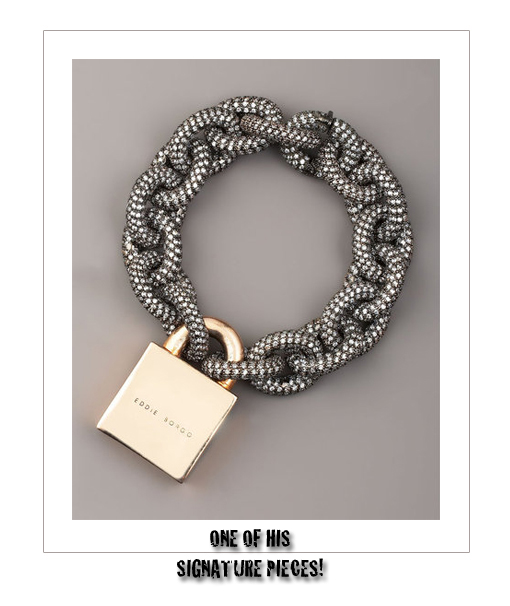 B&B: What's the first thing you think when you look at someone's jewelry?
Eddie- Jewelry and adornment throughout history has really helped people get an insight into that wearer's personal style. It's an object that symbolizes something about your personality. It gives insight into who you are and helps define your taste.
B&B: Any special jewelry do's and don'ts?
Eddie- You should think of your jewelry in the same way you think of getting dressed, or picking a dress for a very special occasion. It is a personal touch. It also says something about you and your personal style to everyone who sees you. Jewelry is instantly an identifiable point in someone's wardrobe.It's the most personal, intimate purchase a woman can make. Or hopefully someone else makes for them.
B&B: Today's woman is busier than ever. What is the easiest/quickest way to turn a day/work look into something that works for a night out?
Eddie- Shoes can really change the way that you feel. If you are in flats all day and then you change into heels, it changes your mood. And then put on a really amazing piece of jewelry. It's really all about if you feel great, right?
B&B: A confident woman wears?
Eddie– She wears things that she feels the most comfortable in and things that best represent her individual style.When you're not wearing something that you feel really good in, and confident in, people can see it in you.
B&B: Favorite Red Carpet moment?
Eddie- We made Sienna Miller a tiara for the MET Ball this year.
B &B: I was there and she really did look stunning and edgy. The perfect vibe for the night.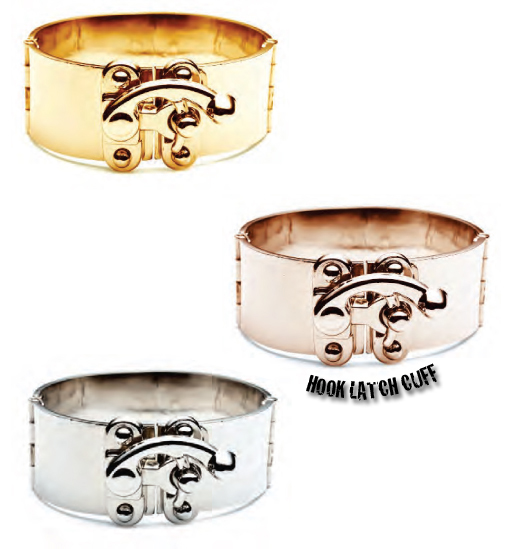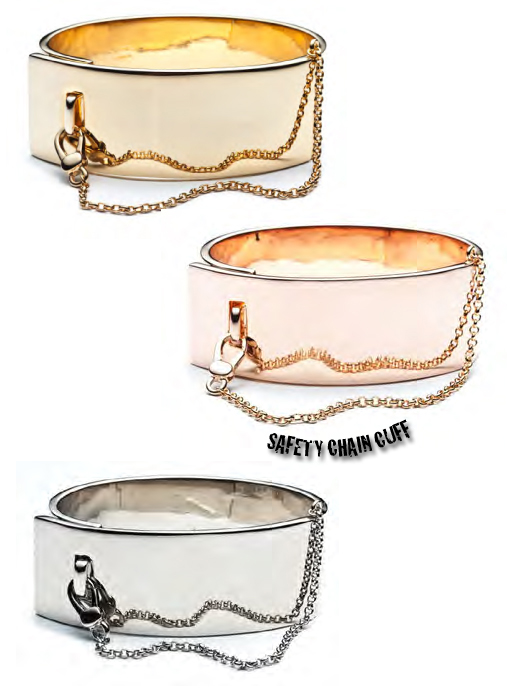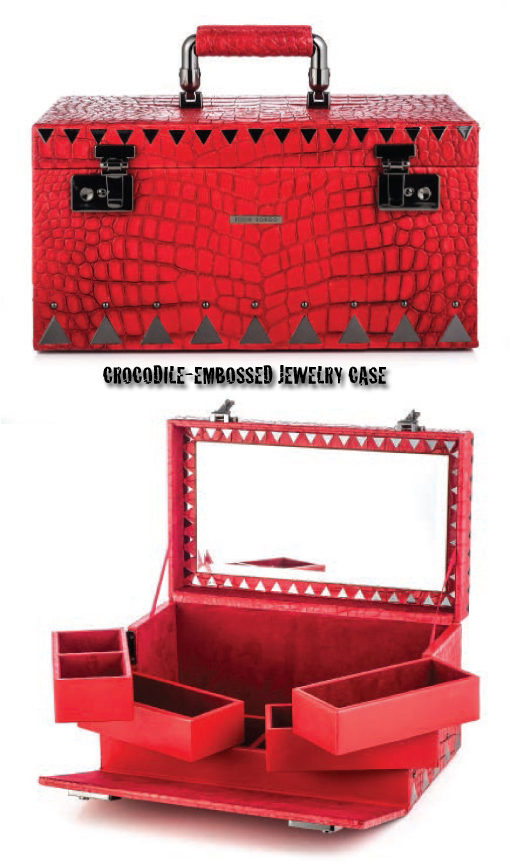 B&B: Something you still want to achieve?
Eddie- Our gorgeous crocodile-embossed jewelry boxes are a great first step. Eventually I would like to open our own free standing store, so that way we could give our customer a brand experience in its entirety. Eventually small leather goods, I would love to launch a handbag, but keep it in the realm of accessories. Our hardware lends itself to other forms of accessories very easily. There's so many different things you could do with the hardware we've developed.
B&B: And last but not least our signature questions:
B&B: Who's your favorite Blonde?
Eddie- Evan Rachel Wood when she's a blonde.
B&B: Who's your favorite Brunette?
Eddie- I love Christina Ricci. I think she's great. I also love Jennifer Connolly. Love her!
A special thank you to Eddie for his time and lending me his bracelets to elegantly stack with my very punk sequined Rodarte dress for the MET's Friends of The West Coast Dinner. I'm investing in my very own "cone' bracelet. If you'd love to start your collection or expand it, click her for a Neiman Marcus digital journey or the pave crystal hinge ring, safety chain cuff, pave New York City charm bracelet and many more. Prices start at $295.
xo
NJ Goldston, the ever lucky Brunette
Photos: Courtesy Eddie Borgo;patrickmcmillan.com