All photos by: Brandon Clark and Peter Wintersteller/ABImages.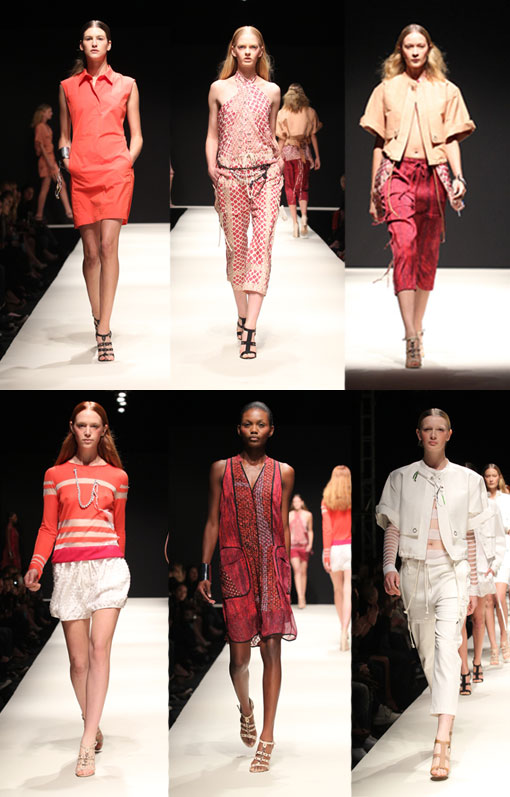 Ariela Shani. Ali Hewson and Kara Cozzolino.
Bono, Quincy Jones and Akon. Claudine Farrell, Colin Farrell and Ali Hewson. Mark and NJ Goldston. Ali Hewson.
Rebecca McDermott and Jasmin Norman. Nick McGrath, Petro Franico, Peggy Hurtig and Michael Phillips.
Andrea Simon, Amanda Dark and Carrie Jardine. Nick Kousloulis, Emily Kousoulis, Brad Schmidt and Julianna Geldien.
Sometimes we just have to pinch ourselves. The Blonde and The Brunette are invited to fabulous events all the time, but on Saturday night Neiman Marcus Beverly Hills held their by-invitation-only Edun runway presentation and pop-up store launch party; and it was fun as in FUN!!! How do you spell F-U-N? A party and outdoor fashion show on the roof of the Neiman Marcus Garage. Yup. It was literally a breathe of fresh fashion air. We're just saying the new, new thing is going to be garage parties. This one included a contemporary lounge setting, VIP Area (as Billy Crystal would say, "you know who you are") a neon bar, passed appetizers, a spectacular outdoor catwalk, massive visual projections, on the back wall of the store, and a very stylish crowd.
Founded in 2005 by Ali Hewson & her husband, Bono, Edun is a global fashion brand created to bring about positive change through its trading relationship with Africa while positioning the company as a creative force in contemporary fashion. To support Ali and Bono, the couple's good friends Colin Farrell, his sister Claudine Farrell (with the great red hair), Akon and Quincy Jones joined them in the front row. The fashion show, on a brightly lite elevated runway, featured male models standing still in the dark for just a few moments before the guests were seated. Once the show started, it was a great array of easy styles combined with beautiful prints, vibrant colors and a very contemporary line all designed by Sharon Wauchob. Neiman Marcus General Manager, Ariela Shani, introduced the evening and she was the the perfect host with her wicked sense of humor. She's a natural onstage!
Following the show, guests made their way to the custom built Edun Pop-Up shop on the Third Floor. If your wondering what the attire was for the evening. LA causal. Great jeans and any kind of fabulous leather jacket. I wore navy velvet jeans and my Balmain metallic blue leather jacket with crystal sleeves (I scored it at Neiman Marcus many months ago). Why not! The collection is available through Thursday, March 8 at Neiman Marcus Beverly Hills/9700 Wilshire Blvd. Get on over. It's worth the trip.
xo
NJ Goldston, The Brunette