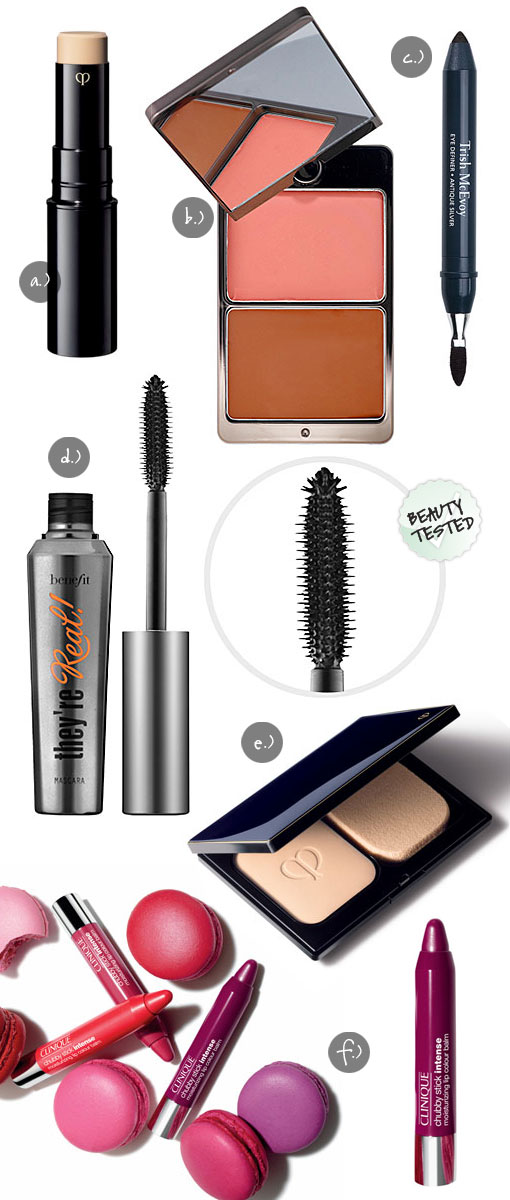 The Blonde and The Brunette has been getting a lot of questions about our everyday makeup routine so finally here it is! We have tested almost every makeup line out there and these are some of our favorites:
a.) Clé de Peau Concealer is $70 a stick, but when you've got something to hide, be it under-eye bags or a blemish this is your best friend. Also, you won't need much of it per use. This product is on the shelves of every makeup artist, editor, and 'fashion person.' Made extra-creamy thanks to the Japanese company's scientific-sounding Revitalizing Moisture Complex, the concealer comes in four shades (beige, honey, ivory, and ochre) and blends seamlessly into your skin, in daylight and under a flash.
Pat it on lightly: it doesn't crease, it doesn't feel heavy— it doesn't look like you're wearing any product at all.
Tip: For lighter skin tones, the Honey shade can be used underneath your matching concealer as a color corrector for truly dark areas. Apply the Honey shade to your darkest area. Pat lightly. Apply your matching concealer on top and blend.
b.) Hourglass Illume Creme-To-Powder Bronzer Duo Sunset – sheer rose/ sheer bronze $40
These luxuriously silky face colors seamlessly blend onto skin for a naturally radiant glow with a soft, velvet finish. This bronzer and blush duo are so easy to apply with your ring finger! It never gets blotchy or streaky. The universally flattering bronzer gives a healthy, natural golden tint, subtly defining and contouring the face. And then the sheer rose blush adds the perfect pop of color. Added moisturizing and antioxidant benefits of vitamins A & E hydrate and protect skin from damaging free radicals.
c.) Trish McEvoy Eye Definer Pencil $28
I prefer a creamy chubby pencil over my lash line and this one is my favorite. I use more than one color with the golds and browns working perfectly for me. Brunettes should stick to the black, a dark brown or try a silver. It is so easy and perfect for on the go!
d.) Benefit They're Real Mascara $23
This is my favorite mascara right now. It goes on effortlessly and my lashes get major volume!
e.) Cle de Peau Beaute Powder Foundation SPF 21 $90
This exquisitely refined powder foundation is adjustable for all skin types and gives radiant clarity to skin with an exceptional soft-matte finish. Treatment Lucent Powder EX creates a natural radiance and provides a satin sheen while covering dullness, spots and other skin concerns. I use this over my concealer, bronzer and blush when I am feeling greasy or when I want a matte finish. Sometimes I want the glow, sometimes I want the matte finish!
f.) Clinique Chubby Stick $16
This is the perfect all in one lip color. It feels silky like a lipstick, adds shine like a lip gloss and hold color like a lip stain! I use the "Whole Lotta Honey" color for my perfect everyday pinkish nude tone.
-Kathryn, The Blonde