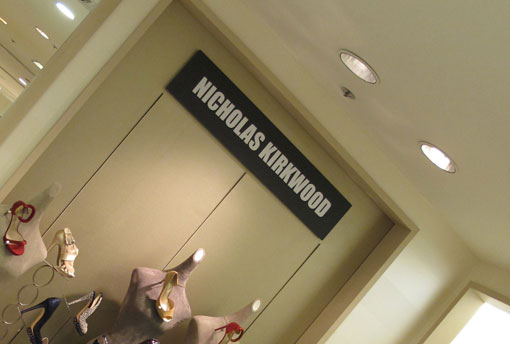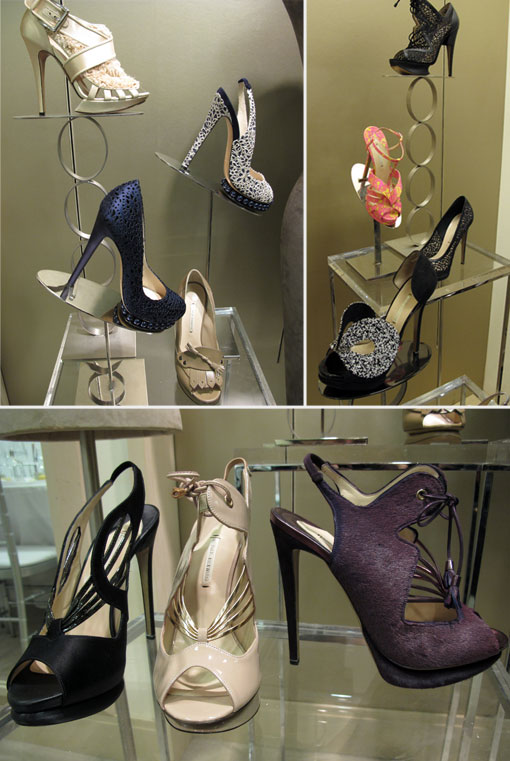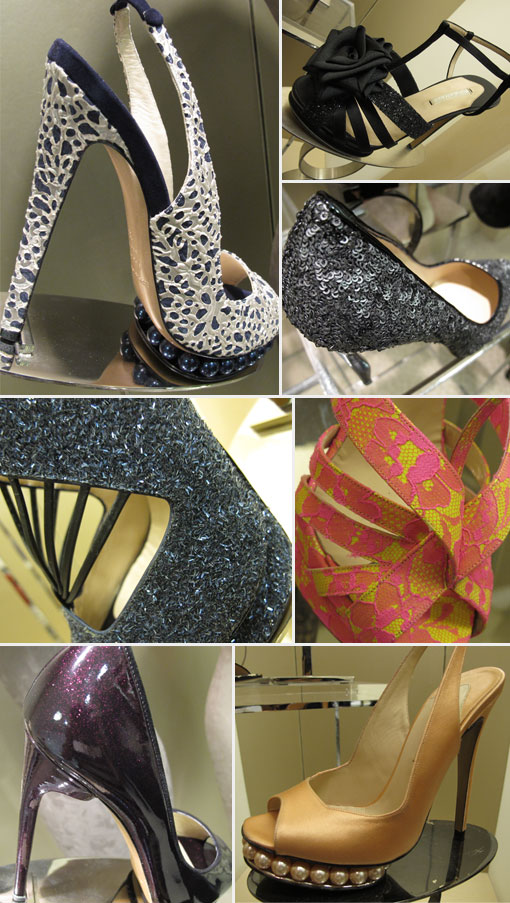 Yet another exclusive from all the shoeaholics at The Blonde & The Brunette. You probably already know this, but Nicholas Kirkwood is one of the hot "it" shoe designers right now with his extreme heels and cutting-edge styles. Saks Fifth Avenue in Beverly Hills held an intimate luncheon this week to show off his Fall/Winter 2011 collection and Resort 2012. Nicholas flew in from London just for the event which included a very smart English salad, wonderful lemon cake slices and short bread for dessert. Tea at the end of lunch. Love it!
Just so you are completely up to speed, Nicholas is London-based with his flagship store on 5 Mount Street. As part of his burgeoning footwear empire, Kirkwood has plans to add handbag and a men's line this Spring (whoops, not sure he meant to tell us that). He graduated from prestigious Central St. Martins, won the Condé Nast Footwear Emerging Talent of the Year Award with his first collection in 2005, and has since carved a distinct signature style with his constant innovation of form and use of unconventional materials. We also adore him because he basically refuses to design flat-soled shoes. He's worked with Philip Treacy and "even lodged with Isabella Blow" in the early years and collaborated with designers such as Rodarte, Gareth Pugh and Chloé. His latest collection celebrates the negative space challenge of designing "sandals", exciting colors and a new heel height that is a bit less extreme for day or evening…plus his signature platform(s).
At lunch we asked Nicholas, so "what is it about girls and shoes?" Ladies, think about this (it's fascinating and probably, true): Nicholas has a theory that our love for shoes has evolved out of a need "for protection and literally to put ourselves (in our own way) on a pedestal" so we literally hold ourselves up. It's our foundation. Our way of traveling and what we can rely upon. Girls and shoes literally unite us.
"We can, restructure and change our bodies. Be higher, arch our backs (just like a corset). We subconsciously change our status and elevate our style."
It rings true.

Available at Saks Fifth Avenue, The Nicholas Kirkwork Store at 5 Mount Street in London, as well as Liberty, Browns, Dover Street Market, Le Bon Marché.
– NJ, The Brunette & Ashlee, Brunette Contributor