One of my tried-and-true fashion strategies is to buy classic tops (tanks, tees, turtlenecks) and bottoms (pants and skirts) in a variety of basic and fun colors. This allows me to easily change my look simply by changing up my accessories. A fun pair of tights adds instant style to a basic black skirt and turtleneck. One of my fave accessories is hosiery. And, I admit, maybe I am a bit biased, being that I worked in hosiery for over 5 years, but hosiery is a great way to update your look…especially when you're on a budget.
Here are some great looks for this Fall/Winter for inspiration.
Solid tights are a fall/winter staple. My favorite basic tights are by DKNY. They come in a variety of colors and are super comfy. They run a little long, so they're great for tall girls like me. In contrast to recent years, white tights are white-hot this season. Remember, white tights are hard to wear; they don't go with everything like your staple black pair. Pair them with all black, as seen on L.A.M.B. runway, or with beige and ivory tones like BCBG. Try them plain, or even in a pattern or texture like American Apparel's Sheer Luxe Stripe Pantyhose in Pearl (b.) Urban Outfitters' Fair Isle or Spanish Dot (a.) tights.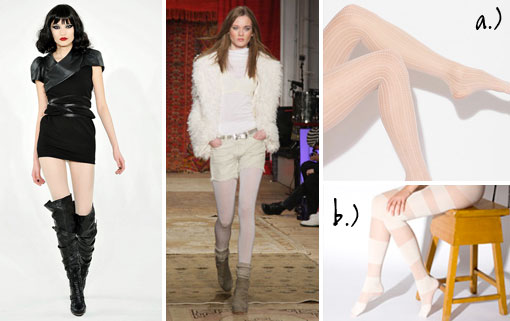 Patterned and netted/lace tights are still in this year. My favorites are the Hue leopard tights (c.) and fair isle sweater tights (e.)(fair isle is also big this year!) and Nordstrom's own Lugano tights (d). They also have a lot of affordable, great quality basic socks and leggings.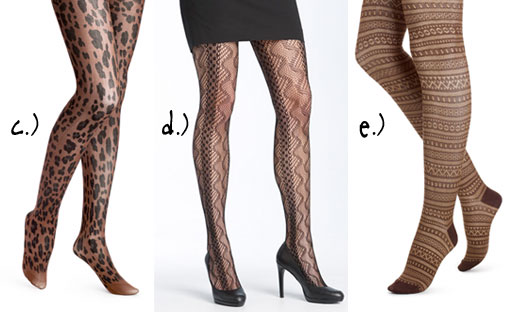 And if tights aren't your thing, you can try over-the-knee socks in different colors and patterns to go under your new over-the-knee boots. These 3-packs from American Apparel are a great deal.