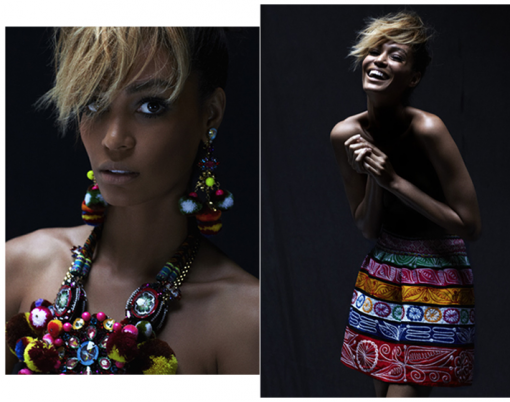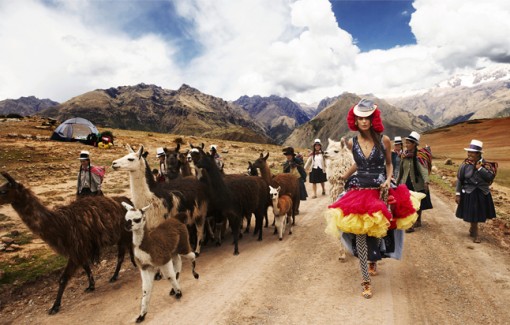 What do you get when you combine one of the most famous fashion photographers in the world, Mario Testino (who's work has been featured in magazines such as Vogue and Vanity Fair), his favorite not-for-profit, MATE, an arts foundation that promotes and celebrates the arts in his home country Peru, and Net-A-Porter? A very exclusive, vibrant capsule collection.
Comprised of images from his Alta Moda photography exhibit, it's a celebration of traditional Peruvian costumes and crafts which Testino has dramatically splashed across tote bags, wallets, t's, kaftans and mesmerizing Vicki Beamon jewelry. Testino said "I wanted to give back to my country and I figure the best way I can do this is through culture," he says.
The highlight is probably the surprisingly lightweight, colorful earrings and necklaces (from Beamon who is a jeweler to the stars) featuring Swarovski crystals, neon beads and over-sized pompoms.

a.) MARIO TESTINO FOR MATE Swarovski crystal and pompom necklace $1,640
b.) MARIO TESTINO FOR MATE Mestiza printed canvas-twill and leather wallet $185
c.) MARIO TESTINO FOR MATE Jersey T shirt $205
d.) MARIO TESTINO FOR MATE by VICKIBEAMON gold-plated, Swarovski crystal and pompom clip earrings $470
All of these vibrant pieces are surely collectors items. We'll be wearing ours on the beach with a umbrella drink in hand! View the entire collection here. Twenty per cent of the profits will be donated to MATE, Mario's organization which aims to promote and celebrate arts in his home country. Don't you love online shopping for a good cause?
-Kathryn, The Blonde