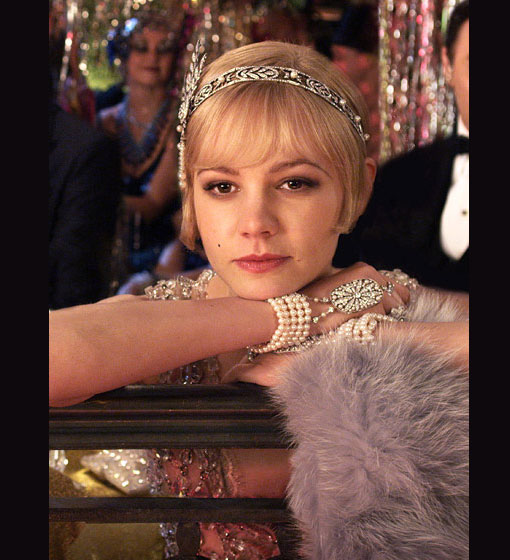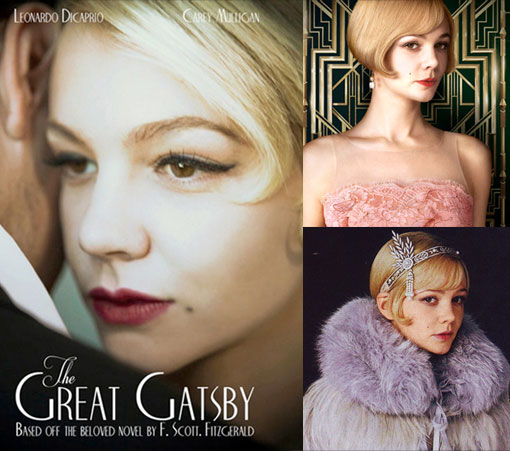 You just might just be longing to be a 1920's beauty in the next few days. After what feels like years of anticipation, Baz Luhrmann's The Great Gatsby is finally hitting theaters in May. The world of fashion is already deep in the grips of 1920's fever with predictions that Summer 2013 is destined to be the Summer of Gatsby.
Playing F. Scott Fitzgerald's iconic Daisy in The Great Gatsby, Carey Mulligan showcases flapper beauty at its best bejeweled Tiffany headpieces down to her metallic pointy shoes. But what really steals the show is her dramatic Art Deco makeup. Carey's flawless fair skin even takes center stage on the latest cover of Vogue. The 1920s were all about creamy complexions and dramatic lips.
Step 1: To get the look, start by applying a concealer. Then, layer with a powder that matches your skin tone and removes any sheen from your face. Resist the urge to go a shade darker or apply bronzer. Sticking with powder and a pale pink blush will help you achieve ultra-fair, luster-free matte skin — a look seen on the era's biggest beauty royalty as well as modern beauties such as Marion Cotillard and Emma Stone.
Product Pick: Chanel Mat Lumiere Powder Makeup SPF 10
Step 2: After you create your creamy complexion, play up the drama with a dark, sooty eye. In the 1920s, women were just starting to discover the wonders of mascara, making the dark eye a beauty staple. Get Carey Mulligan's Vogue eye look by applying smoky grey eyeshadow from the eyelash line nearly to the brow bone. Then, finish off your high-impact eyes with black mascara and heavy black eyeliner.
Product Pick: Dior Diorshow Blackout Mascara; Yves Saint Laurent Ombre Solo Lasting Radiance Eyeshadow in Smoky Grey; Bobbi Brown Long-Wear Gel Eyeliner in Black Ink, applied with a fine eyeliner brush.
Step 3: One of the most striking styles in Carey Mulligan's Great Gatsby look is the era's iconic cupid bow lip. This 1920's trend gave women a romantic, plump, heart-shaped lip that's said to resemble the God of Love's bow. To get the cupid bow lip, start by tracing your lip with a liner, emphasizing the bend in your upper lip. Then, fill in the area with your favorite lipstick. For an authentic Gatsby-era look, choose a rich, flat hue such as deep red, plum or brownish red. Go for a rich red.
Product pick: NARS Pure Matte Lipstick in Volga
And, of course, the most important aspect of recreating The Great Gatsby look is making sure you have flawless skin to serve as the foundation for your 1920's makeup look. There are many noninvasive skin care techniques available to get your skin in Vogue-worthy shape.
Follow these simple beauty tips, and you'll be the fairest 1920s beauty of them. Great Gatsby fever hits theaters on May 10.
-Robert Applebaum, M.D., B & B Beauty Expert