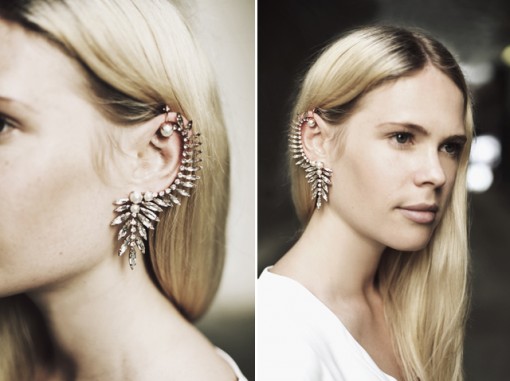 Every once in a while, someone makes something that is so magically captivating I must get my hands on it immediately!
After working as a co-designer at Peter Lang, Ryan Storer began perfecting his own clear, concise line of jewelry. Ryan has the ability to mold old world glamour with modern elegance, that in turn inspired this incredible collection.
This is the kind of jewelry you will keep forever, wear to special occasions, and pass down to your children one day. Having already been featured in Vogue, the pieces have earned a well-deserved place in the hearts of many.
Storer typically works with combinations of Swarovski crystal, pearl, and rose gold which can be worn with main crystals to side of the ear, or on the lobe, and a single pearl or crystal stud added to balance the look.
Just a couple of days into the launch of his sparkly ear cuffs and earrings online, Ryan Storer has already sold out…Twice! Join me, in eagerly awaiting the return of his ear cuffs, which we hear should be replenished soon! There are also mini-ear cuffs in stock now. if you just can't wait!
Prices start at $170 for the minis. To view his incredible pieces visit browse the line at www.ryanstorer.com
Xx. Jadan Huter