The invitation.
NJ Goldston and Andrea Perulli. Mark and NJ Goldston.
Maria Bell, Jeffrey Deitch and Wanda McDaniel. Kathryn Lebowitz and Randy Fifield. Kate Gaffney and Ashlee McNulty. NJ Goldston, Astrid Bryan and Larissa Sabadash.
Lindsay Albanese, Yotam Solomon and Kathryn Lebowitz. Julia Obst and Deborah Samuels.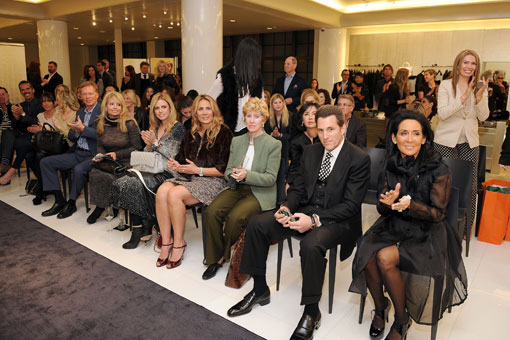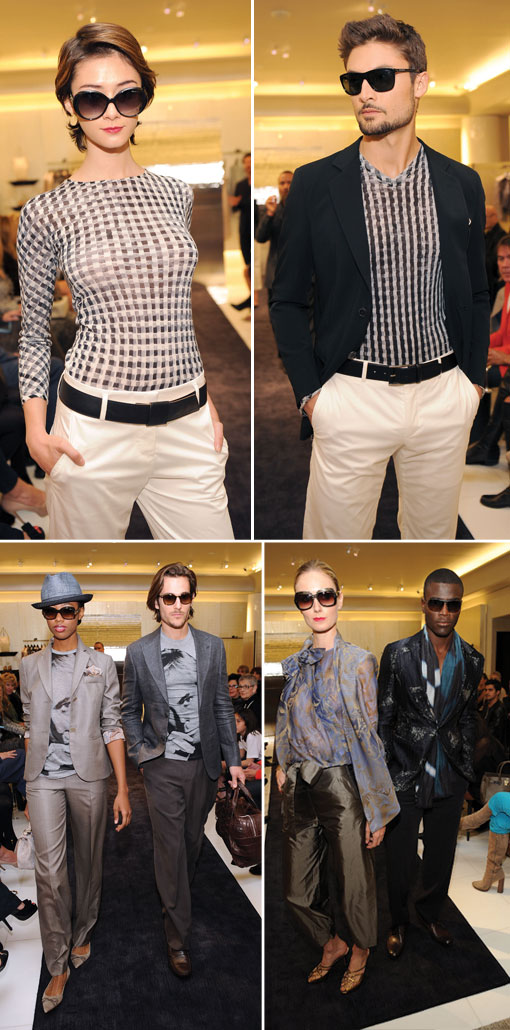 Photos by: Andreas Branch/Patrick McMullan.
What happens when you mix great fashion and art? Success. Wednesday night a standing-room-only crowd, of by-invitation-only guests, packed the Giorgio Armani Boutique on Rodeo Drive for a very special presentation of the Spring/Summer 2012 Giorgio Armani Collection. I was lucky enough to host the evening on behalf of Armani. It was a rare privilege that also benefited MOCA. Special guests included everyone from Maria Bell, MOCA Director, Jeffrey Deitch, Larissa Sabadash, Julia Obst, Yotam Solomon, Christine Chui, Halle Reum, Deborah Samuels and of course, The Blonde & The Brunette team: Kathryn Lebowitz, Astrid Bryan, Ashlee McNulty, Kate Gaffney and Randy Fifield
The event unfolded beautifully with guests from the worlds of fashion, art and The Blonde and the Brunette all mingling for a fabulous cocktail hour. The real fun began when the wonderful and gracious Wanda McDaniels from Armani (in a gorgeous blue Armani jacket), welcomed everyone and spoke about the very special and long-standing relationship between Armani and MOCA (which dates back to the opening of the boutique on Rodeo Drive). Then came the centerpiece of the evening: the specially-curated "styling session" and fashion presentation artfully narrated, in Italian, by Andrea Perulli of Giorgio Armani, and instantly translated into English. Mr. Perulli elegantly detailed Mr. Armani's inspiration behind this collection as well as everything from the inner workings behind the famous, signature "deconstructed" Armani jacket, the unique fabrics selected and produced for this line and Mr. Armani's thoughts on personal style. If you study the photos closely, you'll see the magnificent one-of-a-kind prints, Mr. Armani's image peeking out from tee's under the suits, sportswear and evening wear that can go from day to night or night to day.
Finally, I must rave about my stunning, sheer black Armani coat dress that is modern, timeless and a wardrobe must. I fell in love with it the second I saw it and can't wait to wear it over and over and over again. It can be worn belted (don't you just love the wide satin Armani belt?) or free flowing! Dressy or over jeans. The beauty of Armani condensed into one special piece; but, that is the essence of Armani. Each item from this collection, or any collection, has its own special story.

NJ Goldston, The Brunette