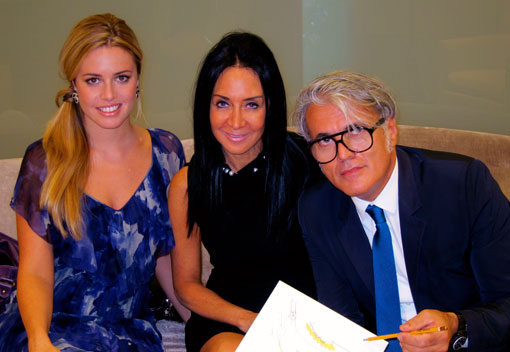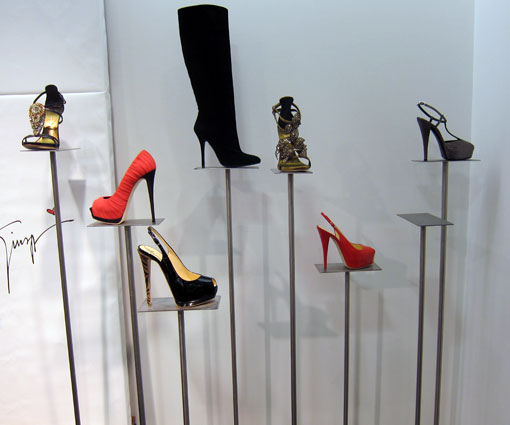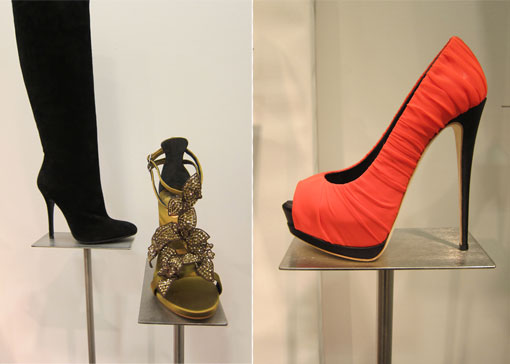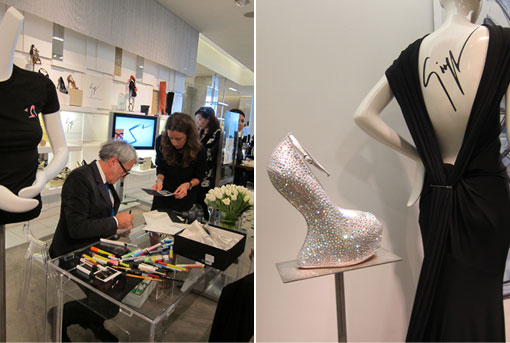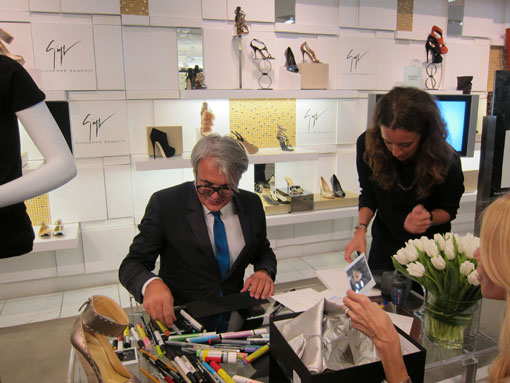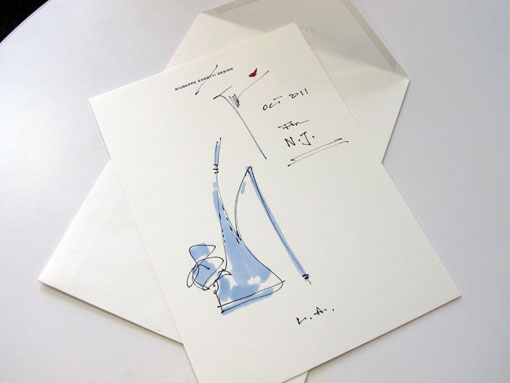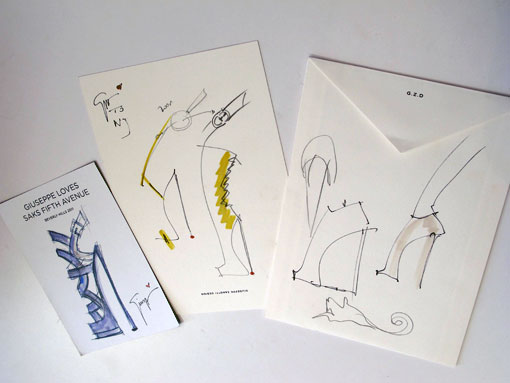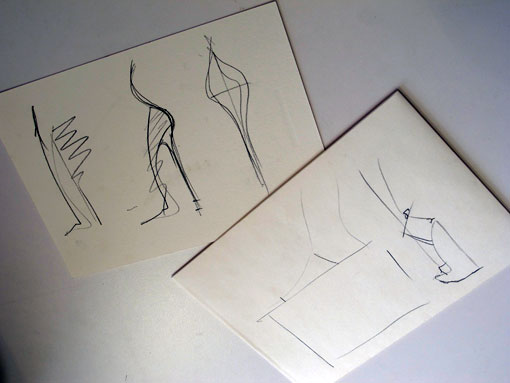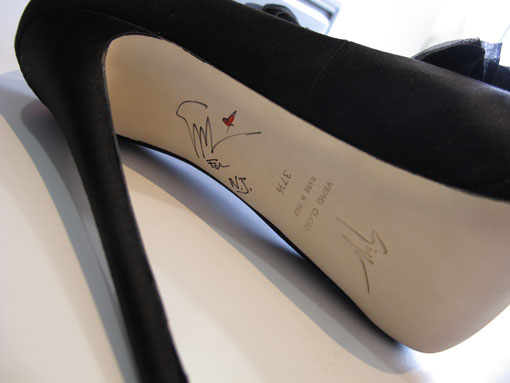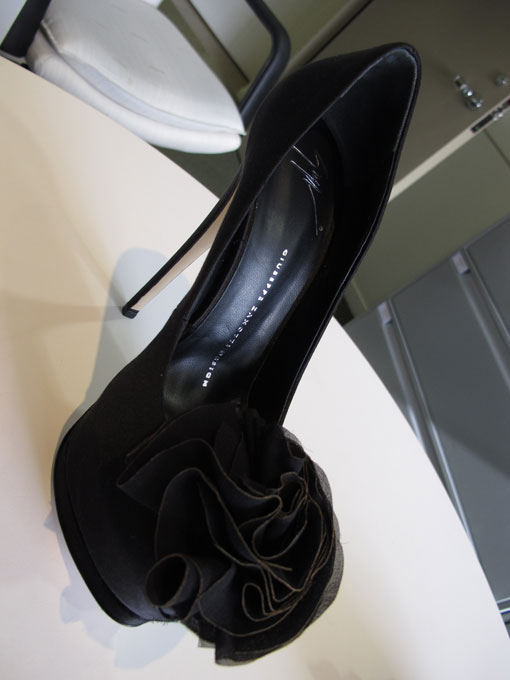 A few days ago, the shoe god extraordinaire, Giuseppe Zanotti winged his way in from Milan and arrived in the Beverly Hills golden triangle to exclusively unveil his Resort 2012 line at Saks Fifth Avenue Beverly Hills. Saks, hosted the world viewing and is carrying the entire collection; study these photos closely in case you want to to grab a pair, although we suspect many are already sold out.
The Blonde and The Brunette (that's Kathryn, The Blonde and NJ, The Brunette above with Zanotti) were invited to a private interview with Giuseppe (yes, we're on a first name basis with him now, swoon!) and talked shoes, women, and life while he (literally) sketched to illustrate his key points. To our surprise, he brought a silk pouch filled with every color pen imaginable, opened it and scattered them all over the table. We experienced the master designer at work. His brilliance, signature elegance and winsome personality all on display in an intimate surrounding. The afternoon was capped with an intimate luncheon in his honor and then for a lucky few, Zanotti autographed shoes and sketches each on his personal "sketch cards" and envelopes.
B &B: Mr. Zanotti, our readers definitely have a fetish for their extreme pumps and amazing sandals. This Fall with your ruffle front ankle boot and the cut-out suede sandals and now the 2012 Paris Spring Runway, you have amped up extreme heel heights and emphasized that sexy is back. Why now?
Giuseppe Zanotti: For me, it's been over 30 thirty years in the profession and 15 as a designer, and it's all about this incredible mystery of a woman's sensibility today. You don't want to do something that is so strange. There is a limit. The last two to three seasons many shoe designers have been fireworks and super, super high shoes. In my case, it's all about colors, balance, proportions. Not too much "on board". Look at my "Lady Gaga" wedge (above) with 3,00 stones. It's a beautiful, sexy wedge but with everything in proportion. ( The third sketch above, to the right, is the wedge. The left shoe is the "don't" and the right shoe is the "do".)
B& B: What is the "must have " for a women's shoe wardrobe?
Giuseppe Zanotti: The flat. But, my challenge is always to do a sexy flat. To incorporate with jewels, some embroidery; also to make sure the ballet flat is very soft and very unique. The flat is my sneaker. My very elegant sneaker. Perfect for a long day on your feet or for the evening.
B & B: Tell us about your creative process in design.
Giuseppe Zanotti: For my my high heel I try my best to create a balance between image and comfort. Sometimes people don't take the time to realize the importance of a good fit. It is just as critical as the creativity. We spend months and months working on the research of the right fit to make sure comfort is equal to the look of the shoe. Design is never forgotten but it is a partnership between the two. Crazy heels are on the market; but for me, it is important to create a beautiful heel. Easy, simple. It's like the shape of a beautiful woman's body. (The bottom sketch, to the left, demonstrates the bad heel "don't" and the good heel "do" along with the vision of a women's body in the shoe versus a "crazy" heel.) It's all about the shape as part of being body conscious in the right way.
B &B: Do you have a favorite color you love to work in?
Giuseppe Zanotti: All the time I like to design with black silk , red and a little yellow. In reality, in every season, I like the electric blue and in the summer a nice beige. Yellow is also so nice . (See above). Little details ( which Giuseppe calls "zoom" and are called out in his sketch) make all the difference. Perfectly balanced. Pure, simple ,and, of course, great boots.
B &B: What height do you like in a boot right now?
Giuseppe Zanotti: Ah, the ankle boot right now. It's my favorite. It's just the best. The wedge look. Very modern.
B & B: Are the rumors about working with Christophe Decarnin true?
Giuseppe Zanotti: We have worked together in the past and now, we do something for next season. ( The B & B were literally speechless when we heard the news.)
B & B : What is the key to looking great at any age?
Giuseppe Zanotti: Sandals are the timeless shoe. But, for party's and evening, a black, super-sophisticated high-heel.
B &B: This is a real shoe dog question. How many samples do you create per season?
Giuseppe Zanotti: Almost a 1,000 with maybe 700 shoes actually produced. (Now we were really speechless.)
The B & B closed our interview with four quick questions.
B &B: The sexiest look for a women is…Giuseppe Zanotti: Now the "nude" is everywhere (meaning showing too much or revealing too much skin). It is more sexy when a women is not nude at all. You can discover a little sex appeal. She has a mystery. You want to slowly unveil her and get to know her. Her personality and everything about her is not exposed; but, intelligence, confidence and attitude is the greatest sex appeal, and of course, the way a women enters a room. How she carry's herself; and then, a great shoe is the essence of sex appeal.
B & B: If you are petite or "piccolo"… Giuseppe Zanotti:the high heel but not too, too extreme a platform.
B & B: If you are tall…Giuseppe Zanotti:the 50 mm heel is great or the flat, plain ballerina.
B & B: Do…Giuseppe Zanotti:I think women need to move their personality into more of a chameleon. Perhaps more of a slightly stronger ('masculine") shoe in business and at home, with family and evening, a more feminine look.
Good advice from a designer and man who loves what he does, women and shoes. We hope you enjoyed this as much as we loved meeting the endearing Giuseppe Zanotti. He has inspired us and will continue to do so by bringing his trademark style, elegance and confidence into our lives. Check back on Monday, we might, no promises, have a small give away. To see more of the Giuseppe Zanotti Collection, follow this link. Saks Fifth Avenue.
xo
– NJ, The Brunette & Kathryn, The Blonde