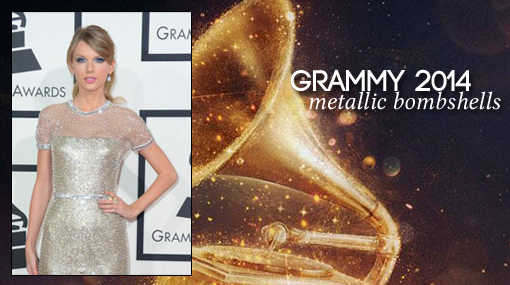 This year's Grammy Red Carpet was all about the bombshell metallic looks that dominated the Spring 2014 runways. Katy Perry was the exception in Valentino Haute Couture direct from last week's runway shows. That's now a "dead" gown, as they say, since it's been worn so publicly.
Most of these gals just looked stunning even if the fashion wasn't perfect, it was all A-O.K. The Grammy's is all about letting loose and having fun. But, we graded them just because we can.
Taylor Swift, Chrissy Teigen (the supermodel wife of John Legend) ,and Beyoncé in figure flattering choices are on the top of our list with Paris Hilton failing on the Red Carpet in something that seems out of a bad Vegas show. Hope her new album is better.
We also adored a very expectant Ciara in Emilio Pucci. Besides, shiny, slinky gowns, the other trend continued to be shades of red and orange. So, how do you grade the looks?
Fashion aside. My favorite performances were an eclectic mix from the stunning mash-up between breakout Compton artist Kenrick Lamar and Imagine Dragons, Paul McCartney and Ringo Star reuniting on stage, to the funky disco take on Daft Punk's Get Lucky with an all-star line-up of Stevie Wonder and Pharrell. I also adored Metallica's unexpected collaboration with Chinese classical pianist Lang Lang which had the crowd going crazy after a marathon week of rehearsals.
I just want to hit the replay button on everything. The musical message was all about collaboration between musical legends and today's stars. Truly brilliant marketing. Passing the torch from one generation to the next.
With Love From LA,
NJ Goldston, The Brunette