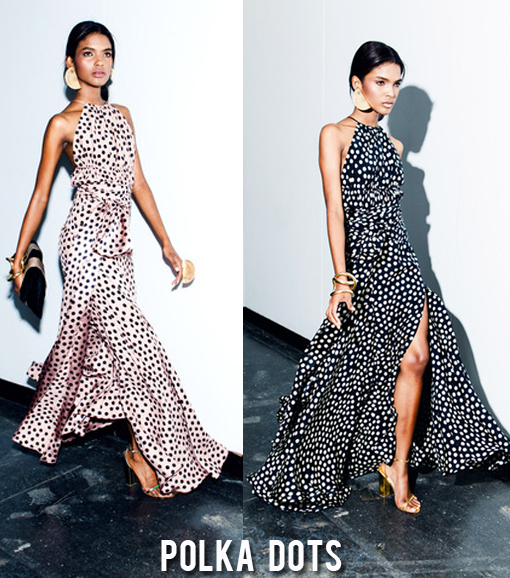 If you're an LA girl, then you are already head over heels in love with Juan Carlos Obando, or JC, as we call him. Now we are more in love. Hailed as his best collection ever, for Spring 2014, Obando updated his signature silhouettes with glamorous pajama sets, halter gowns, key hole details, and high-neck blouses with streaming silk ties (and I have a few of those in my closet that are wardrobe staples); plus draped and tied maxi-skirts with thigh-high leg slits (so sexy), all in a variety of graphic prints. Polka dots and bold colors with cabana stripes along with a touch of tribal and soft pastels provided the perfect balance.
Themed "North African Night in Madrid", you can feel the hot nights and the promise they hold. His choice of colors is electrifying. Red, cobalt blue, turquoise, fuchsia, jade. The perfect anchor along with his ever expanding line of chic jewelry. Standouts included striking cuffs and mismatched earrings.

Obando said he feels "everything has come full circle this season". We agree. The announcement of his nomination as a 2013 Fashion Fund Finalist (and we are rooting for him), is the apt culmination of his distinct talent for sensuous evening wear.
After a long winter, we will all be longing for our next summer vaca and hoping we are invited to something glamorous enough (or not) that we can make an entrance. After all, anything by Juan Carlos is suddenly becoming every girl's dream—especially if you want to own the night. Who doesn't?
With Love From LA,
NJ Goldston, The Brunette