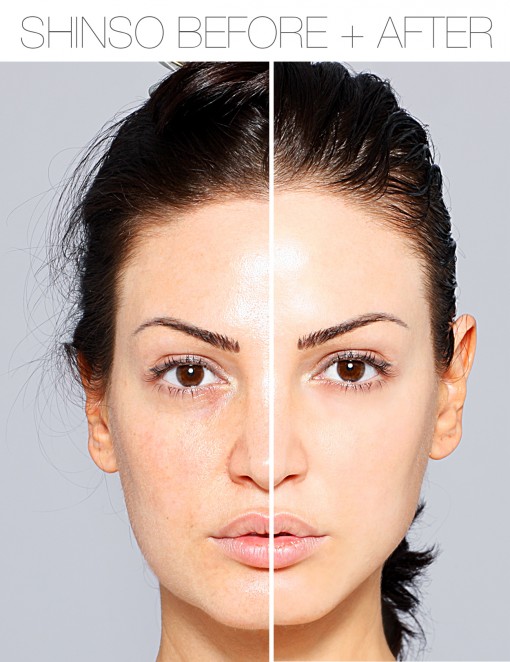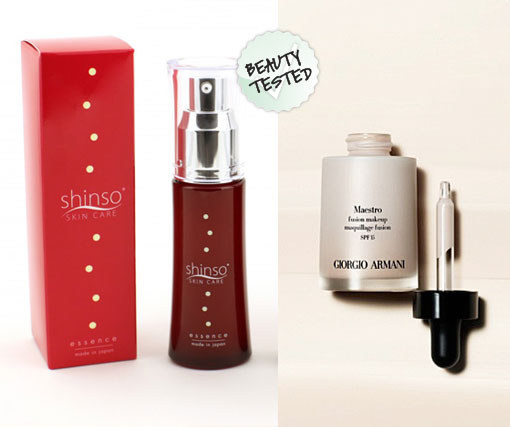 We're in the thick of the holiday season: that month or so of parties, social engagements and family gatherings. It's the season to look your best, but the problem is, it's also a season when we're so busy that we have little time to devote to beauty. Want a holiday quick fix to get your skin in party mode? Just pair Shinso Essence with Giorgio Armani Maestro Fusion Makeup to get your face holiday ready.
Celebrities like Jennifer Aniston, Halle Berry, Eva Longoria and Simon Cowell swear by Shinso Glow and Shinso Essence. These products, which include exclusive ingredients found in Japanese deep-sea waters, will make your skin look brighter, smoother and firmer, reduce your pore size, and give your face a lift within minutes.
The magic happens when you apply Giorgio Armani Maestro Fusion Makeup as your foundation. This beautiful luxury cosmetic line, which we've been raving about for months, gives you a perfect complexion with an unforgettable, light-as-air texture and a soft, natural glow. Not your average makeup, the high-slip fluid and ultra-file oil pigment suspension line blends in with your skin like nothing you've ever seen — or felt.
Now. Here's how to get rejuvenated skin in less than 3 minutes:

Wash your face and towel dry.
Apply Shinso Essence to firm your skin and give it a "lift."
Give your skin a flawless finish using Giorgio Armani Maestro Fusion Makeup.
Just follow this quick routine, and your younger looking skin will have you glowing at all your holiday events. Shinso Essence available online for $350. Giorgio Armani Maestro Fusion Makeup. $62.
-Robert Applebaum, MD, B & B Beauty Contributor