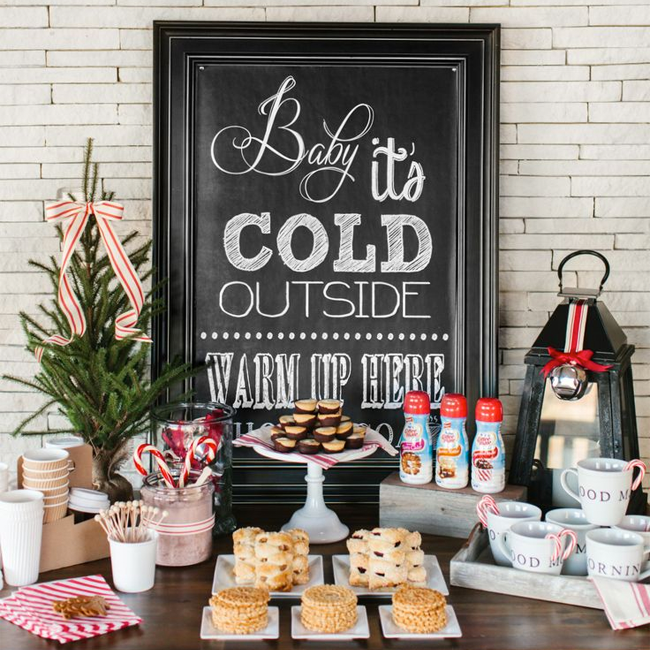 This year, if you threw your hand up and volunteered to host the holiday party for all your friends & loved ones, don't fret. We've got all the tips and tricks to throw a one everyone will remember!!
First up, a drink station. Having a drink station is crucial when throwing a party. It will keep everyone from gathering in the kitchen and get your paty and teh conversation flowing. Below are some fun tips & tips for setting up your very own adult watering hole.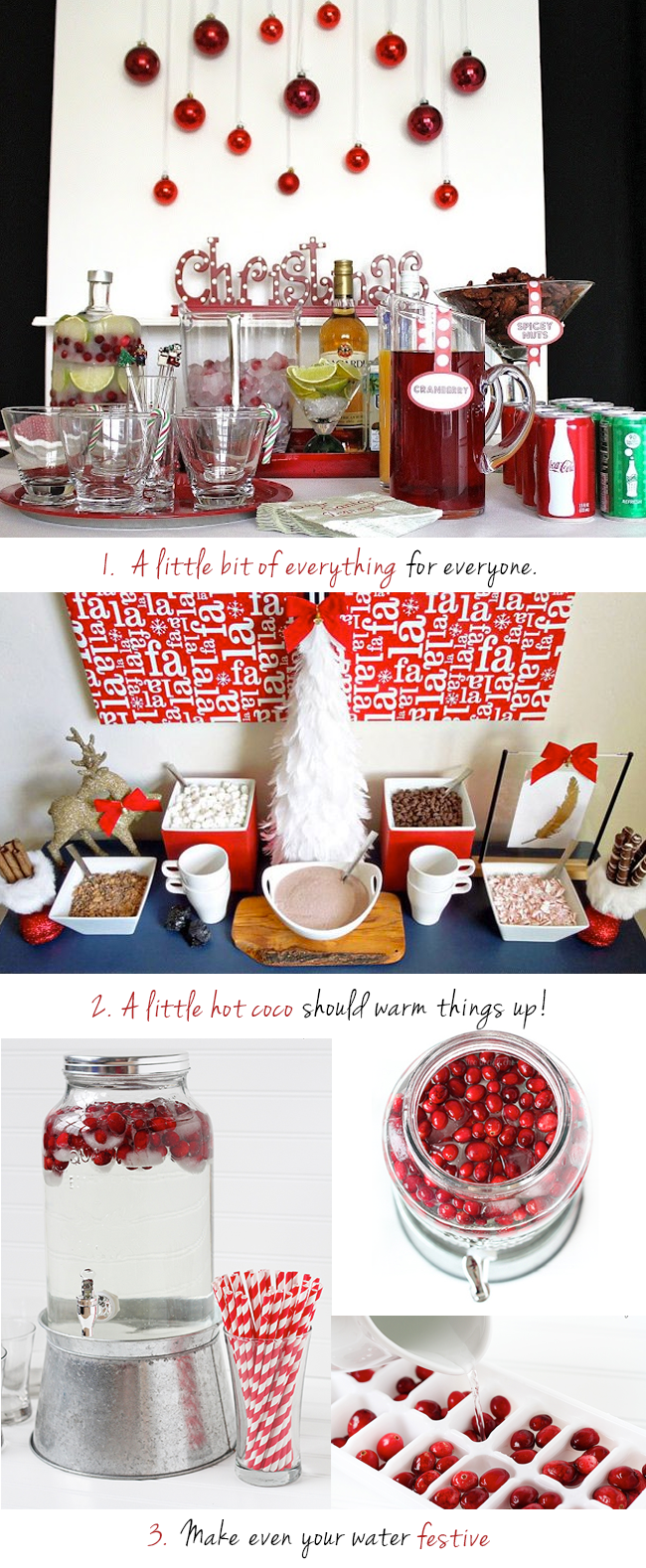 1.) Having something that everyone can drink is important, so variety is key. We recommend having one mixed cocktail/punch bowl option for the majority of guests (our favorite recipes HERE and HERE.) Then get a few bottles of other liquor to give people options. It's also important to remember that not everyone is going to want alcohol, so having backup options are important. Leave out a few soda choices for the kids and having a small snack for guest to munch on, is always nice.
2.) We think this is an adorable idea. Having a hot coco bar is both kid and adult friendly and let's face it, who doesn't like hot chocolate during the holidays?!
3.) This is a really simple but cute way to spice up your watering hole. Leave out some festive red and white straws and add some cranberry ice cubes for good measure. Never made cranberry ice cubes before? No worries, just simply add in the berries to your ice tray, fill with water, freeze and, Viola! Cranberry ice cubes that look great and add that festive flare you've been looking for.
Moving on.. Next up, the decorations! This part is one of our favorites!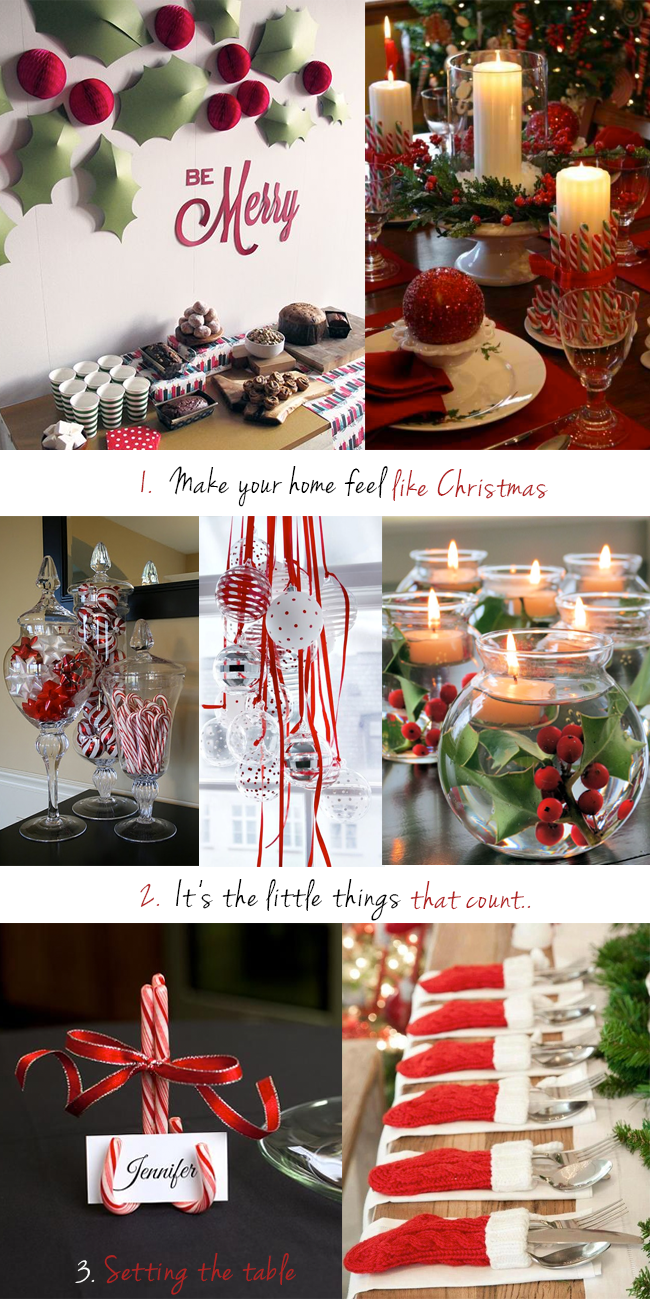 1.) Making your home feel festive is easy, whether its adding some cute paper wall decorations, or just decking out your dinning room table. It's important for your guests to feel the spirt and to get in the party mood.
2.) It really is true when people say it's the little things that count. Adding small touches throughout your house will make people feel warm and invited not to mention, make it memorable. We love adding some shrubbage and berries to make little water candles, or adding candy into large glass jars for some extra decor around the house.
3.) Setting the table. We know that making the food alone is a job in-itself, so when someone mentions setting the table, you cringe a little. Lucky for you, we have some simple cute table setting ideas that won't take much time and will be conversation pieces for your table guests. For your name placements, we loved the idea of tying two candy canes together with a pretty red ribbon, it's simple and sweet. And to keep adding to the table, what cuter then stocking silverware holders? Genius.
And last, but certainly not least.. the food! Here are some simple and easy holiday recipes if you need any last minute ideas of what to cook or bring to your holiday party!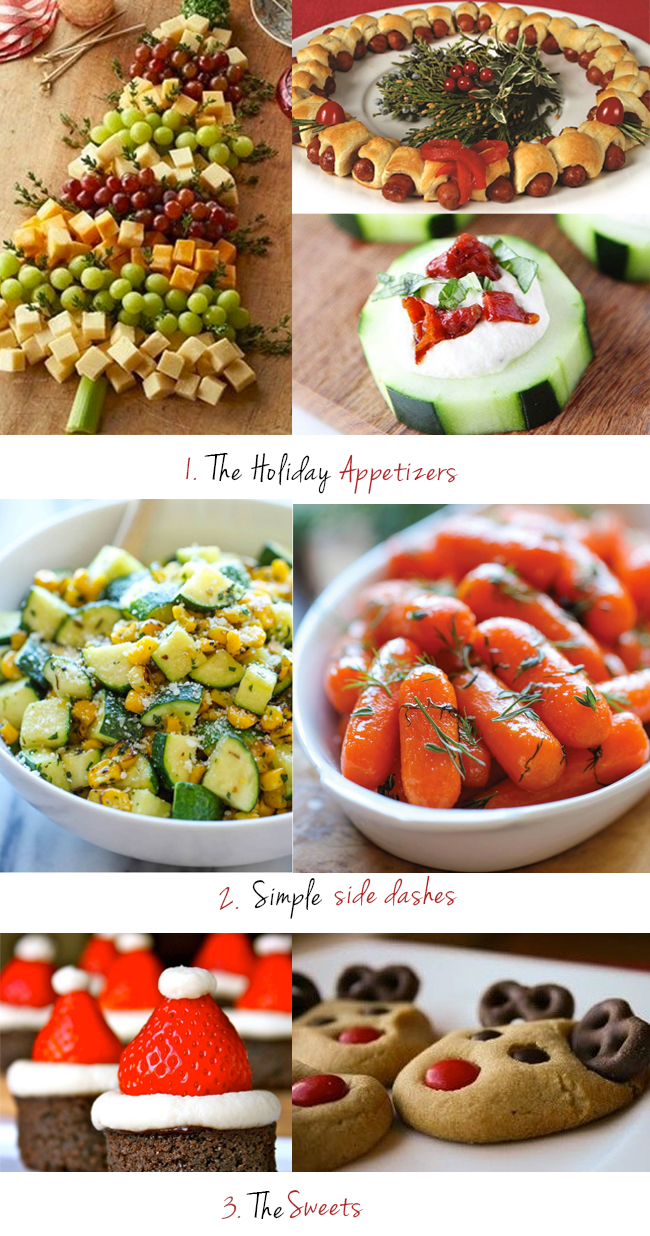 1.) Easy appetizers are just what the holidays call for! Here are three of our favorites. Holiday Appetizer Wreath (recipe HERE) Cucumber Canapés with Whipped Feta, Sun-Dried Tomatoes, and Basil, YUMM! (recipe HERE) or a cheese fruit platter – just get creative with your design.
2.) Next up, the simple side dishes. Our favorites are the Parmesan Zucchini and Corn (recipe HERE) or Honey Glazed Baby Carrots (recipe HERE)
3.) And lastly, let's not forget the desert. These adorable Santa Hat Brownies (recipe HERE) and Peanut butter Raindeer Cookies make great little snacks for your guest to take home with their left overs.
Well, hopefully these tips and tricks are about to help you get through this holiday season. Now sit back, relax, and enjoy yourself. After all, it is the best time of the year!
xo,
-Lauren, The Blondette.