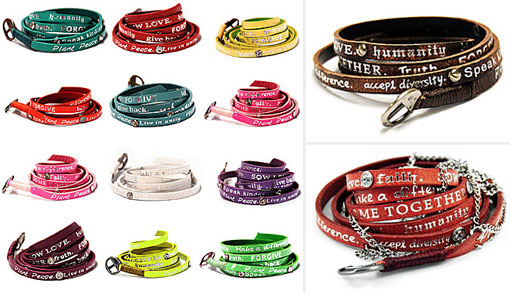 With all that is going on in the world, I am continuously inspired to contribute to organizations working towards bettering the lives of others. Humanity, a new company I have just come across, has already become a new favorite. It comes in numerous styles and colors and catches the eyes of everyone! After just a week, already a handful of friends have run out and picked one up for themselves.
Phrases located on bracelet : Plant Peace. Live in Unity. Freedom. Make a Difference. Accept Diversity. Show Love. Give Back. Faith. Humanity. Speak kindness
25% of each purchase goes to support non-profit organizations. Becoming part of Humanity is the start of making a difference.
Humanity Happy Days Wrap Bracelet $30
Humanity Happy Days Chain Wrap Bracelet $24
Humanity Vintage Wrap Bracelet $30
Xx. Jadan