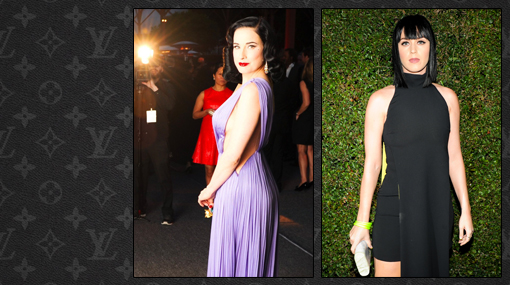 What a night! Tinseltown, LA's art, and fashion elite all stepped out Saturday night to celebrate MOCA's 35th anniversary Gala and the opening of the new multimedia exhibit of the late Mike Kelley. Sponsored by Louis Vuitton, the star-filled crowd partied into the wee hours at the Geffen Contemporary to welcome the museum's new director, Philippe Vergne, and the dawn of a 'new era'. The surprise performance by Diana Ross, who belted out "I'm Coming Out" and "I Will Survive" was the fitting nightcap for the now financially stable museum .
The fashion was just as interesting and contemporary as the museum's stellar collection. Everyone from Pharrell Williams, who wore a black version of THAT hat, and smoozed all night with Jane Fonda, Katy Perry in a long color-blocked black dress open on the side, an always glamorous Dita Von Teese, Rachel Zoe, Tracee Ellis Ross, Liz Goldwyn, Ryan Seacrest, Moby, Rodarte designers Kate and Laura Mulleavy to Chloë Sevigny, Dianna Argon, and Haley Bennett, all in Nicoplas Ghesquière's first collection for Louis Vuitton, were table hopping and dancing the night away.
Some of my favorite looks of the evening included Sally Perrin in a floral, floor length gown, Sutton Stracke in Rodarte, Laura Dunn in Michael Kors, Joy Venturini Bianchi in the famed Tom Ford Zebra gown with horse hair back and neck, designer Aliona Kononova in one of her whimsical MOE creations, Lyn Winter, Sarah Robarts in pink which is the color of the season ,to the always stunning China Chow. As one of the evening's dinner chairs, I paired my recently Paris-acquired Louis Vuitton black ostrich feather headdress with a beaded dress from Marc Jacobs' last "show-stopping, showgirl-inspired collection". As I told the LA Times, "It took all my courage to wear it." But, I did.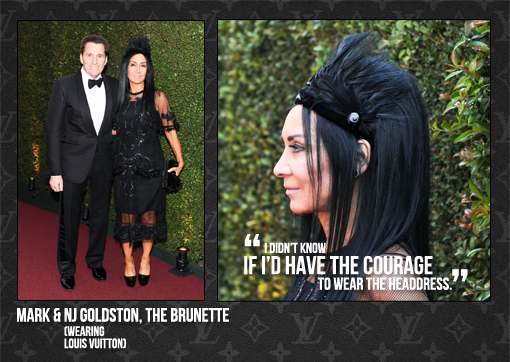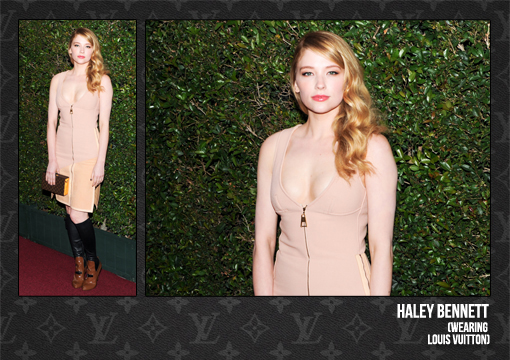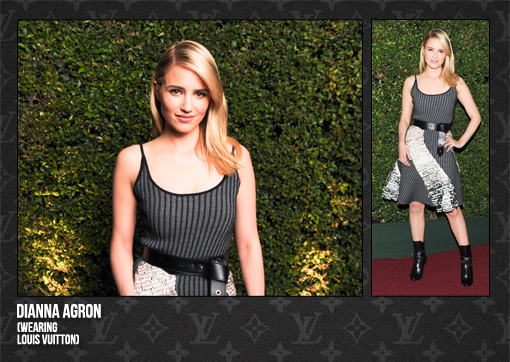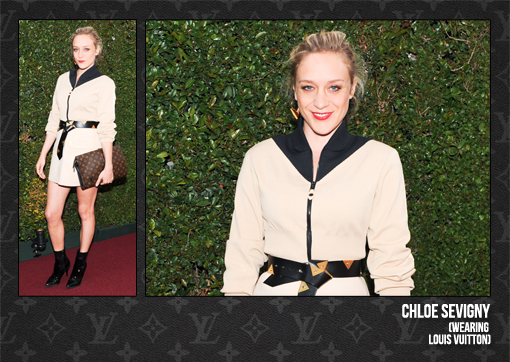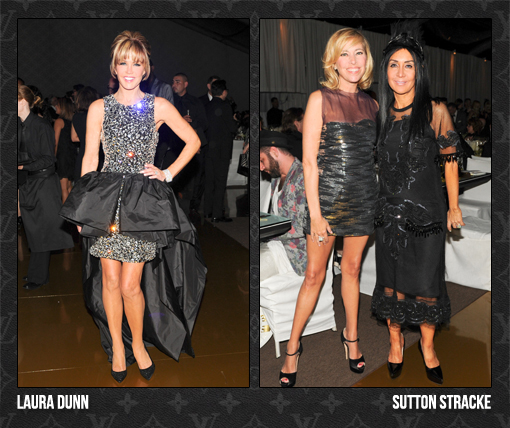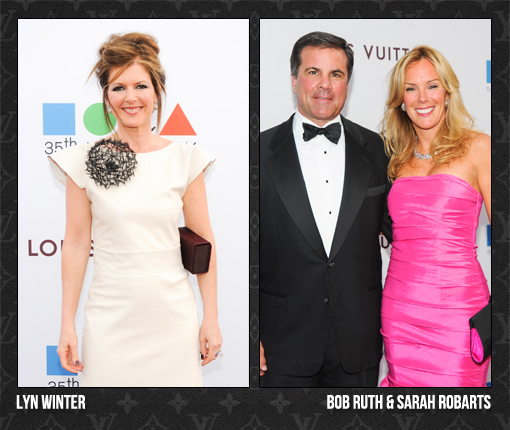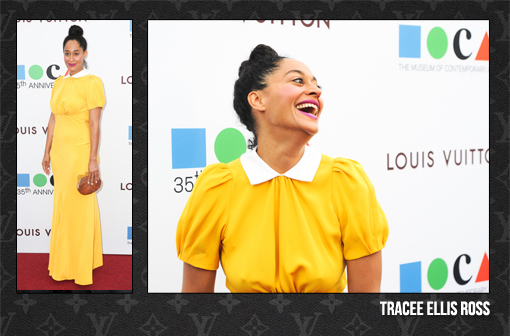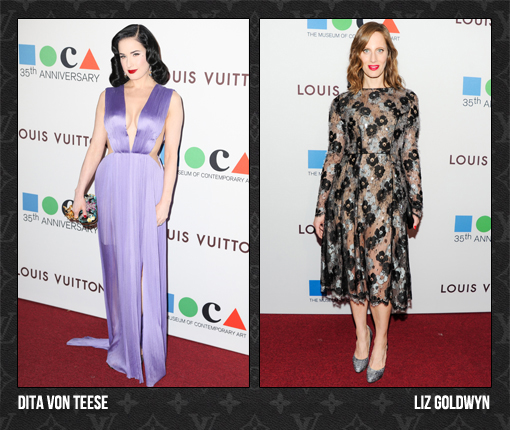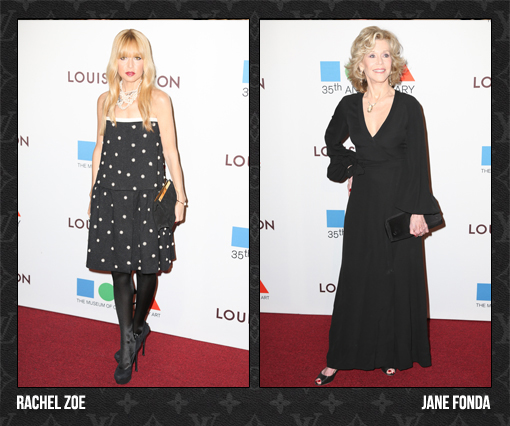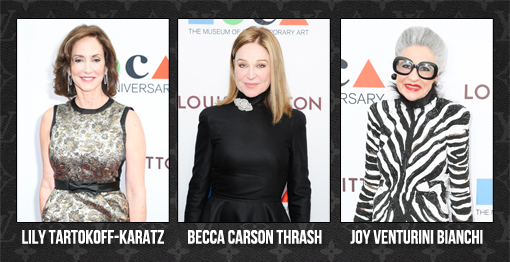 So many of the men also brought their "Fashion A-Game" to the Black Tie event from Decades' Cameron Silver in a jacket by Belgian designer Walter Van Beirendonck , designer Jeremy Scott in his version of literally "black tie", artists Shepard Fairey and Retna to sneaker entrepreneurs Adam Goldston and Ryan Goldston in Tom Ford, Mark Goldston in a Tom Ford tuxedo jacket, Michel Perrin to Vivo Nevo (in the other Mountie Hat).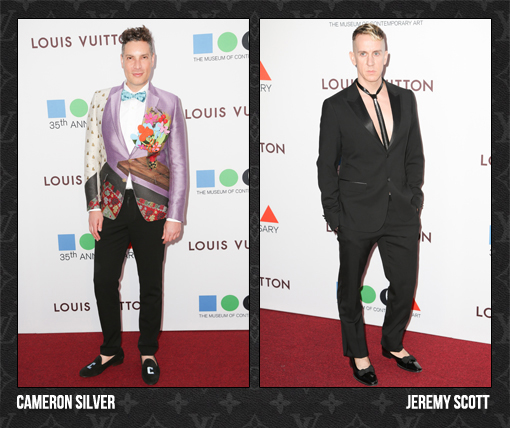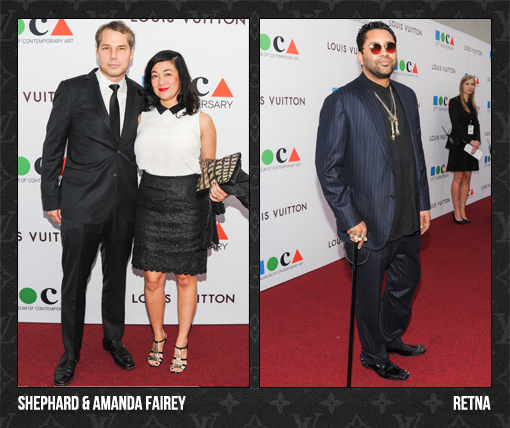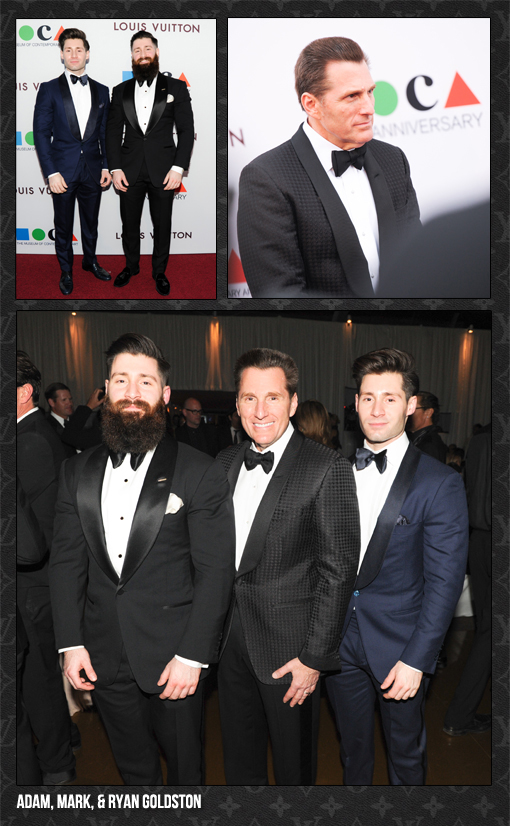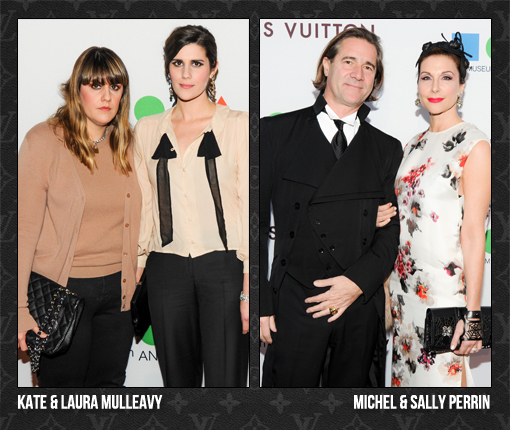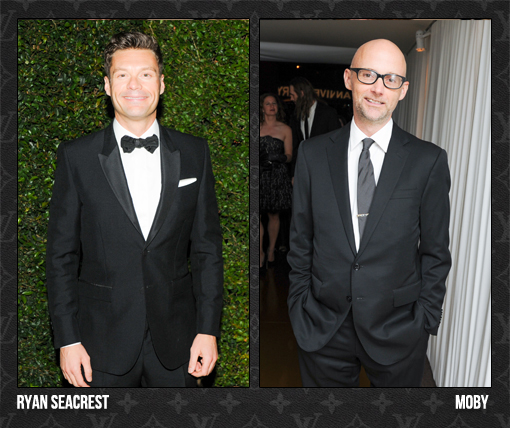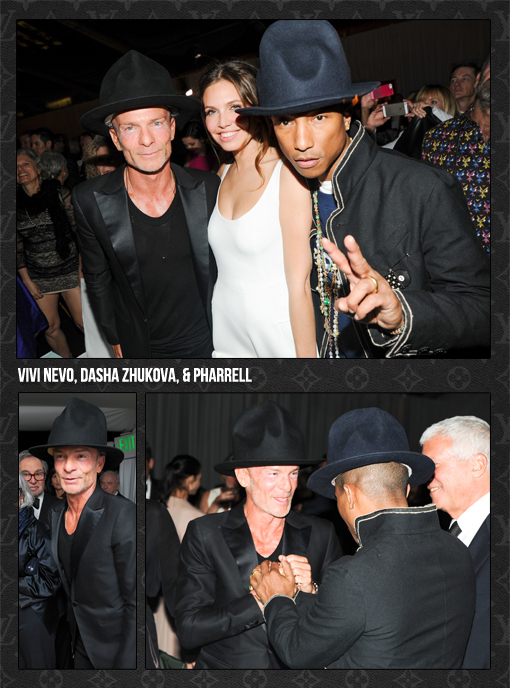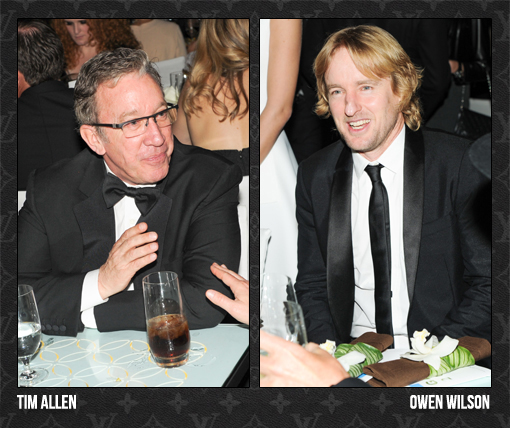 With Louis Vuitton as the evening's sponsor, along with an assist from Caesarstone, guests indulged in a stunning cocktail hour, at the what else, but a Caesarstone bar and cocktail tables, which will literally make their way into the museum's permanent party collection. The evening then progressed into a magnificently constructed tent for the over 800 guests, which featured beautifully lit table tops and walls, complete with iconic LV logos, along with projections and light shows of MOCA's permanent collection and Diana Ross throughout the evening. Guests were served a four course menu by Wolfgang Puck including sweet corn agnolotti with shaved black truffles, superb wines and a marjolaine with coffee gelato for dessert. The crowd exploded and jammed the stage for a rousing surprise performance by Miss Diana Ross. The evening then wound down, not really, with DJ Philippe Paris. St. Tropez anyone?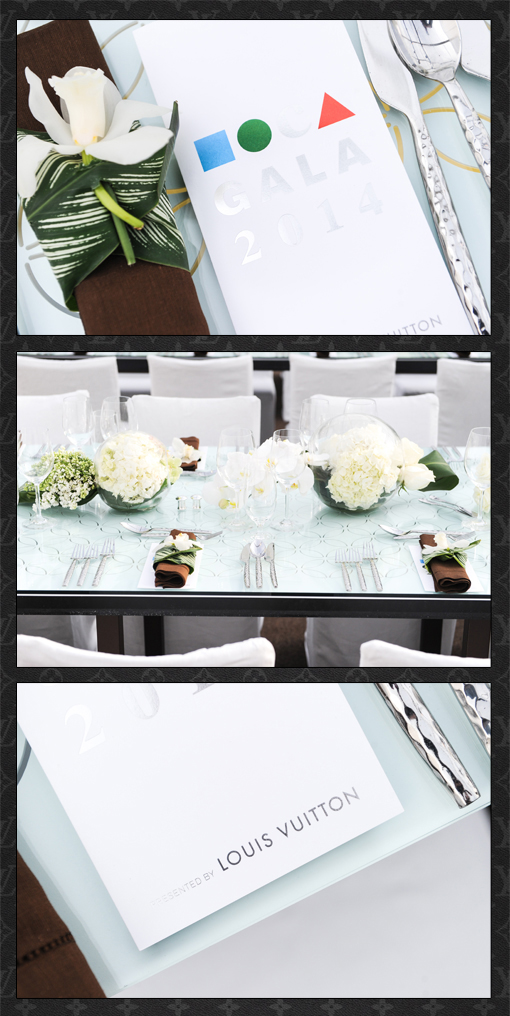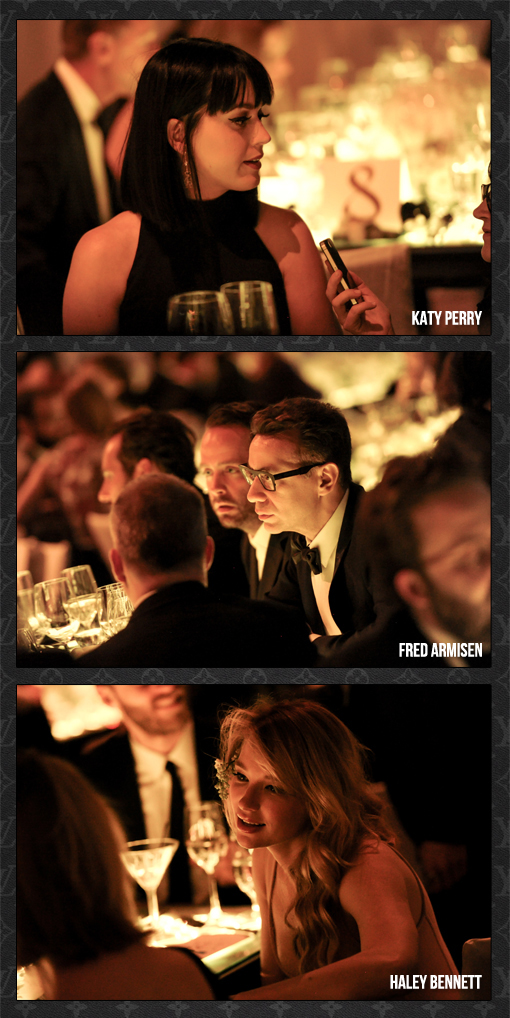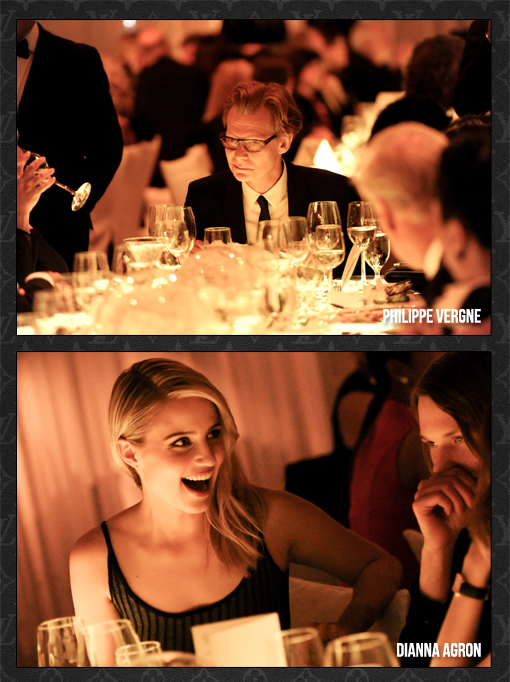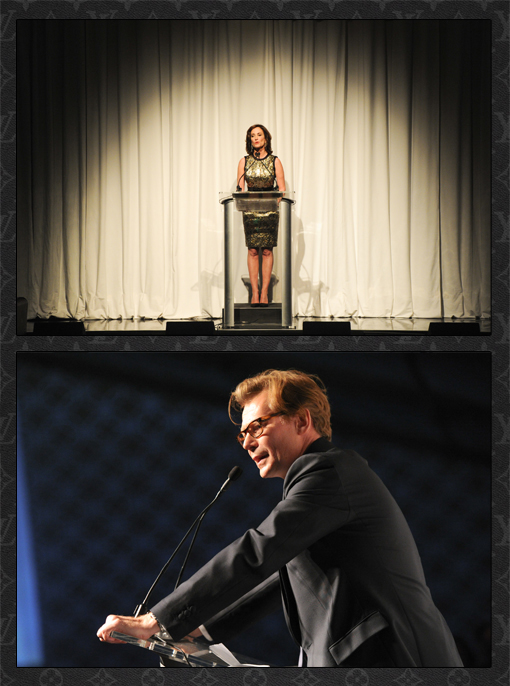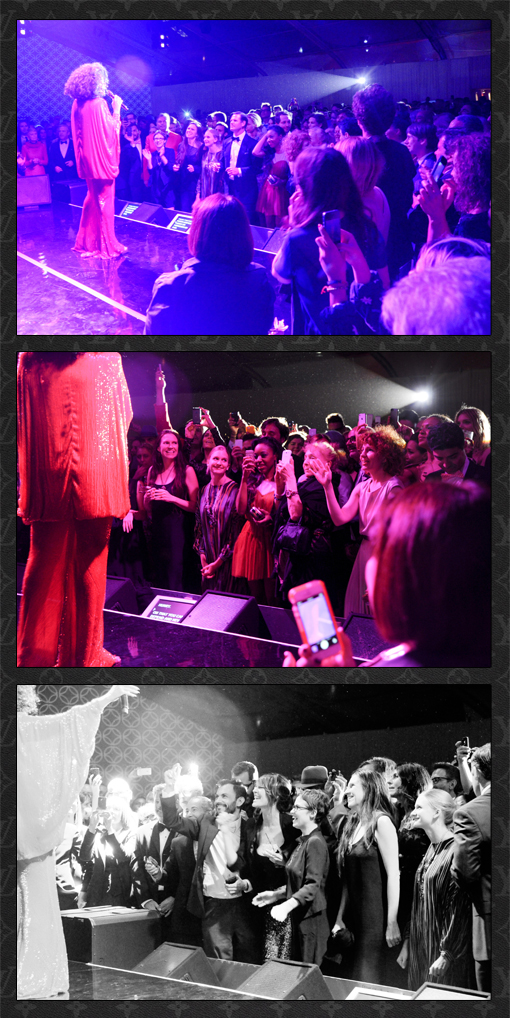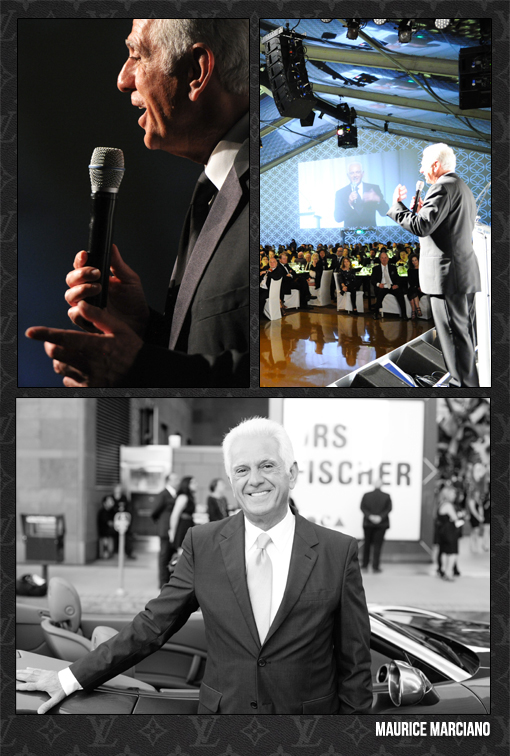 All above photos: Neil Rasmus/BFAnyc.com, Aleks Kocev /BFAnyc.com, & Billy Farrell/BFAnyc.com,

All photos below, courtesy of NJ Goldston, The Brunette!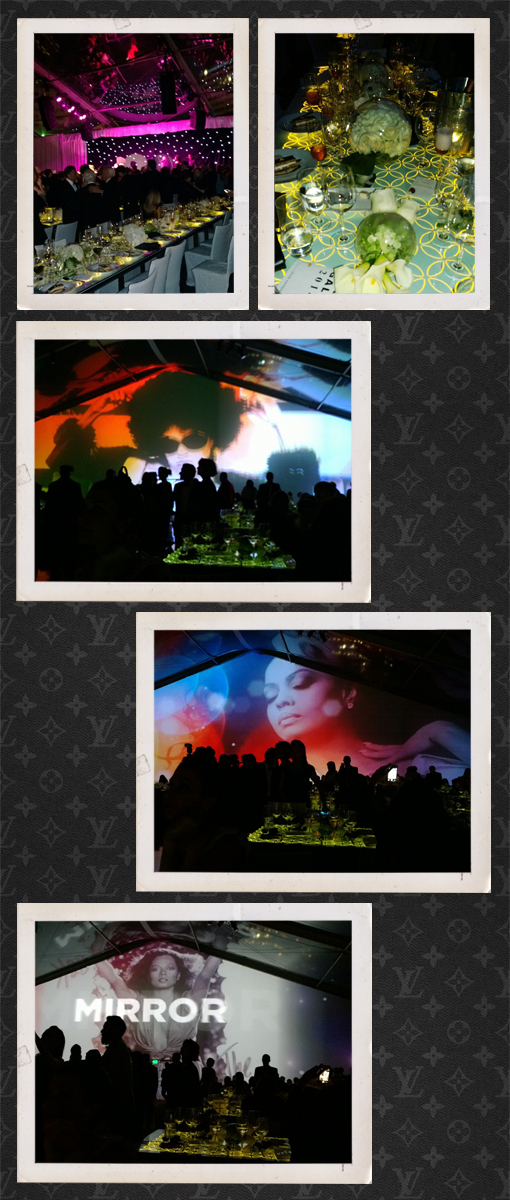 The night was a roaring success. Gala Chair Lily Tartikoff-Karantz announced the museum had met its recent endowment goal of $100 million dollars and was now setting a new goal of $200 million. The big surprise was when Gala Co-Chair Maurice Marciano announced he would match the net ticket sales of the evening of $1.2 MM. raising over $2.4 Million for the night. Now that's a lot to celebrate!
With Love From MOCA' s 35th Anniversary Gala,
NJ Goldston, The Brunette and David Soriano