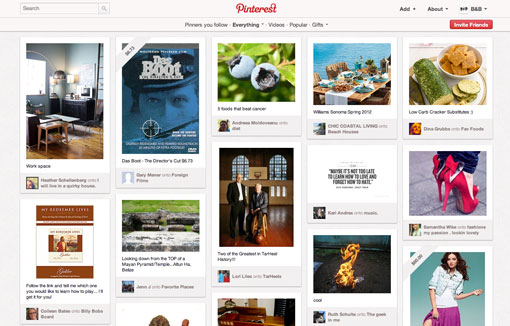 Most, if not all of you already know about the newest internet addiction. It is taking over the interweb by storm! It's actually rare to go somewhere these days without hearing someone say "Oh, I saw that on Pinterest." Pinterest is a virtualized pin board. It lets you organize and share all the beautiful things you find on the web. People use pinboards to plan their weddings, decorate their homes, organize their favorite recipe,s and even gain new style tips.
The best part? Not only can you upload and share all of your own ideas, but you can browse pinboards created by other people. Browsing pinboards is a fun way to discover new things and get inspiration from people who share the same interests as you. To get started, all you have to do is request an invite, and within a week, you'll get an invitation from the Pinterest team!
My own personal pin boards include.
Places I'd love to travel – This is where I keep and collect all my future destinations.
Fashion Passion – This is where I keep all things fashion that inspire me.
Home Decor – I love interior design, and Pinterest has given me some great ideas.
Inspiration – This folder included everything from lovely photos to inspirational quotes.
Recipes – Anything from gluten free, to vegan, to vegetarian, you can find it all.
Kid Corner –This is where I collect different arts and crafts activities to do with my niece.
To Do – This is a compilation of all of the ideas I have found on Pinterest that I would love to do immediately. When I have a day off, or downtime on the weekend, I go to this file, pick a project, and complete it!
I've included a few photos of some of my favorite Pinterest inspirations!
My Pinterest name is "Jaybird", come "pin" with me! Also, The Blonde & The Brunette now has a Pinterest account as well. Follow us at "BnBStyle" or click on our boards directly from our site!
Xx. Jadan