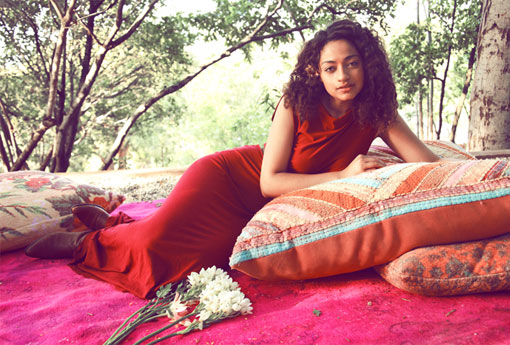 Since she is performing in LA this weekend, and everyone is buzzing about it, we though you needed to know a bit more about Dana Williams who is a very up and coming American singer songwriter and musician. She is the daughter of the late David Williams, best known for his 30 year collaboration with Michael Jackson. Her Dad also collaborated with many great artists, including Madonna, Bryan Ferry, Earth Wind & Fire, Whitney Houston and Mariah Carey. This proved to have a profound influence on Dana's passion and dedication to music, who as a young girl was inspired by the works of Ella Fitzgerald, Billie Holiday and Sam Cooke. Dana is also the sister of American actress Davida Williams. At 13, Dana traveled to New York to attend the Master's School where she began her instrumental studies and music theory. She quickly engaged the guitar and is an accomplished contemporary as well as classical player. After graduation, she studied music and music scoring at Columbia University only to further her studies throughout college, where she graduated at SARAH LAWRENCE COLLEGE. Throughout college Dana was an award winning and widely published poet. Her lyrics are laced with poetic images and emotions, her beautiful voice is angelic and her songs stir the soul.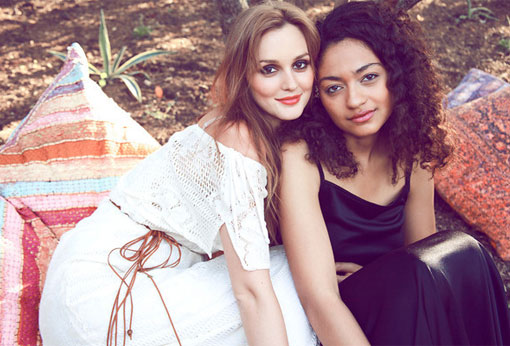 Dana recently finished the Leighton Meester Check in the Dark Spring Tour of 2012 as the Opening Act. Currently, she lives and performs frequently in Los Angeles.
Jadan Huter for The Blonde & The Brunette: Hi Dana! Okay, So you just finished your first tour, what was your favorite/least favorite part about tour life?
Dana Williams: My favorite part about the tour was bonding with everyone on the van, although it was a tad cramped it was so much fun because we were all forced to bond and we got to really experience the entire thing together as a unit and obviously my MOST favorite part was performing for different audiences. I got to see the varying reactions from city to city and that was interesting. I honestly can't say I had a least favorite part of the tour it was amazing, although I did miss my dog.
B&B: How long were you on tour for? Where did you go? What was your favorite city?
DW: The tour was two weeks. We went to San Francisco, Anaheim, Portland, Seattle and Vancouver. I didn't have much time to explore but I really enjoyed SF and Vancouver, really warm audiences. Although I can't say I didn't enjoy the other cities, we just passed right through them.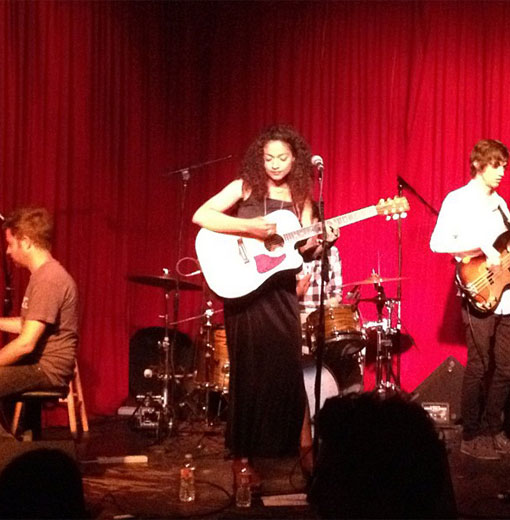 B&B: What is your favorite Los Angeles venue to play?
DW: One of my favorite LA venues to play in is Room 5. The seating is so cozy and I like the little window on the stage. It's also very quiet and intimate. A lot of venues are a little loud but at Room 5 the seating is arrange so that the stage is the main focus of the room so when people come to Room 5 they are really there for the music.
B&B: When did you know you wanted to be a singer/songwritter?
DW: I've always known I wanted to be a singer. Since I was 6 I have been listening to Big Band and mimicking Ella Fitzgerald. I wrote music with my dad too at a young age, but it wasn't until I was about 13 that I became proficient enough on the guitar to really make my own songs.
B&B: Do you write all your own music?
DW: Yes. I always found it strange that people are comfortable performing someone else's work.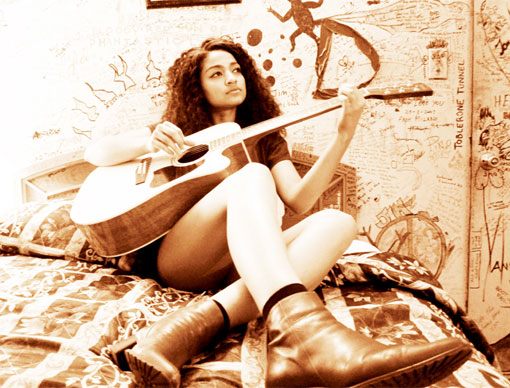 B&B: How would you describe your personal style? What do you wear on a daily basis? Favorite jewelry ect?
DW: My personal style is very simple. I don't wear too much jewelry although I have been looking for some more rings. I have been wearing a lot of black these past few years. This is probably because I lived in New York City the past 8 years, so I'm just coming out of that phase, or at least trying too! I usually wear high wasted pants or shorts and a cropped shirt. I also like wearing long flowing skirts and dresses. I try to avoid kitschy name brand apparel.
B&B: Would you say you take a long time to get ready when you are heading out for the night? What about just running out for an errand?
DW: I am not high maintenance and sometimes it can take me 30 minutes to get ready to go out at night, but some nights, depending on what mood I'm in, I can trying on as many as 5 outfits before I feel ready to go out. When I'm just running errands I usually just throw on my shorts and a t shirt and head out. It doesn't take too long.
B&B: How would you describe your daily beauty routine?
DW: My daily beauty routine has been the same since I can remember. I have very thick unruly hair so I spend most of my time calming it down so that it at least stays in one place.
B&B: What is your secret weapon when it comes to beauty? Any products you just couldn't live without?
DW: I have very oily skin so my newest secret weapon is Makeup Forever's Duo Mat Powder and Korres Pomegranate Mattifying Treatment.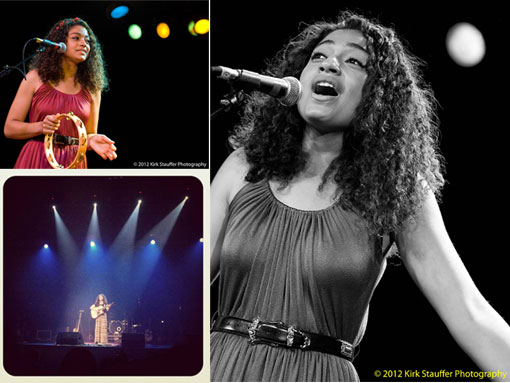 B&B: Who or what inspires you? (Musically & In Fashion)
DW: This year, Feist, Norah Jones and Fiona Apple have released new albums. I am inspired by their ability to continually produce creative thoughtful music. I am inspired because they are not concerned with making top 40 but with creating art that touches people by sticking to what they love and I hope to do the same.

Another lady that inspires me in fashion is Alexa Chung, I appreciate her simple classy look.
B&B: Favorite Books?
DW: Invisible Man, by Ralph Ellison.

The Wasteland, by T.S. Eliot.

The Wild Iris, by Louise Gluck.

The Fall, by D. Nurkse.
B&B: Favorite Quote?
DW: Something I've been thinking a lot about lately: "We can judge the heart of a man by his treatment of animals" Immanuel Kant. ( I had never heard that one…Simply beautiful, just wow! – Jadan)
B&B: What would we always be able to find in your purse?
DW: A vast array of lipsticks and some Claritin.
B&B: If you could see one fashion trend come back, which one would it be?
DW: High wasted thongs. No, I'm kidding.
B&B: What is your idea of the perfect weekend?
DW: No work. Sunny. Swimming. Surrounded by close friends.
B&B: Where do you see yourself in 5 years? 10 years?
DW: In five to ten years from now I will be playing larger venues, much larger, and have touched more people with my music. I'll always be making music. I'll just be a bit older and a bit more respected.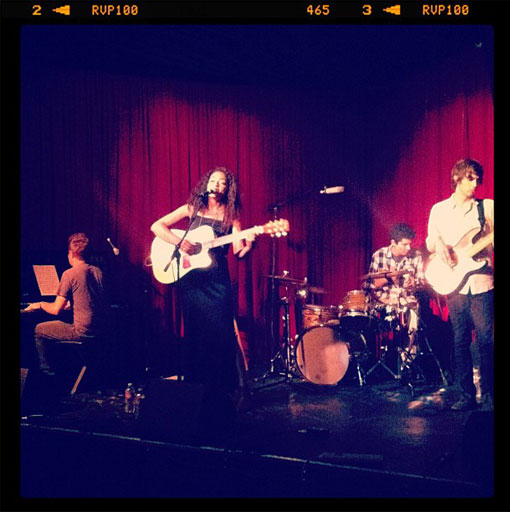 B&B: What would be your dream venue to play at?
DW: My dream venue to play at is the Greek Theatre. Its so beautiful, all those gigantic trees.
B&B: Who is involved your dream duet? Who would you love to share the stage with?
DW: Not that this is possible or anything but I think it would be awesome to do a duet with Sam Cooke. He has such sweet voice and I imagine he'd be a lot of fun to perform with. Also, Jack White, I respect him a lot.
B&B: Who is your favorite Blonde?
DW: Cher Horowitz
B&B: Who is your favorite Brunette?
DW: Ella Fitzgerald
Dana Williams is a favorite of mine. The fact that I have the honor to call her a friend is quite humbling. Her voice is unlike any I have ever heard, captivating is the only way to describe it. You can be having a terrible day, and the moment she starts singing, time stops, and her words becomes your entire existance. She is timeless, honest, and pure. If only it were possible to stick Sam Cooke and Dana Williams on the same stage. All the hearts in this world would melt, and peace might exist! In the meantime, until we see her take center stage at the Greek Theater, you can catch her next show THIS Sunday AUGUST 5th, 8pm in the Voodoo Room of The House of Blues. She also had a show next week, Saturday August 11th at The Malibu Inn at 1:30 & 3:30pm. It is a magical experience you will not regret, I'll see you there!
Photography by the talented Ian Maxion, Nancy Gomez and Kirk Stauffer.
www.DanaWilliamsOfficial.com
Xx. Jadan Huter