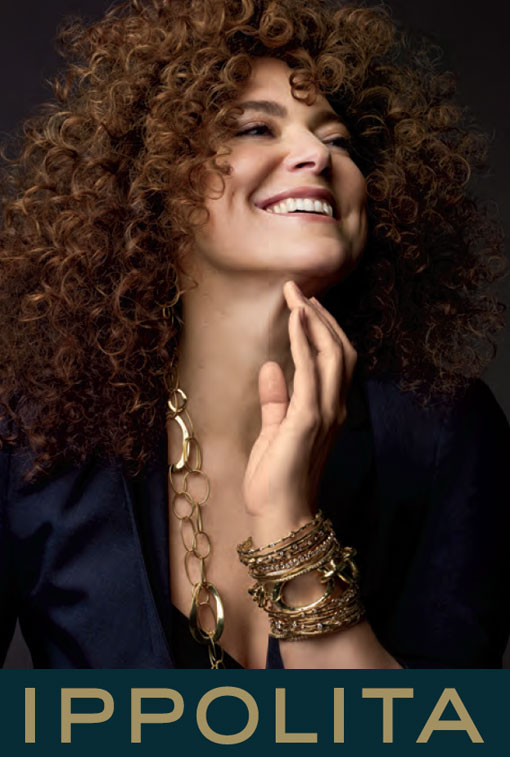 Recently we had the distinct please of sitting down with one of the great jewelry designers of our time: Ippolita. Known just by her first name, she is renowned for her individually handcrafted pieces of jewelry with timeless design. Strongly influenced by fashion, her "goal is to create jewelry that you really want to wear all the time, that is easy and that makes you feel good". We second that motion.
For Fall she has weaved her magic again. Inspired by the shimmer of moonlit nights in Italy, the collection embodies a woman whose style glows with bright spontaneity. Naturally, her signature gold, that flatters every skin tone, along with a a unique sculptural quality to each hand-cast piece, is as omnipresent as ever as her open link designs. Her six essentials for any jewelry wardrobe are stacks of bangles, everyday earrings, a statement ring, long necklaces, anything with color and party earrings. Here's some insight into the work of a great designer. Enjoy!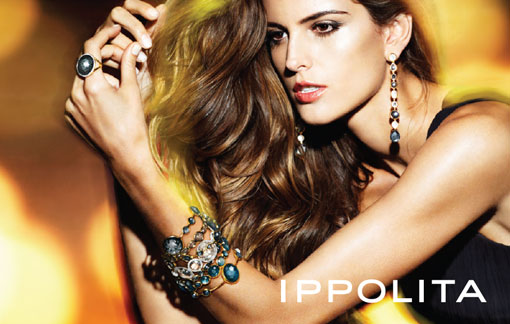 B&B: We're big fans and so are our readers! To be known solely by your first name is an accomplishment within itself. What does your name mean?
Ippolita: Honestly, I decided to do it because Ippolita is my first name and it is so hard and complicated. When I started out, I tried using my last name, but people could hardly get through my first name, they were like, "OK, that's enough!" (laughs) So, I thought, "I guess I'm sticking to one name!"
B&B: When did you know you wanted to be a jewelry designer?
Ippolita: A couple of years into making jewelry, I didn't actually believe that it could be a living, that I could make a real career out of it because I didn't start out that way. It wasn't a planned career move. So, I thought that it was something I was doing while I was figuring out what I was doing (laughs). It wasn't until it finally dawned on me that "OH, this would be a viable path" that I though, "OK. Let me become far more serious about this and see how far I am able to take it."
B&B: How did you market yourself when you first started out? Are there any major changes to your marketing approach now that you have had so much success?
Ippolita: Well, you know it's funny because for the first several years, I really didn't know anything about marketing whatsoever and I was really concentrating on the product itself, so for the first 5 years or so, I was keeping my nose to the grindstone and at the bench working and the product itself really struck a chord. So, unbeknownst to me, word started to spread. And, word of mouth is the absolute best advertising you can get because it spreads in a more viral, genuine way than if you try and create a story around your product before you even have a product. So the product really is everything. It really drives the message.
It wasn't until, honestly, the last couple of years, where I kind of suddenly woke up and I felt like my brand has now ballooned into something completely different with a separate identity and it needs a little bit of love and attention. I had spent all of this time on the product and no time at all on the message of the brand and it was kind of a surprise to find out these two things were not identical. The brand has a story and the product is a product. It's been an interesting challenge to figure out how to craft that story.
B&B: What is your favorite part of the design process?
Ippolita: Making things – physically making things. Physically cutting stones and working with metal because I would have to say almost everything is a result of a happy accident. I used to do very detailed sketches and now I really don't sketch at all because you sketch something, and then you make it and the minute you make it, you see exactly what is wrong with it. Then, you have to fix it. It's really curious that even with all of this experience (years of experience) I still can't skip that process. You have to go through it. That's the really hard part. Ideas come out of the process of actually making things.
B&B: What inspired your new line for Fall?
Ippolita: This Fall is all about antique mirrors and metallics. I was really into this idea of metallic and shine with ornament and architecture coming together. To achieve this look, I incorporated a lot of pyrite and hematite into all of the collections. But it's a very cool take on how to incorporate materials that seem sort of architectural into jewelry.
B&B: Which piece is a great signature item to start if someone is just beginning his or her Ippolita collection?
Ippolita: If you ask me, I always say gold bangles because at the heart of the whole collection from the start it was gold bangles and so if you have a sack of gold bangles, then anything else that you accumulate in the course of your life throughout every collection goes and will change the entire look of your jewelry wardrobe, so I love the idea of layering – layering bangles and layering necklaces but I find that if you have a sack of gold bangles, you'll never be naked! (laughs) You'll always wear your wardrobe in a progressive way.

Part of the thing that is very true about my line is that it is fun. And, fun and fine jewelry are not usually connected. But this is really meant to give you a lot of enjoyment while you are wearing it in your daily life. I hear over and over again from women who say, "you know I look down and it's SO fun!" or, "You talk and hear it bang around". It's like chimes!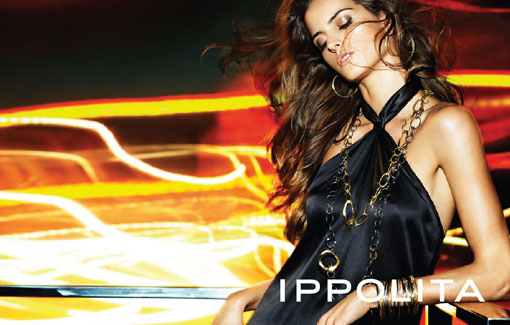 B&B: We noticed the use of a lot of circles in your design collection. Is there any significance to that shape for you?
Ippolita: Yes – it's perfect! (laughs) It's hard to improve upon it. That is the thing that is so amazing to me. You know, it's like one of the things that I really embrace is simplicity. And, lots of times I will get more complicated or I will want to do something much more ornate. But, then you look at it and you know what? It's not as appealing as a circle. So if it wants to be a circle, let it be a circle. It's OK!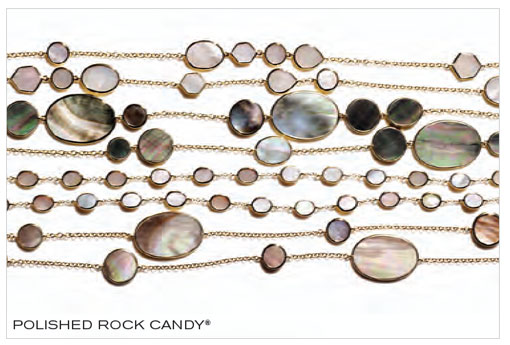 B&B: What's your best piece to transition from day/evening if you can't go home to change?
Ippolita: I would say earrings. If you ladies were going to pick a silhouette, I would say earrings. I have so many pieces in my line that are very classic and simple. The thing that makes them "Fashion-y" is scale. Teardrop earrings look fabulous on everybody and are fancy enough that you can wear them during the day or at night. They don't clash with anything, so you can have a corporate life/soccer mom life, and they still look great.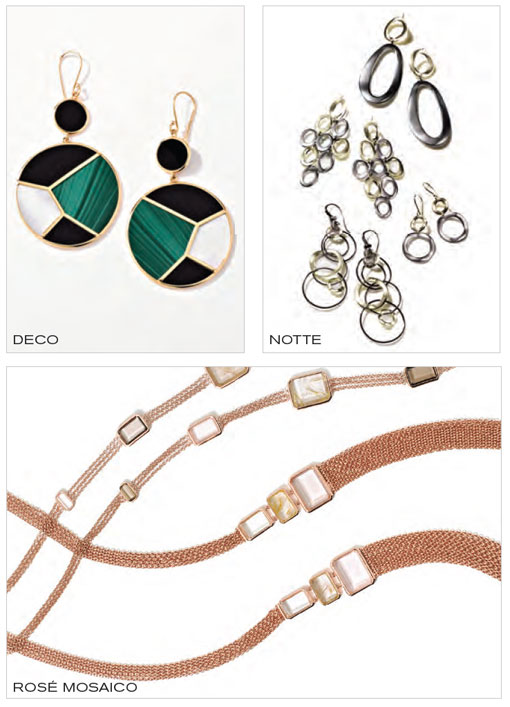 B&B: If you had to select one piece from the line as the "must have" item for fall?
Ippolita: There's a lollipop ring with diamonds that has to be the "must have" thing.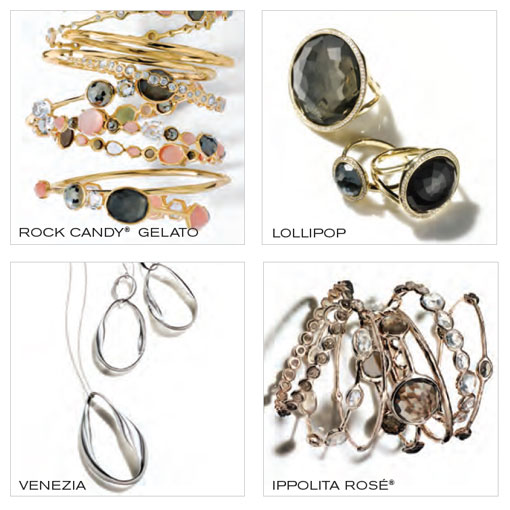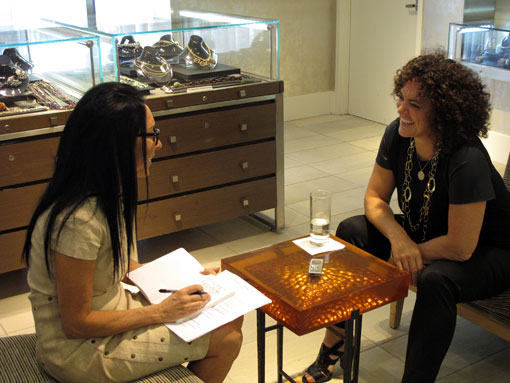 B&B: You have such beautiful stones in your collections. How do you source them?
Ippolita: It's a gigantic part of what I do. When I started out, because I am a sculptor, I only worked in metal. So, for the first several years I only worked around metal. I really didn't know anything about stone because I didn't come from a jewelry background. My hesitancy around using stones was that I didn't know anything about them so it was intimidating. But, when I started using them, I realized very quickly that if I tried to use stones that were commercially available, my jewelry didn't look right because the stones are all cut in a very traditional fashion – a flat table, etc. If you put a very classically cut stone into one of my organic shapes, it doesn't look right. So I said, "I guess other people have figured this out. So, I guess I have to figure out how to cut stones.

One of the first hurdles was that in the United States where I have my studio (in New York) there is no lapidary tradition. So where do you go? People say, "You can cut stones in India!" And I think, "Where?!" Like everything, you keep asking and slowly you start to learn how to buy rough, how to cut stones and it's an absolutely fascinating industry because when you buy stone, you're essentially buying a closed box – you have no idea how good it is because the outside looks like a rock. And you buy it based on weight so you just hope for the best. And because you are buying a closed box, literally, it's very much based on trust. The entire industry is based on trust because if they sell you a bag of tricks, so to speak, then their reputation is ruined.

You really can forge your own relationship with stone vendors and with mines and then, at this point, I have my own cutters and I cut stones in Thailand which is really, really amazing. Every single thing we do is entirely hand crafted. We alloy all of our metals; we cut every single stone, shell, everything.

It's all important that it looks hand crafted. If somebody spends 17 hours hammering something, you should be able to see that and appreciate the actual craftsmanship.
B&B: Your favorite bling…
Ippolita: Period?! Uh-oh. That's a hard one. I'd have to say this necklace because I wear it every single day. (Note: Ippolita is , of course, wearing it in the photos we took together.)
B&B: Jewelry is playing a larger role in fashion now. What are the trends?
Ippolita: LONG. Long, long necklaces. That's my trend of the season. Well, long necklaces and color.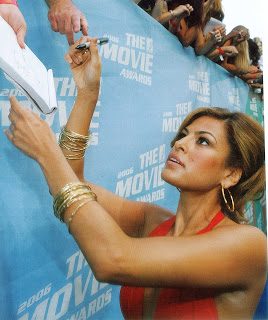 B&B: Your favorite Red Carpet moment…
Ippolita: I have this absolutely fabulous picture of Eva Mendes on the Red Carpet where somebody asked her for an autograph and she is wearing something like 50 [of my] bangles on each arm and it was completely unplanned and the greatest moment to see somebody genuinely embracing the product all on her own.
B&B: Well, now for our signature question. Who is your favorite Blonde?
Ippolita: Well I have to go Italian, then! Monica Omicci.
B&B: Who is your favorite Brunette?
Ippolita: Sophia Loren tied with Claudia Cardinale.
B&B: Is there anything else you would like to add?

Ippolita: Jewelry is meant to be worn! This is definitely jewelry designed by a woman for women with her real needs and real life is mind. But the message that I really preach is that this is jewelry to wear and wear jewelry. Don't feel intimidated and don't feel that there is a special occasion that you are waiting for. Life is the special occasion. The time is now.
The new Ippolita Fall Line is in Saks right now and we love these pieces because they are bright and fashionable and can be paired with anything from a casual outfit to formal attire. It's all about your personal style! So get your fall accessories fix or add Ippolita to your holiday wish list. After all…
"Life is a special occasion."
xo
NJ Goldston, The Brunette