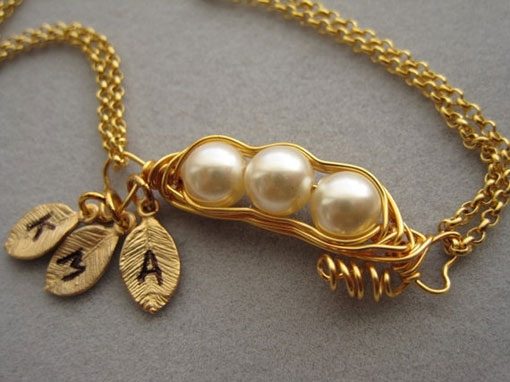 Last month my new mother-in-law- and sister-in-law-to-be threw me a beautiful bridal shower in Upstate New York. It was such a special day and I wanted to get them something special to express my appreciation. I was scouring Etsy for ideas when I came across Jennifer Moon Jewelry. I was instantly struck by her Pea Pod collection: custom handmade pendants and bracelets in the shape of a pea pod. You choose the number and color of peas, type of metal, and leaf initials, which makes each piece totally personal and unique.
I ordered three Pea Pod necklaces. I wanted them to represent the unity of the three of us, so I requested each necklace include three peas and each of our three initials. My new mom and sister loved them! Not only are they great Thank You gifts, but they are perfect gifts for Mother's Day, mommies-to-be, bridesmaids, best friends or Valentine's Day (take note, boys).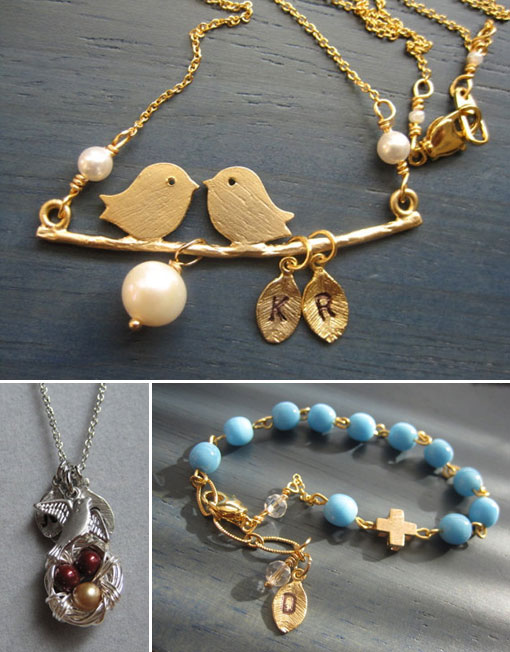 In addition to her Pea Pod Collection, Jennifer creates adorable customizable birds and birds nest pieces as well. You can view her entire collection here. Tell her Ashlee from B&B sent you!
– Ashlee, Brunette Contributor