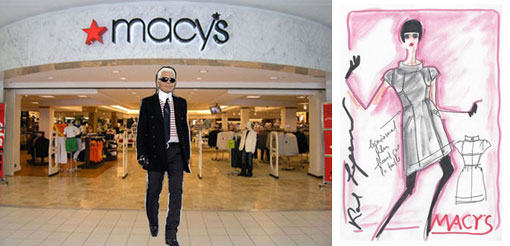 Karl Lagerfeld for Impulse collection will launch August 31 in 235 Macy's stores, as well as online.
With items priced from $50 to $170, the 45-piece collection will bring the infamous Lagerfeld designs to the mass-market consumer, something Lagerfeld is already very familiar with.
We all remember when he teamed up with H&M a while back. Many of us were a bit nervous it would tarnish the high fashion "Chanel" reputation. When in fact, to our surprise, it did quite the opposite. The New York Times even took note, "The long-held industry belief that lower-price collections ultimately dilute a brand's value does not seem to apply to Mr. Lagerfeld".
The success of Lagerfeld and H&M 's collaboration inspired the likes of Versace, Roberto Cavalli, Lanvin and Jimmy Choo to head down the very same path.
So, if at first you cringed when you heard about the Lagerfeld and Macy's collaboration, don't be so quick to turn a cold shoulder! Every collaboration Lagerfeld has debuted in the past has turned to gold, so It seems, once again, this man knows exactly what he's doing.
Xx. Jadan