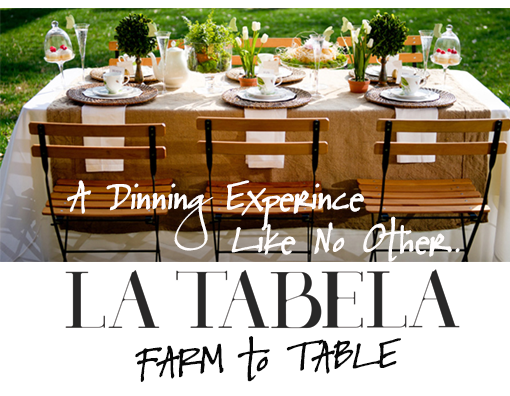 Last weekend I was invited to take part in an exquisite one-of-a-kind dinner party with a group of my closest friends! The dinner took place atop a house in the Hollywood Hills which overlooked all of the city. As dinner was being prepared, we were able to sit back, sip wine, and take in the gorgeous view!
La Tabela is a private dinner by Chef Jerumel Laygo staged on a communal table. The closest 'Farm to Table' experience in Los Angeles. The menu highlights homegrown ingredients from their farm "Circle Rock Ranch". Fresh and organic to gourmet cuisine. Its an experience that will change your ideas of dining forever.
Dinner began with an excellent homemade pea pesto, whose ingredients were grown right in the Topanga Canyon, and harvested by Chef Laygo himself. Dinner continued on with a warm beet risotto which was unlike anything I had ever tried, followed by chicken breast covered in a squid ink/honey/lemon/caramelized onion sauce.
As delicious as all of this was, I must say, the best part of dinner was dessert! This is where Chef Laygo and his team cleared the table, and spread out a mountain of berries, ice cream and chocolate syrup right on the table itself, and you guessed it, you were allowed to eat with your hands! This way of serving dessert was inspired by the classic movie "Hook" (so Hollywood, right?) very cute, very memorable, very tasty!
Dinner cost depends on how many guests you have attending as well as the menu you decide on.Beverages: B.Y.O.B is also permitted with no corkage. For your own one-of-a-kind dining experience, contact La Tabela.
Xx. Jadan Huter