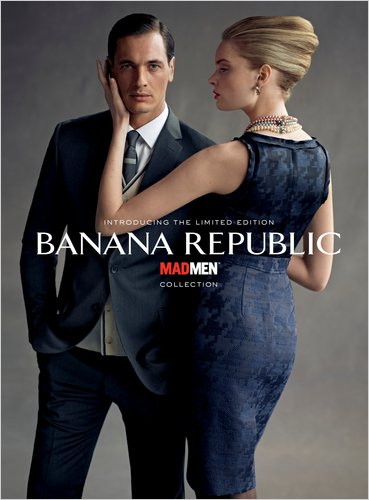 Banana Republic, whom has previously teamed up with "Mad Men" for marketing promotions, is doing so again this summer. They are debuting a collection of men's and women's fashions, based on how the characters on "Mad Men" look.
There will be 65 items in the so-called "capsule" collection, which are to carry labels bearing the logos of "Mad Men" & Banana Republic. The merchandise is to be priced the same as regular items sold in Banana Republic stores as well as on bananarepublic.com.
The women's collection features trench coats, high-waisted skirts, 60s-style dresses and leopard print pumps, while the men's collection includes everything from suits and pocket squares to money clips and knitted sweaters.
The "Mad Men" collection is to come out in August, when the AMC cable channel was expected to be presenting episodes of the show's fifth season. However, a dispute between AMC and Matthew Weiner (the creator of the series), has delayed Season 5 until early 2012.
Until the show returns, "they can get their fix with the clothing", says Janie Bryant — the Emmy Award-winning costume designer of "Mad Men".
There are also plans to repeat the contest to win a walk-on role on "Mad Men," co-sponsored by Banana Republic and AMC. Information will be provided at madmencastingcall.com.
Xx. Jadan