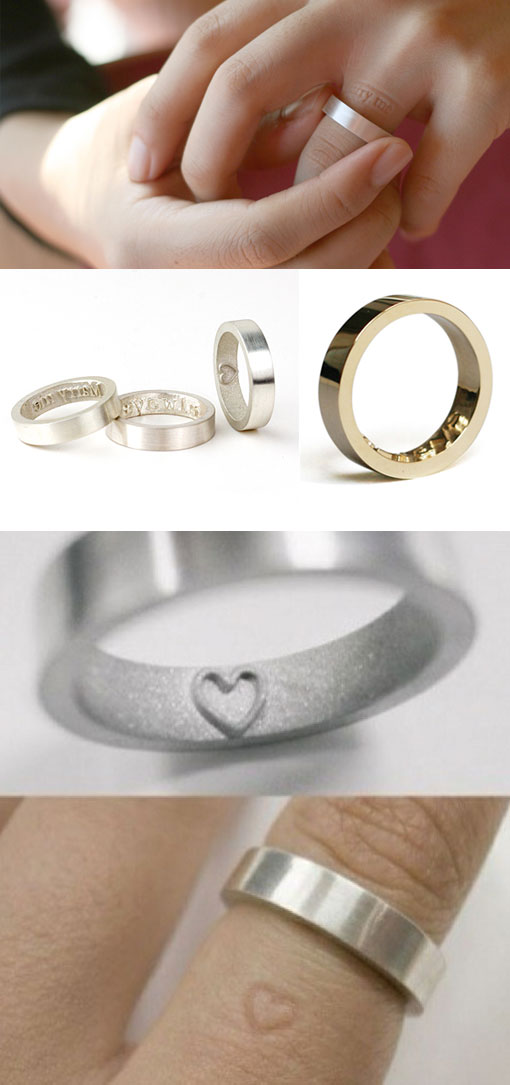 So I know Valentine's Day has come and passed, but shouldn't everyday be reason enough to express your love? I came across this ring the other day, and thought how simply beautiful it was. Naturally, I had to share it.
The basis of this ring is an inner message about love. Created by Jungyun Yoon, a very special artist and her memories of a beautiful romance, it is a deceptively "simple" ring that leaves an impression on the finger. It is comfortable to wear and you'll always feel like you hold an impassioned secret in the palm of your hand.

Imagine your lover giving you a ring that on the surface seems plain, but later, when you take the ring off, it says, 'Marry me!' Imagine every time you take your ring off to shower, or clean your hands, you are still wearing an impression of the words, 'always'.
Does it get any more romantic? Choose from imprints that say "Marry me", "always" and "♥". Customized imprints are available too, and can be 8-10 characters (dates, initials or words). They are also perfect as the most romantic wedding bands ever. Prices starts at $72 for the Sterling Silver ring and they are also available in pairs and in 14k gold. You gotta love it!
Xx. Jadan