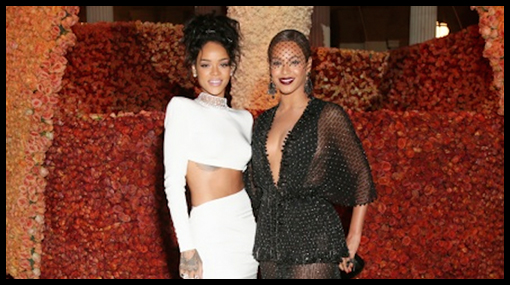 If you ever wondered what it's like to attend the Met Gala, here's your chance. You've already seen almost all of the celebrity photographs but what really happens at "The Party Of The Year." Since I was actually there, I thought I'd walk you through the night. Who knows, maybe you'll be invited next year and be a pro even before you go. After all, despite the media frenzy, not everyone who goes is a celebrity.
Of course, it all starts on the Red Carpet. No matter who you are, you enter through the tent, hand over your tickets, and are checked in. Obviously, some celebs have wranglers, and often the designers who they are representing are there to escort and adjust their muses gowns before they make their way up the Red Carpet steps. That's exactly how Rihanna and Beyoncé ended up at the same spot creating the photo op of the night. Same arrival times. Same press gauntlet. Same entrance. We made ours alongside Tom Ford, Colin Firth and his stunning wife, Livia Giuggioli, the Stoudemiare's, Carmelo and Lala Anthony, Liu Wen and Arizona Muse with Nicole Richie in close pursuit.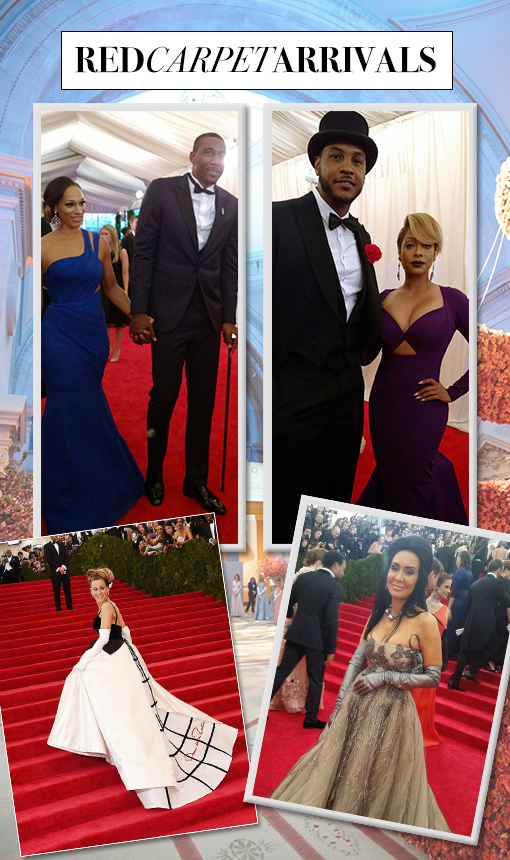 (photos:Joe Schildhorn/BFAnyc.com left to right) Alexis Welch, Amar'e Stoudemire, Carmelo Anthony, Lala Anthony, Sarah Jessica Parker, NJ Goldston
Once inside, everyone but everyone loves their photo op in front of the massive floral sculpture. It changes every year depending on the theme. This year, it was over 100 foot representation of the structural underpinnings of a Charles James ballgown. This is also the time to spot all the great gowns and trains as one makes their way to the receiving line and on to the exhibit. The daunting 82-step staircase that was everyone women's ballgown nightmare is now a thing of the past. The new Lizzie and Jonathan Tisch Gallery for the Costume Institute Exhibit space is now on the main floor. It's the next stop after the receiving line. Guests tend to linger, take in the exhibit, before moving on to the cocktail hour in The American Wing.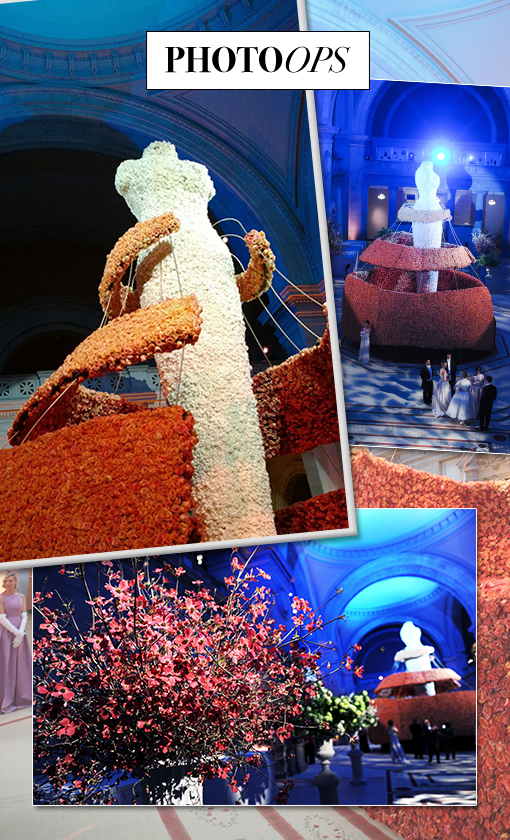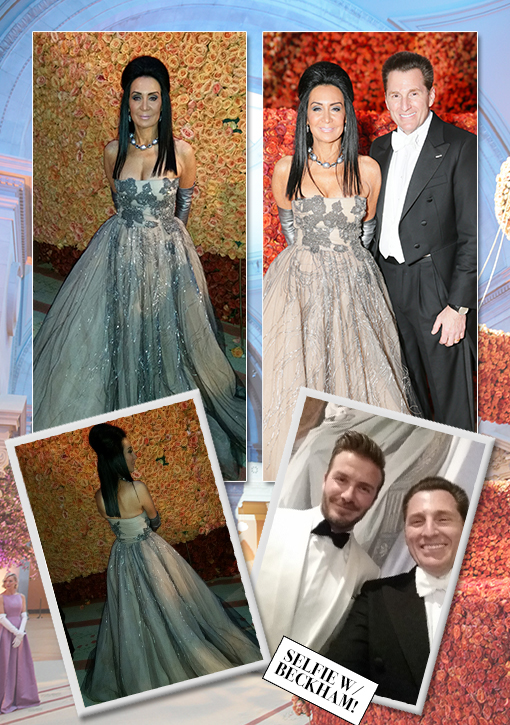 NJ Goldston, Mark Goldston, David Beckham
(photos:David X Prutting/BFAnyc.com / NJ Goldston)
(top left to right) Victoria Beckham, David Beckham, Anna Kendrick, Hailee Steinfield, Giovanna Battaglia, Suki Waterhouse (who is dating Bradley Cooper) .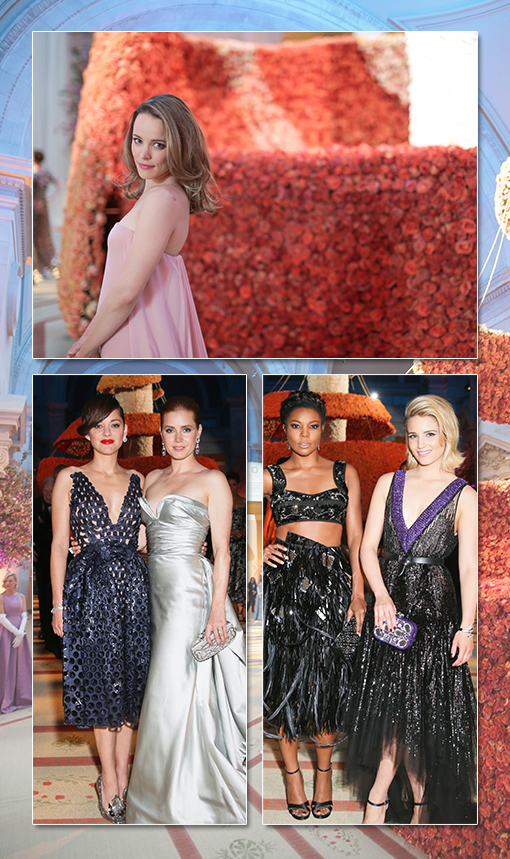 (top to bottom) Rachel McAdams, Marion Cotillard, Amy Adams, Gabrielle Union, Dianna Agron (photo credits: Billy Farrell & David X Pruitting/BFAnyc.com and NJ Goldston/TheBlondeandTheBrunette.com)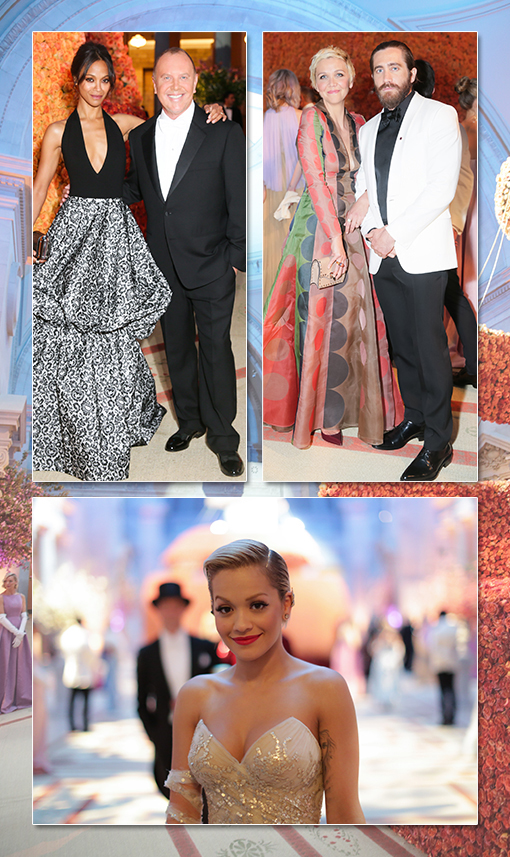 (photos above:David X Prutting/BFAnyc.com)
(left to right) Zoe Saldana, Michael Kors, Maggie Gyllenhaal, Jake Gyllenhaal, Rita Ora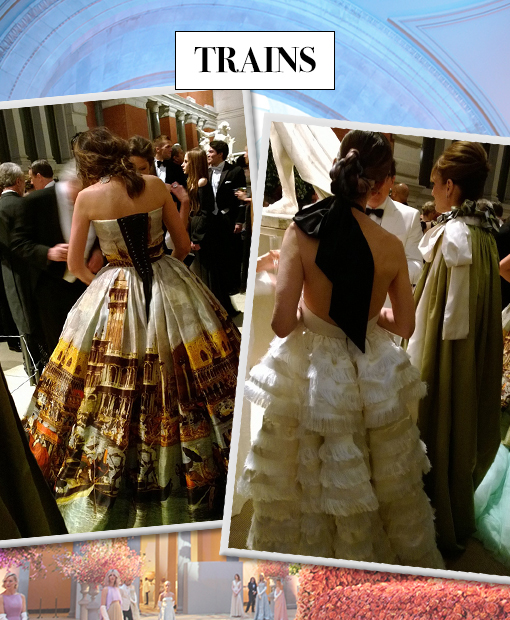 photos (above & below): NJ Goldston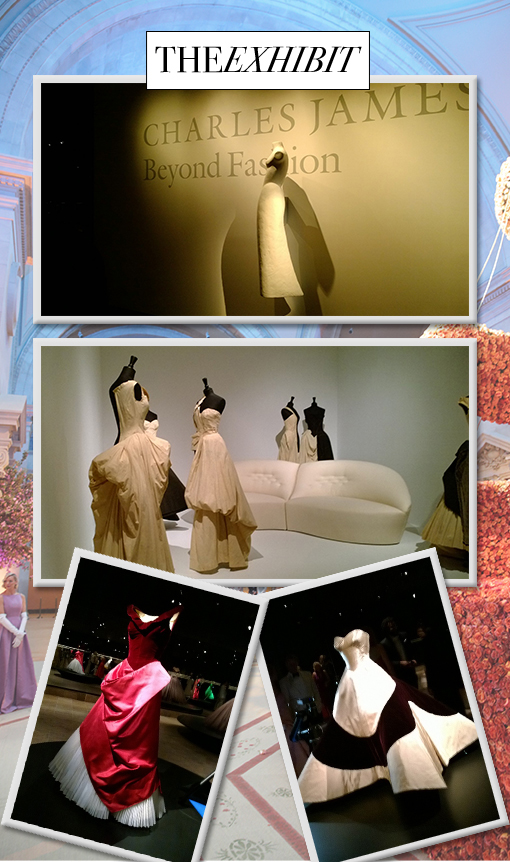 Several famed Charles James gowns on display, including the stunning Babe Paley ballgown, the "Four-Leaf Clover, and the "Butterfly", that dazzled the crowd.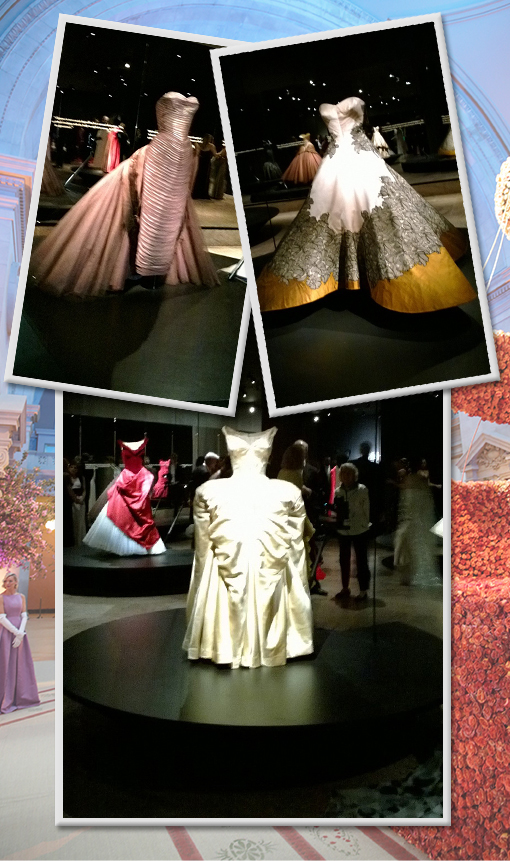 Once you've taken in the Exhibit, everyone gathers in the same spot each year for cocktails. This year was exceptionally elegant with sofas mirroring the theme and the old world glamour of the men in white tie and decorations. There's lots of great mingling and I ran into so many of my favorite designer friends including Jason Wu (who asked me why I wasn't wearing Jason Wu again and told me "We need to fix that!") escorting Dakota Johnson, Zoe Saldana, the lovely Jessica Paré, Michelle Williams who chatted with me and designer Juan Carlos Obando for over twenty minutes about he recent Louis Vuitton Paris runway show, along with Prabal Gurung with Hallie Steinfeld and Zac Posen talking a little bit of shop with me.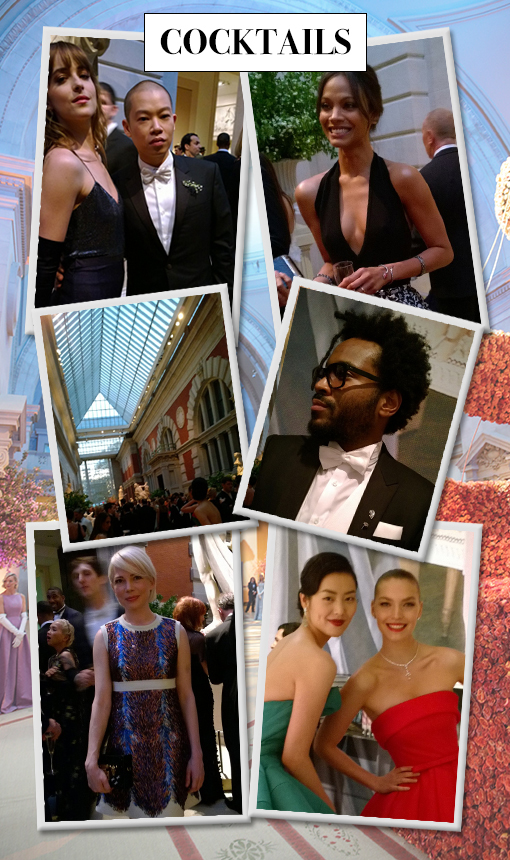 (top left to bottom right) Dakota Johnson, Jason Wu, Zoe Saldana, Public School designer Maxwell Osborne, Michelle Williams, Liu Wen, Arizona Muse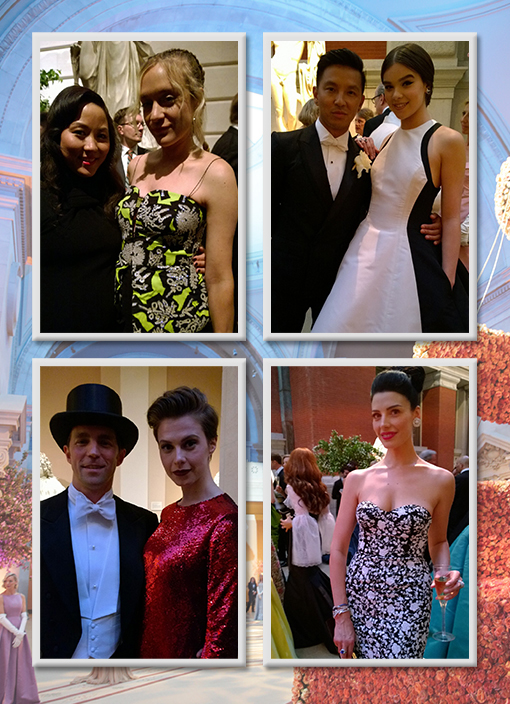 Chloe Sevigny and friend, Prabal Gurung and Hallie Steinfield, James Marshall and Electra Widererman, and Jessica Paré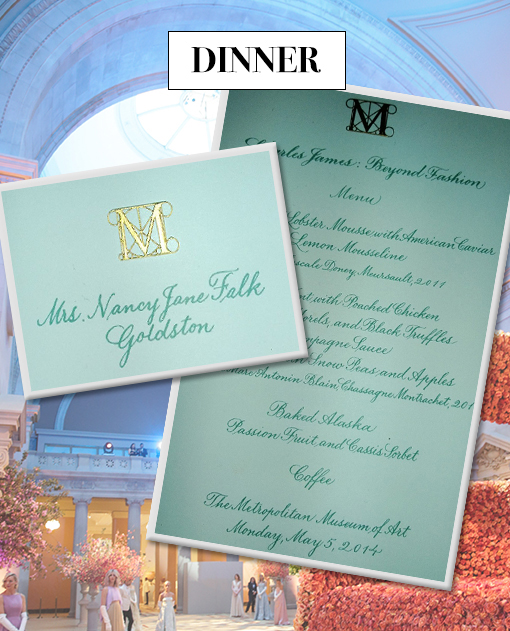 Then it is on to dinner. The room is always breathtaking and this year the spectacular chandeliers suspended from intricate rigging set the stage for a glamorous dinner party. There are few speeches and lots of mingling. Before dessert was served, Sarah Jessica Parker and Bradley Cooper took to the stage for a few brief thank you's. The stage was literally set for Frank Ocean and his two song set featuring an all-girl orchestra and female conductor. It brought down the house.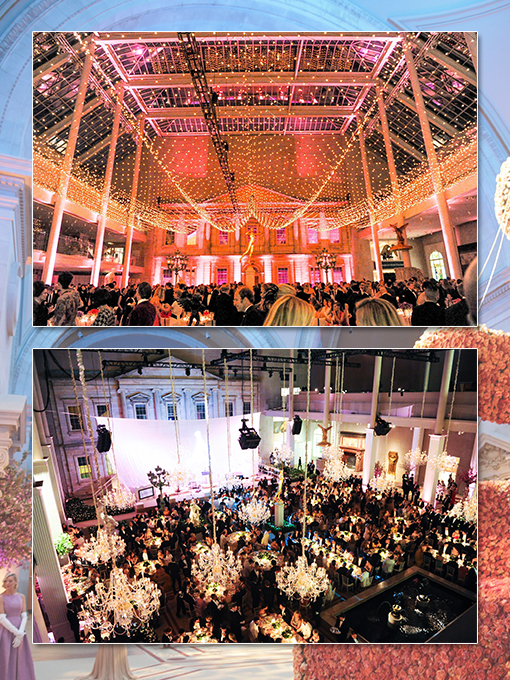 (photos above:Billy Farrell/BFAncy.com / below:NJ Goldston)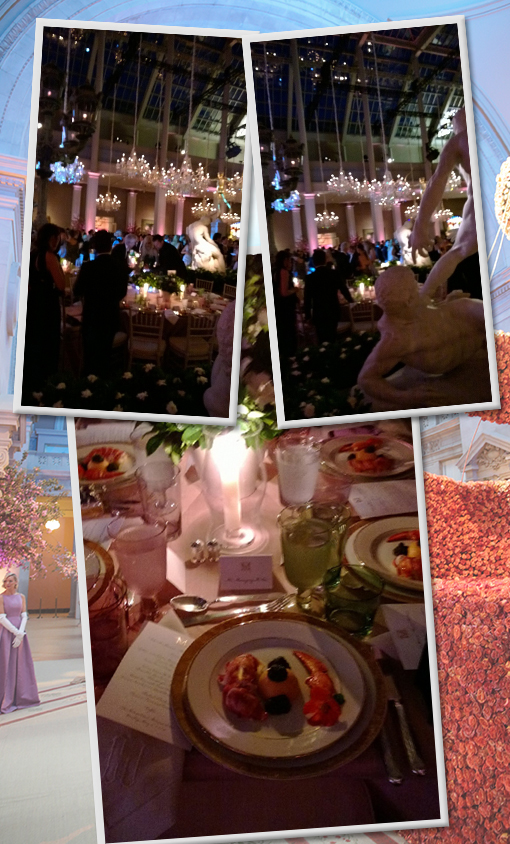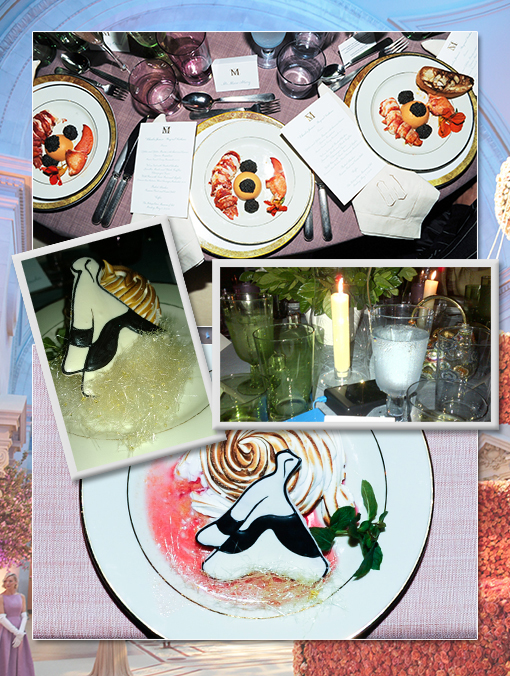 (photos:Billy Farrell/BFAnyc.com / NJ Goldston)
The table is always beautifully set and the menu is themed to the night. Desert is served after the entertainment. I ate two of the cookies by Madeline Lanciani of the Duane Park Patisserie. I saw others doing the same thing including Gisele!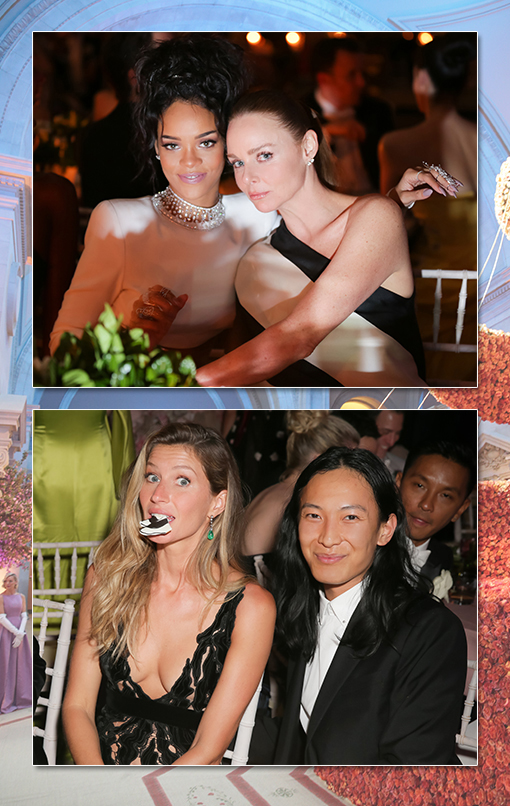 (photos:Billy Farrell/BFAnyc.com) Rihanna, Stella McCartney, Giselle Bundchen, Alexander Wang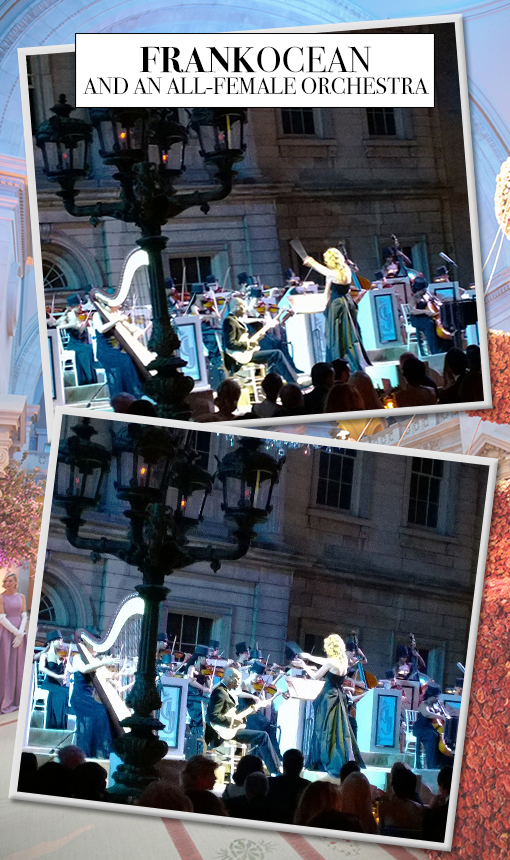 (photos above and below: NJ Goldston)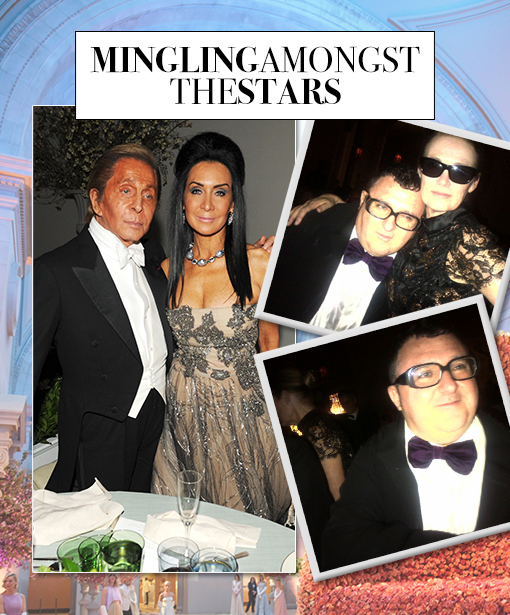 During dinner, the Valentino Garavani and I had a moment together with a special photo op. I love this dress and I have also always deeply admired his work. After all, designers love seeing their work at this event. I also bumped into Alber Elbaz and Vogue's Lisa Love and they hammed it up for me while I was on duty for The Hollywood Reporter as their Inside Correspondent. I adore both of them. They're always so fun loving. I loved the men in White Tie and I've never seen my husband, Mark, look more dapper. I hope someone else has a White Tie party soon so he can pull his tails out again. As the evening wound down and everyone headed off to after parties, it seemed as if girl power reigned.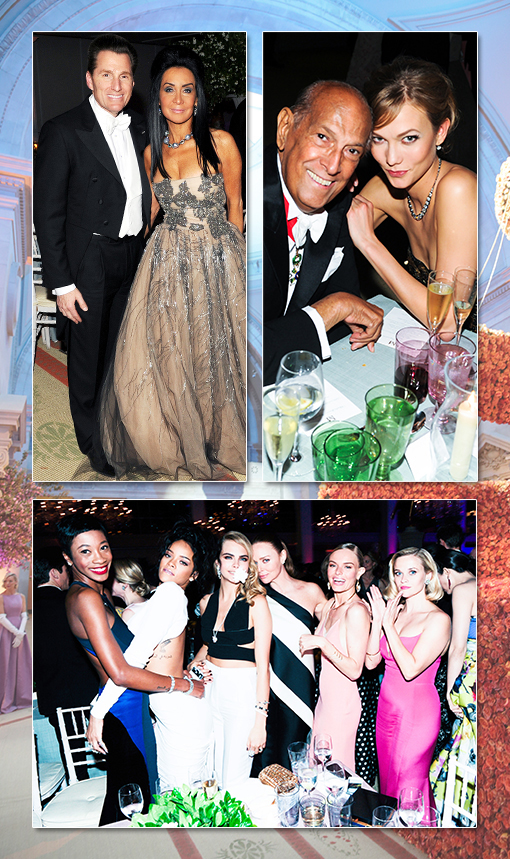 (photos:Billy Farrell/BFAnyc.com)
(top left to bottom) Mark Goldston, NJ Goldston, Oscar de la Renta, Karlie Kloss, Rihanna, Cara Delevingne, Stella McCartney, Kate Bosworth, Reese Witherspoon
Now you know the drill. It's a special night and as soon as it starts it seems like it's over so quickly. Kind of like a fairy tale.
With Love From the Met Gala,
NJ Goldston