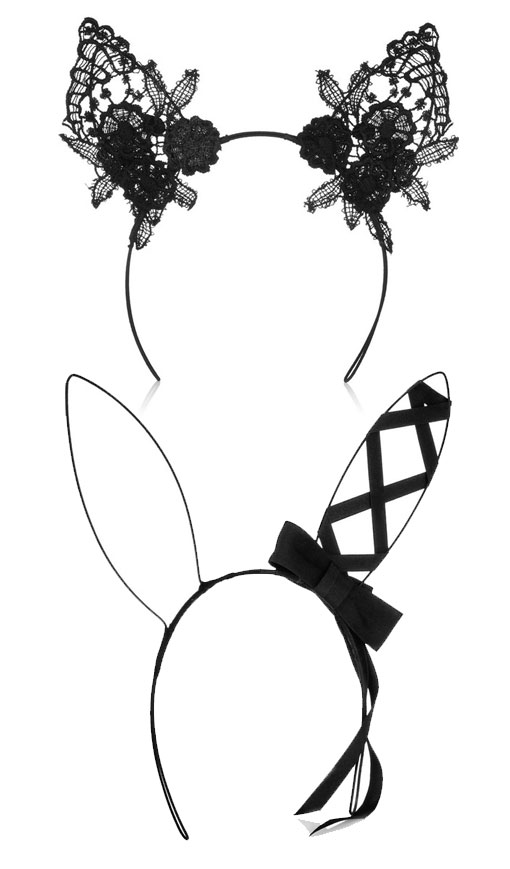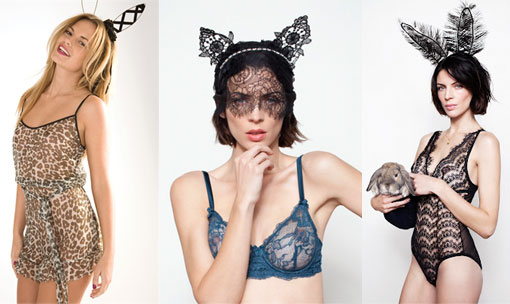 Let's discuss. Amazing. New Year's Eve. Sold out everywhere. In the hands of The Blonde And The Brunette. What are they? The seasons' most decadent accessory. Mimi Holliday's Couture Cat Ears Headband handmade in London by her team of award winning milliners. If that's not your style, then maybe you love her breath-taking bunny headpiece. Featuring the finest of French laces, these unique headpieces are the perfect party accessory and a beautiful gift option.
Just a bit of background. She started her first lingerie label, Damaris, from her kitchen table in 2001. The avant-garde pieces were a big hit and her second line, Mimi Holliday by Damaris, followed soon after. Now officially known as the "lingerie queen", her lingerie is full of luxurious lace and ribbon-trimmed pieces that feel special but can still be worn every day. O.K., maybe not every day.
We thought this was just the perfect New Year's Eve accessory for in or out of the house. Direct from our special stash in LA, The Blonde and The Brunette are giving away one Mimi Holliday Couture Cat Ear Headband to one lucky reader. For a chance to win:
"Like" this post.

Leave a comment telling us why these ears make you "meow" with delight.

Entries will be accepted until December 16, 2012 at 5 PM PST. The winner will be announced on December 17th at 3 PM PST. No purchase is necessary to enter or win. The giveaway is open to anyone age 18 and older with a valid email address at time of entry. We will make every attempt for the winner to receive this giveaway in time for the holidays but cannot guarantee arrival date.
To see more of her sensual lingerie, Nordstrom has a full line. The Bunny Ear headbands are still available at Net-A-Porter. £135, As for the cat ears headband, SOLD OUT! RATS!
By the way, that's model and Snow White actress, Liberty Ross, modeling the ears and the lingerie.
xo
NJ, The Brunette & The Blonde And The Brunette Team