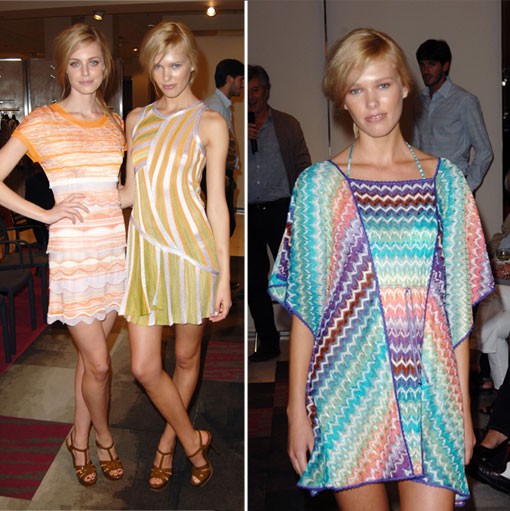 It seemed only weeks ago that Missoni fever gripped the U.S, with consumer demand so frenzied that Target stores and their website became chaotic with demand. It was a retail gunshot heard around the world. On the heels of this, Vittorio Missoni and Ottavio Missino, Jr. (with his first trip to the U.S. ) arrived in Beverly Hills on Thursday for the Missoni family to receive a Rodeo Drive Style of Fame Star tonight along with Iman, and to showcase their Resort 2012 Collection and preview Spring 2012 at Neiman Marcus. Once again, The Blonde and The Brunette may be the luckiest girls in the world. We sat down with Vittorio and Ottavio to discuss a bit of their family history (the company was founded in 1952 when the parents met at the Olympics. They subsequently invented the "zig zag" knitting technique which was a response to only stripes and plaids being available as knits) and to talk about what makes Missoni so special to its many followers for three generations.
NJ, The Brunette: Mr. Missoni. Resort and Spring have been inspired by strong seaside and beach themes even in Paris What is that all about? How did everyone suddenly get focused in this direction?
Vittorio Missoni: For us, well we are very Mediterranean and my family comes from there and at a certain point we started to make bathing suits, caftans and things for the beach. We realize people really wear it. (Lots of laughter).

Kathryn, The Blonde (Who is a true Missoni girl) : I wear your beach cover-ups all the time.
Vittorio Missoni: I think it's all the first step for a 60 years old brand. We've had customers since forever. Since my mother's age (as this is a third generation business). At a certain point, you realize through beachwear you get new customers. In rejuvenating the collection, it's kind of a first approach to the brand. It's at a certain, easy price point and customers are also starting to even wear beachwear for cocktail, so it gives it extra possibilities.
Kathryn & NJ: Especially in LA!
Vittorio Missoni: Yes, and absolutely Italy too! (More laughter). It's one of the things that introduced us to a young generation. One of the things from the beginning. You walk in with a caftan and you look great. It's a success and it's easy and sexy, of course.
Kathryn: And a little more see through. (By now, we are laughing a lot)
Vittorio Missoni: And then using colors in new ways. It's funny some time, I realize it's funny because in the beginning our bikini was dry clean only. (More laughter)
NJ: In the Spring 2012 collection there are beautiful, vibrant shades of coral and violet, why these colors now?

Vittorio Missoni: When we went last season (summer) with this very colorful collection, very, very bright, many of our customers were shocked and surprised, but then it was very successful. And then Angela, my sister (who is also getting so much inspiration from her daughters now), started to think about color at that time in a different way. It was a signal to say it was OK to be happy. California is like Italy. To me, Missoni is like California. You need color. The sunny weather. It brings you to that mindset of a sunny place. Relaxing.

NJ: For Spring 2012, you have more of the browns and the blues…
Vittorio Missoni: It's more a touch of excitement that we have some items that have flamingo. Always very fresh colors and kind of sexy.
Kathryn: What is the most successful silhouette?
Vittorio Missoni:For the summer, next summer, we'll have all these new dresses with the skirt with the ruffles and the flamingo. Very exciting, easy to wear and sexy for everyone. For this Fall and Winter we have very soft colors. Another thing is that Missoni is timeless yet very contemporary.
NJ: What is the one item in your resort collection(s) that is the "must have" to add to your wardrobe?
Vittorio Missoni: This season , the easy dresses are a must. You can go to work, out to the evening. Look great and be comfortable all day and night.
Here are a few quick B & B questions before we conclude our interview.

B & B : The sexiest look for a women is…Vittorio Missoni: To me, the sexiest look comes from the inside of a woman. It's a confidence. It's not what you show. It's the attitude. It's how you wear it. Change your attitude. It's not what you show.
B & B: If you are petite…Vittorio Missoni: A little sexy dress. (We're all laughing again)

B &B : If you are tall…Vittorio Missoni:Open in the back is great along with long dresses.
B & B :In the winter…Ottavio Missoni Jr. : All these women who go around with 'winter cake'. Too much of everything. Like fur on the coat, fur on the hat. Not so many thingsat one time. You don't need so much icing.
B &B: Do…Vittorio Missoni: Everything in moderation.
B & B: Don't…Vittorio Missoni: Go around with too much. Too much is too much. I hate when it is too much. B & B: In LA sometimes there is too much. Vittorio Missoni:In Milano too...One more thing they should not do, is women should not compete with their daughters. This I hate. Be sexy, elegant, fashionable. You don't need to compete. Women can look great at every age.
As we said our thank you's and goodbye's, Vittorio said, "It's a very fresh, happy collection that's good for everyone. It's good for the summer. It's easy. Missoni is timeless. It's doesn't go out of style. Just match it with something else. Just put a touch of color into your life!
We agree. Vittorio and Ottavio just added a lot of color to all our lives. Thank you. If you want more color in yours, check out the collection at Neiman Marcus.
– NJ, The Brunette and Kathryn, The Blonde