Pictured above: Peggy Moffitt. Pacific Design Center Exterior.
Cameron Silver, John Demsey, Peggy Moffitt, Jeffrey Deitch. Mark Goldston, NJ Goldston and Jeffrey Deitch.
Monique Lhuillier. Mila Kunis and Jeffrey Deitch. Christine and Dr. Gabriel Chiu. Kathryn Lebowitz and NJ Goldston. Mark and NJ Goldston.
Kathryn Lebowitz and NJ Goldston with Trina Turk.
Kathryn Lebowitz's 60's-Inspired Hairstyle.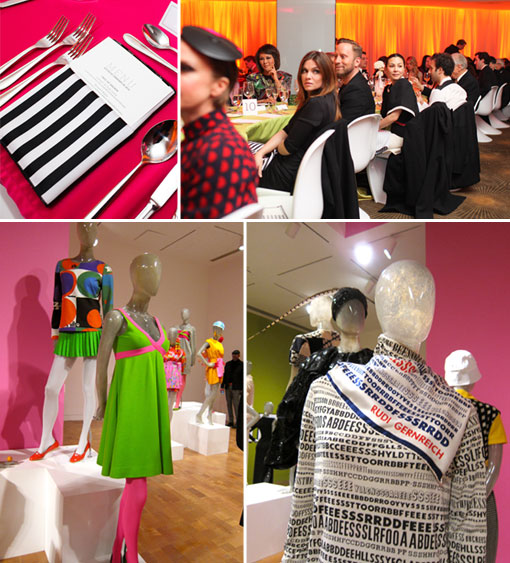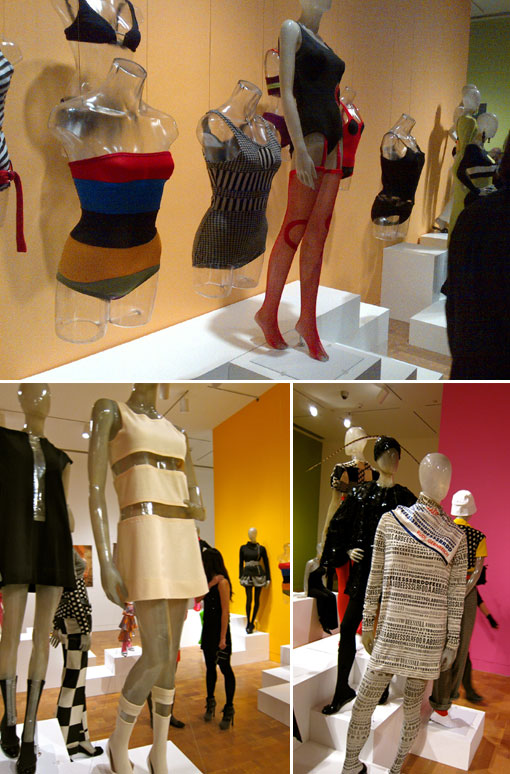 Last week was particularly busy in L.A. but the opening night dinner party, hosted by MOCA Director Jeffrey Deitch and M.A.C. Cosmetics, for the MOCA Exhibit of The Total Look ,was quite the event, attracting a super stylish crowd, in 60's inspired dress, to honor the Creative Collaboration Between Rudi Gernreich, Peggy Moffitt, and William Claxton.
The exhibition celebrates the remarkable collaboration between the great "mod" fashion designer Rudi Gernreich, his favorite model and muse, Peggy Moffitt, and Moffitt's late husband, the photographer William Claxton, who created the distinctive images of Moffitt in Gernreich's designs. The energy, excitement and fashion at the MOCA Pacific Design Center space was palpable as a must-attend fashion event the night before the Oscars®. Sponsored by M.A.C. (and their make-up goodie bag was a mega-hit) and curated by Cameron Silver of Decades, the show features selected looks from Moffitt's definitive collection, some of which have never been displayed before the opening and, of course, the iconic topless bathing suit. The exhibit also showcases stunning films and photographs by Peggy's husband, Bill Claxton, with Moffitt modeling Gernreich's many inventions from the unisex look, clothes based on leotards and tights (why can't someone bring back tights like these?), see-through clothes, fabulous prints, neons, color blocking (hmm…everything "old" is new again) and the "No Bra" bra.

When quizzed, Peggy Moffitt, pictured above in her trademark Vidal Sasson haircut, called the 1964 photograph of herself in the Rudi Gernreich topless swimsuit, "the shot seen around the world." As the favorite model of the legendary fashion designer, known for his 1960s "mod" styles, Moffitt said, "Think of something that takes you a tenth of a second to do and then imagine having to talk about it for the next 30 or 40 years."
Guests included everyone from Mila Kunis, Vidal Sassoon, Fashion Designers Trina Turk, Monique Lhuillier and Jeremy Scott to Eva Chow, co-hosts Gelila Puck (and Wolfgang Puck preparing dinner while simultaneously worrying about the Governor's Ball the next night). Dinner was served at long tables which snaked their way through the room and included hot pink table cloths accented with black and white striped napkins. Maria Arena Bell, John Dempsey, the Group President, The Estée Lauder Companies, Holly Harrington Jacobs, Carolyn and Bill Powers, Amber Sakai and Angelique Soave served as Co-Hosts. I was also lucky enough to be asked to Co-Host and was seated next to the amazing designer Trina Turk.
Kathryn, The Blonde, and I also made sure to dress for the occasion as Rudi Gernriech-inspired attire was encouraged. Black and white seemed the natural choice along with channeling 60's inspired hair. (We will post more images of the exhibit, so don't miss it!) It's an important moment in fashion history.
"The Total Look" is on view at MOCA PDC from Feb. 26 to May 20. MOCA Pacific Design Center. 8667 Melrose Avenue , West Hollywood, CA 90068. Additional support is generously provided by Dr. Gabriel Chiu – Beverly Hills Plastic Surgery, Inc., Matthias Kind, Sally and Michel Perrin – Perrin Paris 1893, and Eugene Sadovoy.

NJ Goldston, The Brunette