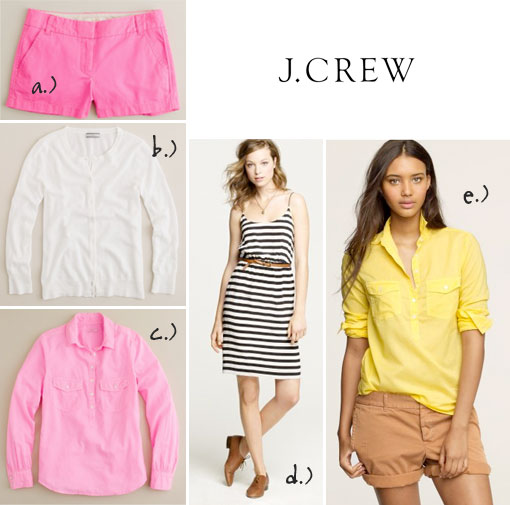 a.) 3″ Chino Short $29.99 – $42.50
These shorts are great. Get them in a fun color with a white button down shirt or a boyfriend blazer and lace up loafers.
b.) Everyone needs this Featherweight Cashmere Cardigan! $158
I restock my colors every season and always have a fresh white cardigan ready for summer nights. Perfect over a summer dress.
c.) and e.) Ink-Dip Popover $69
Hurry and get something neon. I love this soft shirt in neon pink! I wore my neon shirt with khaki green cargos! So cute.
d.) Stripe Blouson Dress $148
This adorable silk dress comes in black and white stripe and a hot pink and white stripe! So cute with a belt and strappy sandals or flats for day or a blazer and heels for night. I wear my black and white with a green belt and the Hot Pink and White with a natural straw belt. This is a flattering dress!
– Kathryn, The Blonde