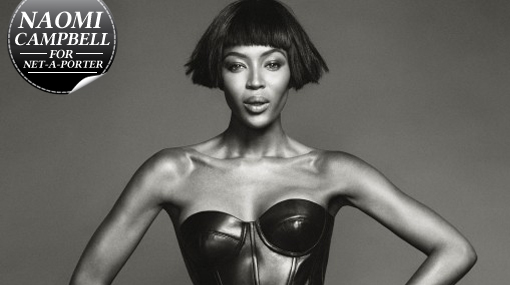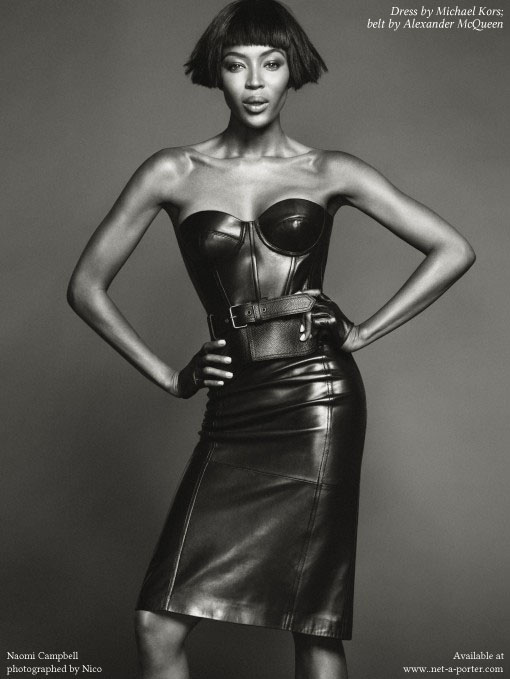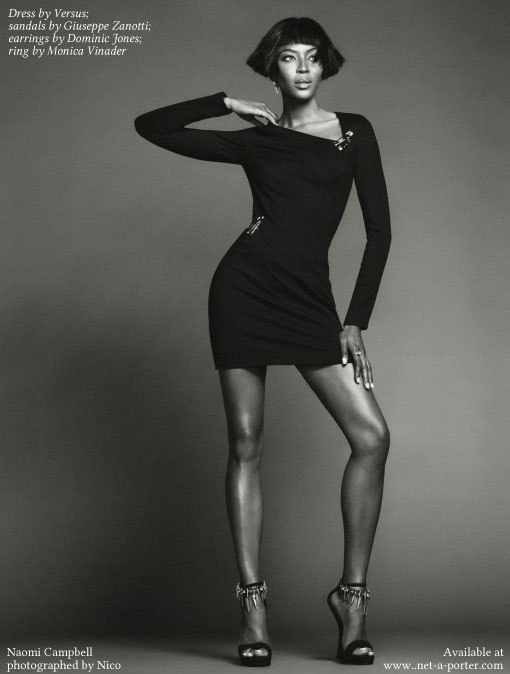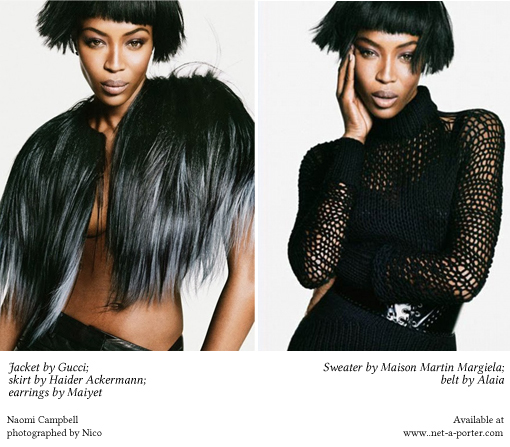 Naomi Campbell can make anything look good. Oh my god! She's just plain fierce. Lucky us, we received exclusive pics to NET-A-PORTER's digital magazine, The EDIT, featuring supermodel Naomi Campbell looking downright amazing in pieces by Oscar de la Renta, Gucci, Altuzarra, Saint Laurent by Hedi Slimane, Michael Kors and Maison Martin Margiela.
In an exclusive interview, Campbell talks about her new role as mentor on the British version of The Face (a reality series where models compete), her tips for keeping an athletic physique and her return to the Versace runway after 14 years, which she describes as "emotional". It's been just over a quarter of a century (hard to imagine, right?) since Campbell was spotted in Covent Garden, London. Now back in her hometown, she's hyper-focused because, "We're filming the show in my home country, so I want it to be better than amazing… London's always been a place where great new talent emerges, and home is where you are judged the most."
Brought up by a single mother, Campbell studied ballet before beginning her stellar modelling career. She says, "My mum is one of my main mentors… she always gave me the best advice." Now it's Naomi's turn to be the mentor and she's enjoying it. "I like the mentoring aspect, as opposed to sitting in my chair and judging someone. It's really rewarding to see the models transformed and it makes me feel like I'm doing something right."
Campbell's new role has caused her to reflect upon her own career within the industry she knows so well, "I want people to really understand what the world of modelling is about, and how hard we work," she says. The Face sees Campbell competing with fellow model judges, Erin O'Connor and Caroline Winberg, as they search for the next top supermodel, although she's much more interested in the advice and help she can offer as opposed to seeing her talent win, she admits, "Whether my model wins or not, she will have learned and we will have helped her – that's really why I came on the show".
There is no one better to offer such advice to young models; Campbell's life has been at the very core of fashion. From posing for the world's greatest photographers, such as Steven Meisel and Mario Testino, to walking for the late Yves Saint Laurent and befriending the likes of Azzedine Alaïa, she's thankful to all, "I learned something from each and every one I worked with; their different styles and ways of how they wanted you to be."
As well as the show, Campbell has also returned to the runway, walking for Versace's Atelier FW13 Couture show. Her appearance was show-stopping and the media loved her, yet she was surprised at the reception she received, "I was quite stunned at the reaction – I remember the room being quiet and I thought, 'Oh my God, they don't want me here!'" The show was also a personal moment, reuniting her with the Versace family, "It was emotional for me to do the show after 14 years," she says. "When I did my fitting in those amazing clothes, it was just overwhelming."
To prepare her body for the show she reveals her diet regime, "For ten days prior… I just drank juice – carrot, ginger, pineapple – to cleanse." Although, she admits to allowing herself to indulge, "I'm not extreme about what I eat – I let chocolate and crisps come in at times. You have to allow the little things that make you happy." She also attributes her physique to Pilates, which has become "very important". I have to admit I just took it up and I love it.
Away from the modelling world, Naomi is dedicated to a number of charities; raising money for Haiti, Aids relief, Nelson Mandela Children's Fund for vulnerable children and Fashion For Relief, her own charity that she founded in 2005. She remains close to Nelson Mandela, who she describes as a huge inspiration, "There will never be anyone like him again. When you meet him, you just get such a positive aura. It's incredible." Campbell's work also extends to the under representation of black models on the covers of glossy magazines and on the runway, "There is still racism". Although, she feels there has been some change in the industry for models, "Now, it's very important to have a personality; it's not just about a pretty face any more." Not that Campbell herself was ever "just" anything; she has always been a personality. Be sure to play the link to the video too. It's proof she isn't kidding.

To shop any of Naomi's great looks, go to Net-A-Porter.com. Our personal favorites are the Saint Laurent biker jacket and the Versace safety pin dress. A knockout in a knockout. One last note, this is absolute proof that age is a state of mind! Now go rock yourself.
xo
NJ Goldston, The Brunette