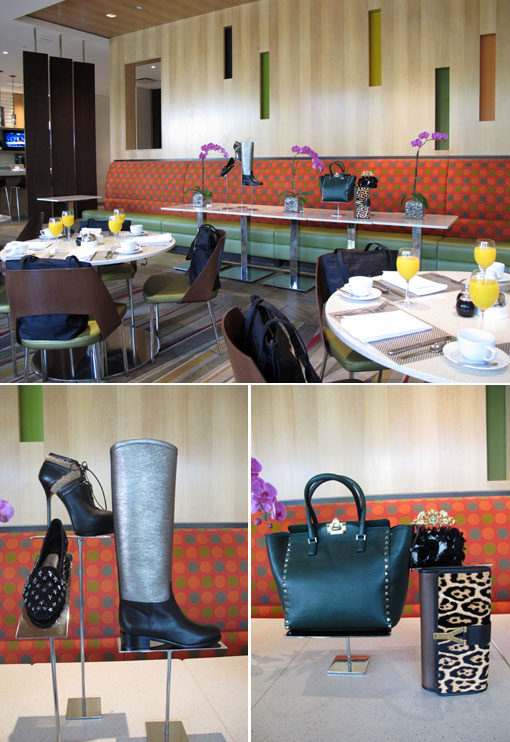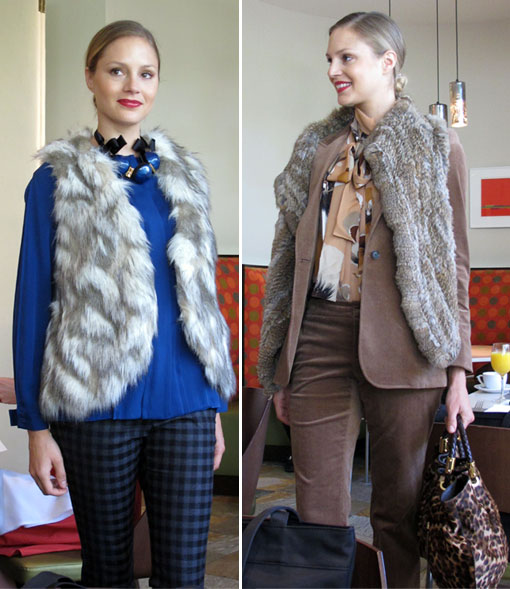 Left – Vest: Free People; Blouse: DVF; Pants: ALC; Necklace: Marni.
Right – Vest: Joie; Blazer: Gucci; Blouse: Gucci; Pants: Gucci; Bag: Michael Kors.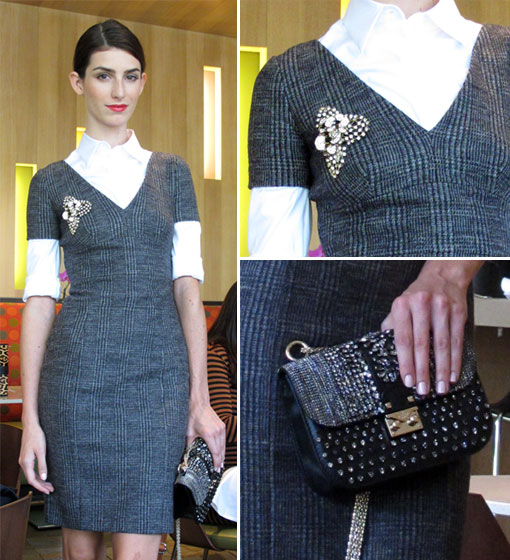 Dress: Prada; Clutch: Valentino.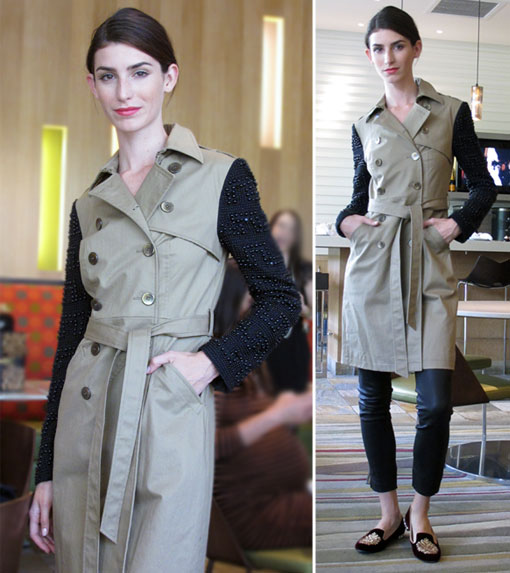 Coat: Gryphon; Pants: Theory; Loafers: Miu Miu.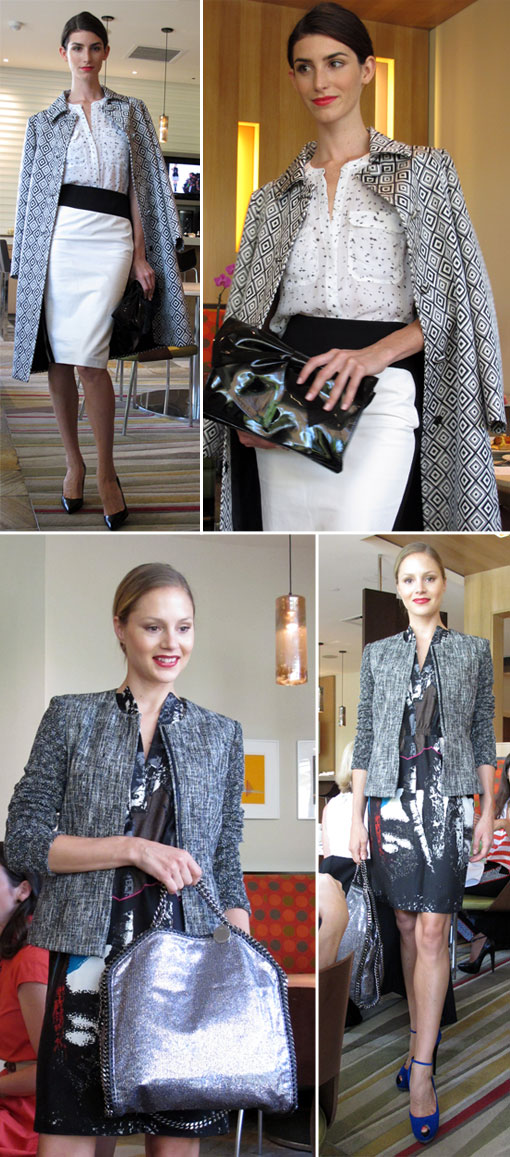 Top – Coat: Prada; Blouse: ALC; Skirt: Robert Rodriguez; Shoes: B Brian Atwood.
Bottom – Jacket: Theory; Dress: Balenciaga; Shoes: Giuseppe Zanotti; Bag: Stella McCartney.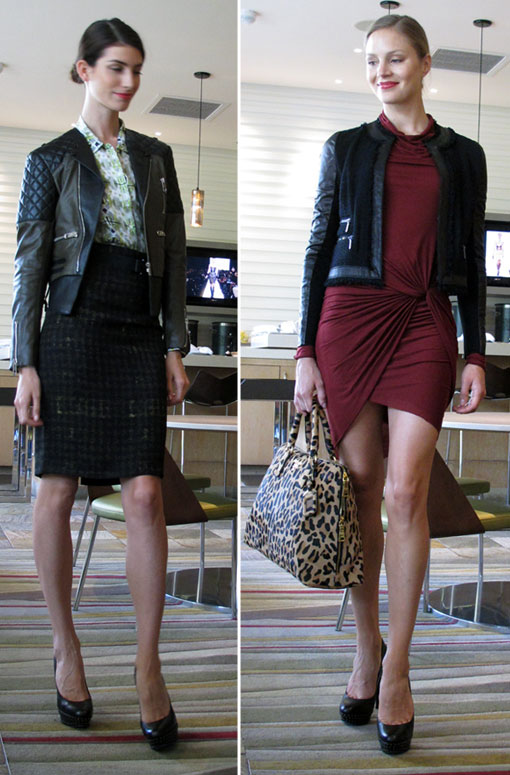 Top – Jacket: Balenciaga; Blouse: Theyskens Theory; Skirt: Prada; Shoes: B Brian Atwood.
Bottom – Jacket: Rebecca Taylor; Dress: Helmut Lang; Shoes: B Brian Atwood; Bag: Prada.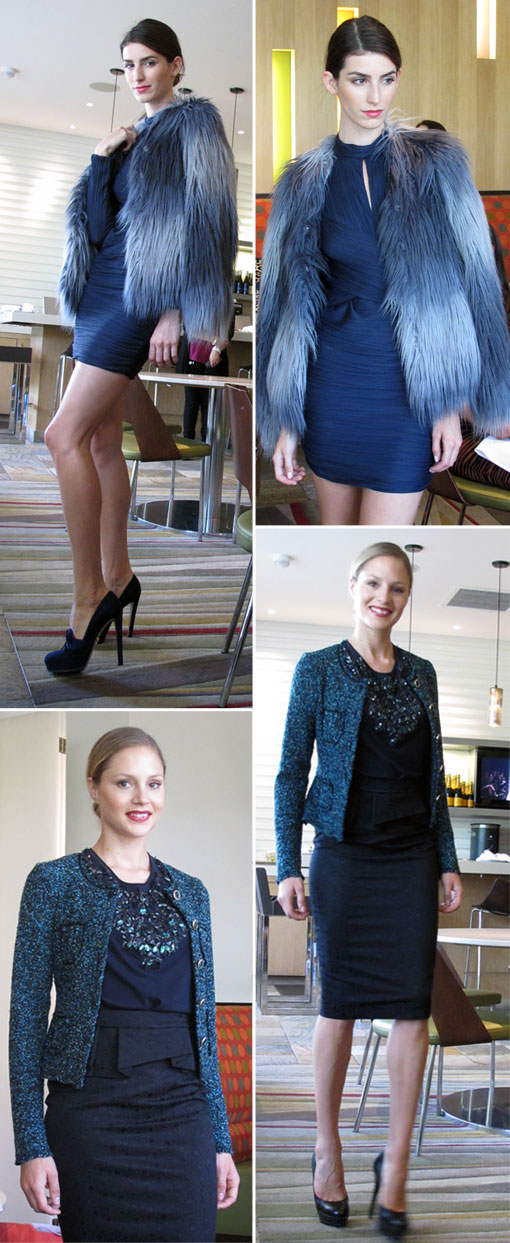 Top – Vest: Rachel Zoe; Dress: Halston Heritage; Shoes: Prada.
bottom – Jacket: Bailey 44; Blouse: Stella McCartney; Skirt: Robert Rodriguez; Shoes: B Brian Atwood.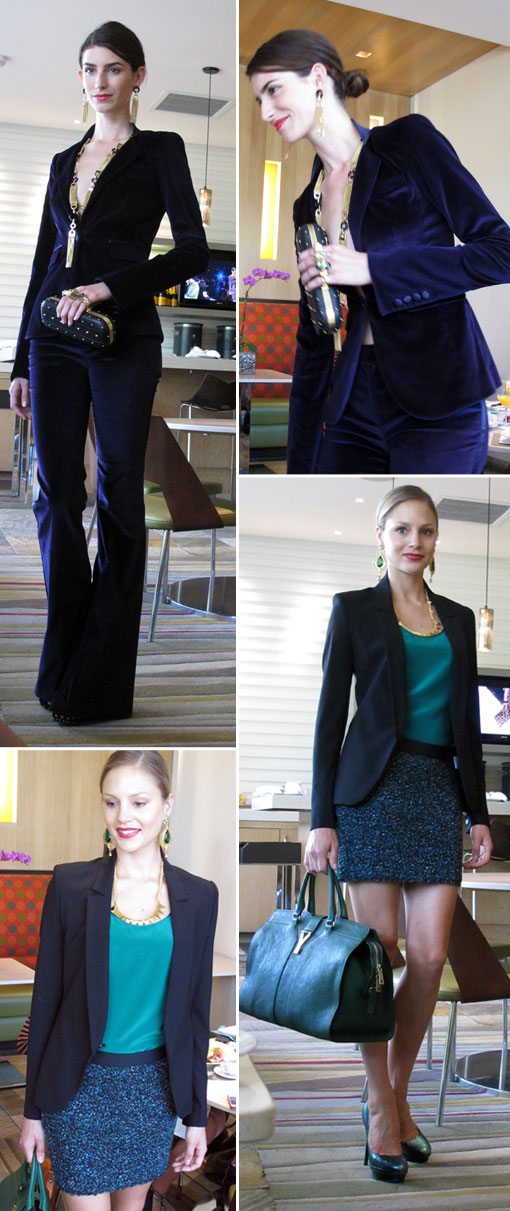 Top – Blazer: Rachel Zoe; Pants: Rachel Zoe; Jewelry: Rachel Zoe Necklace and Earrings; Clutch: Alexander McQueen; Shoes: Miu Miu.
Bottom – Blazer: Theyskens Theory; Tank: Robert Rodriguez; Skirt: Bailey 44; Earrings: Jose and Maria Barrera; Shoes: B Brian Atwood; Bag: Valentino.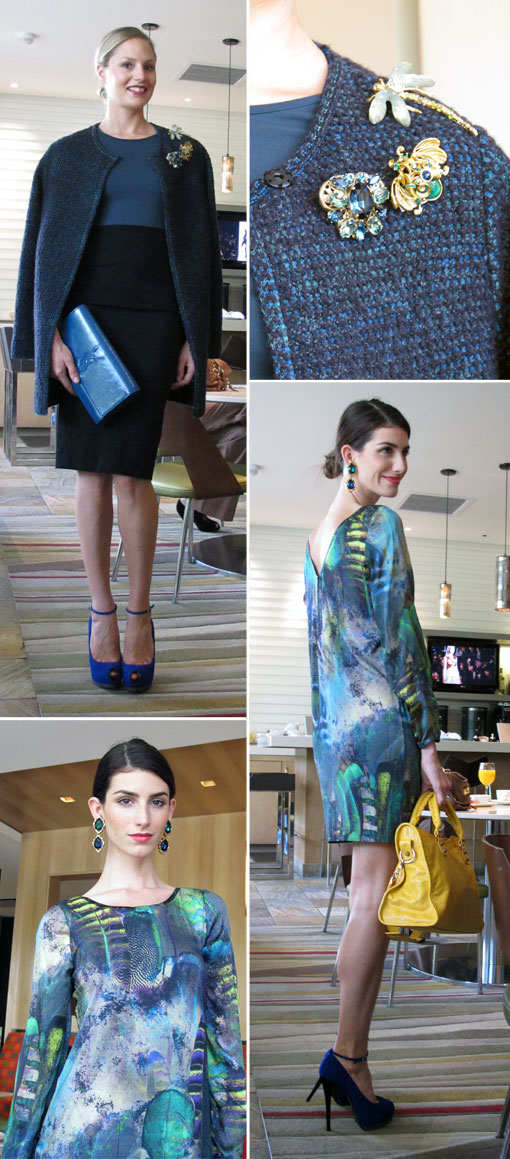 Top – Coat: M Missoni; Dress: Stella McCartney; Shoes: Giuseppe Zanotti; Clutch: YSL; Brooches: Alexis Bittar (dragonfly) Jose and Maria Barrera (bug) and Anton Heunis.
Bottom – Dress: CLUNY; Shoes: Giuseppe Zanotti; Bag: Balenciaga.
Earlier this week, I was lucky enough to attend Neiman Marcus Topanga's Fall Trends Breakfast. After some chit-chatting and a delicious breakfast in the cafe, it was time to view the Fall Trends show. The looks were so incredible that the 100-degree heat in the Valley didn't stop me from lusting. Now I have a fall wishlist a mile long! Some trends to note:
Mixed greens – from kelly to olive to sage…any shade will do.
Borrowed from the boys – yes, the menswear look is back and better than ever.
Leather leg – we said it before and we're saying it again.
The Smoking Slipper – comfort and sophistication.
Navy as a neutral – and yes, it's okay to wear it with black.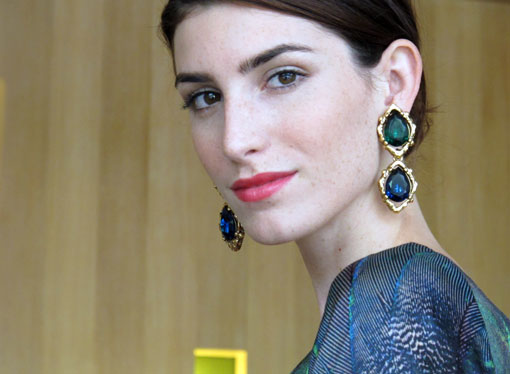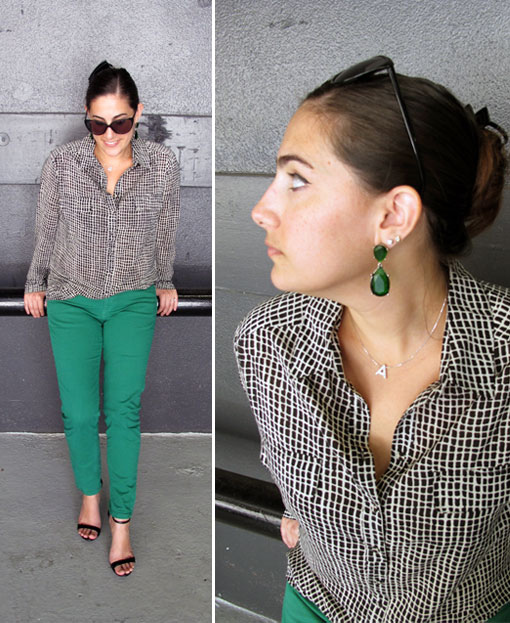 I just love rich color for fall and my favorite look of the day was the purple velvet suit by Rachel Zoe; it appears more bluish in the photos, but it's actually a gorgeous plum color in person. My favorite trend is definitely Mixed Greens…especially since I am a May baby and emerald green is my favorite color. For the breakfast, I was right on-trend (totally not deliberate) with my favorite emerald green drop earrings, green pants and a graphic black-and-white shirt. And, I guess it's no surprise that one of my favorite pieces in the show was the fabulous jeweled double drop earrings by Oscar de la Renta shown in the last look.
Which trends will you embrace? Which look was your favorite???
PS – we linked those items that are currently available on NeimanMarcus.com, but many are in-store exclusives to Neiman Marcus Topanga. If there is a specific item you are interested in, contact Lisa at the Topanga store and she can point you in the right direction.
– Ashlee, Brunette Contributor