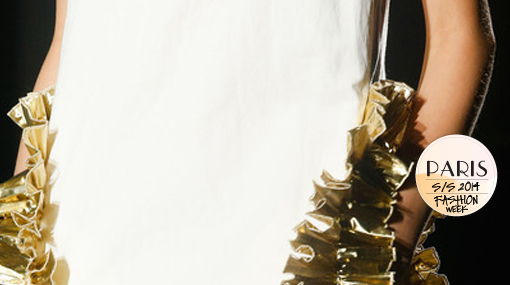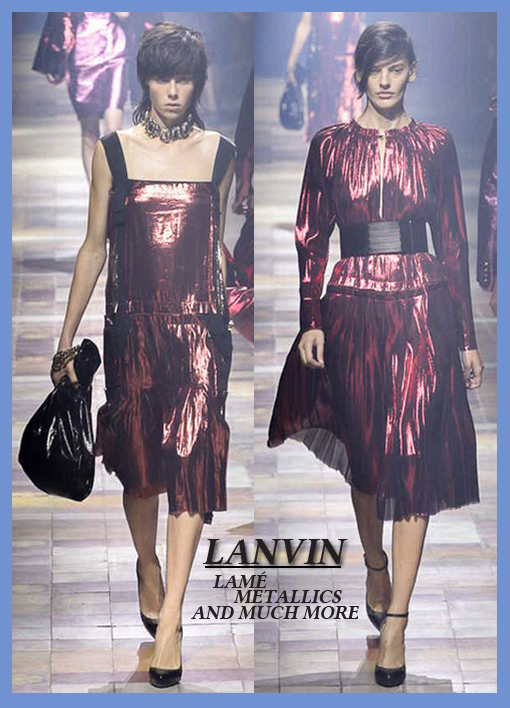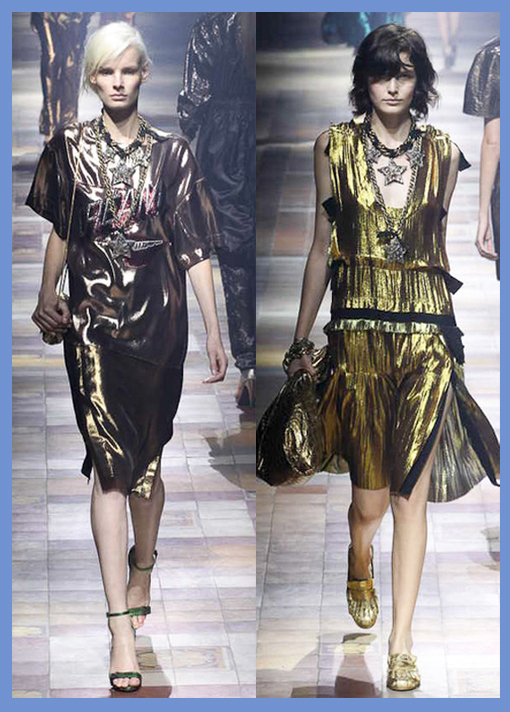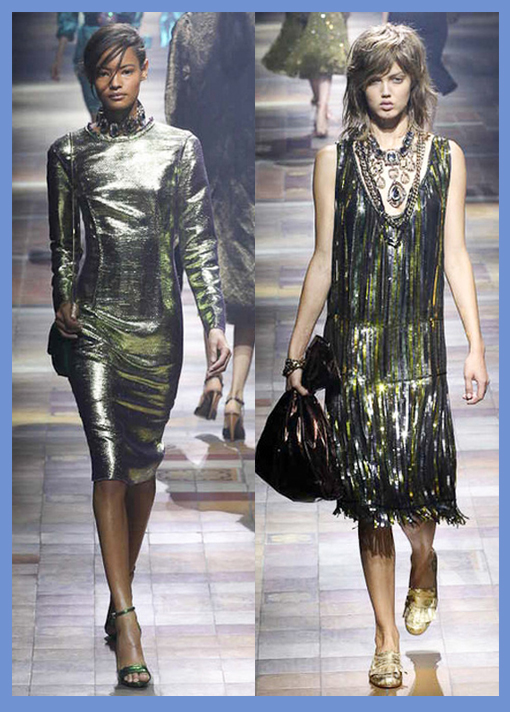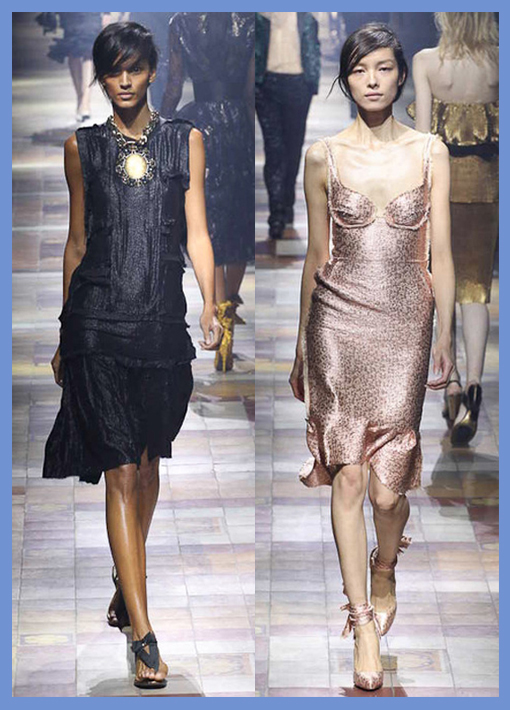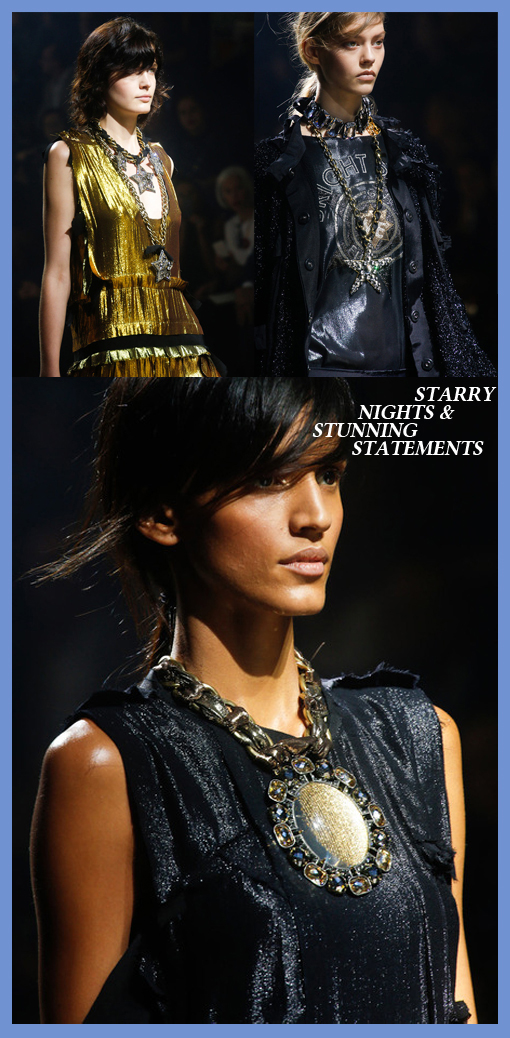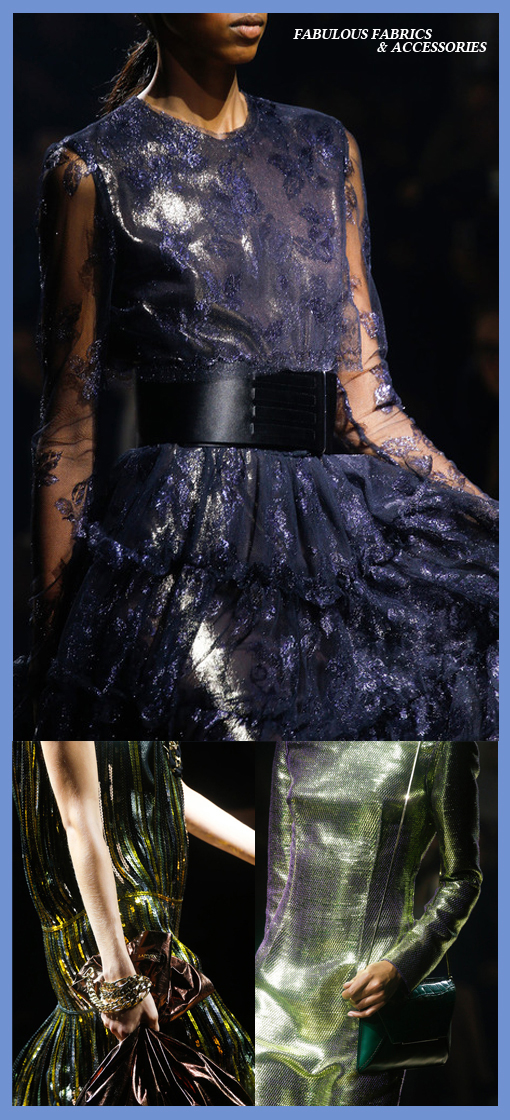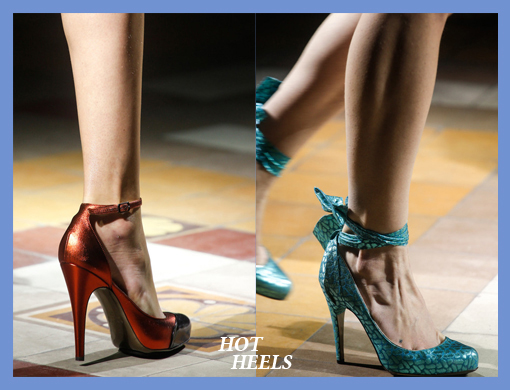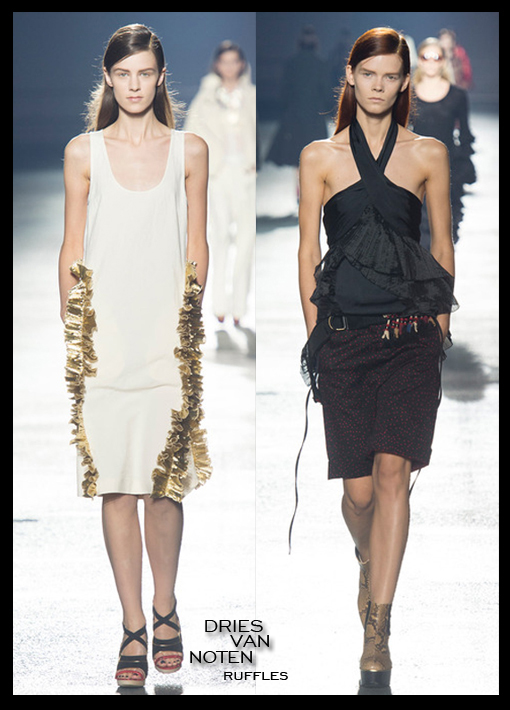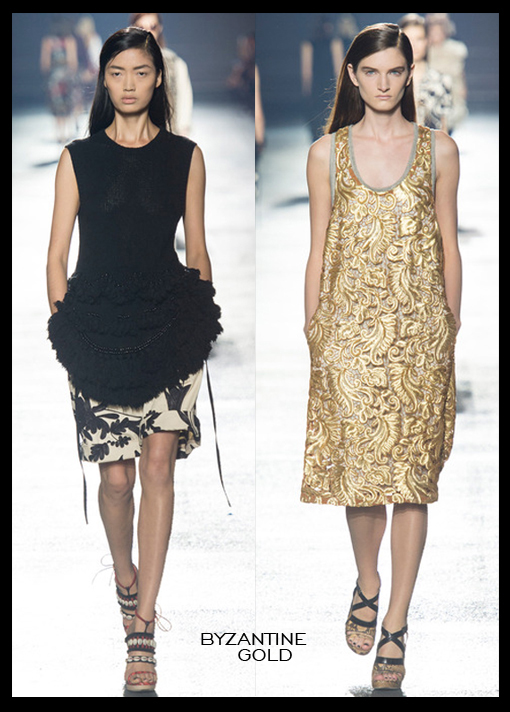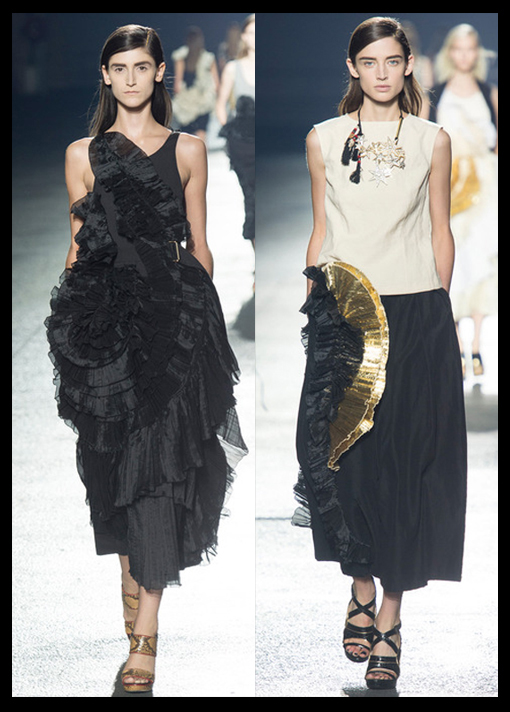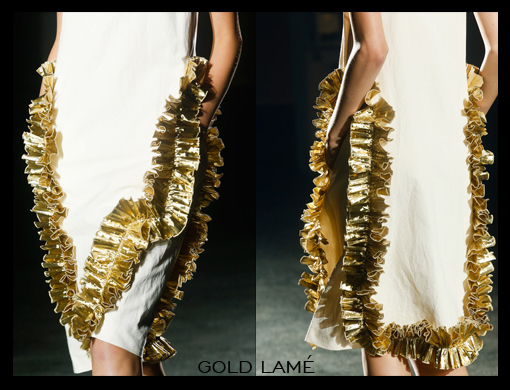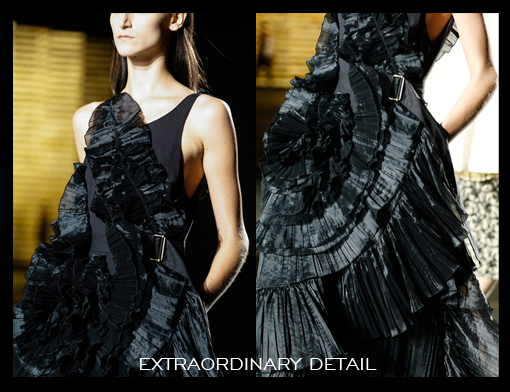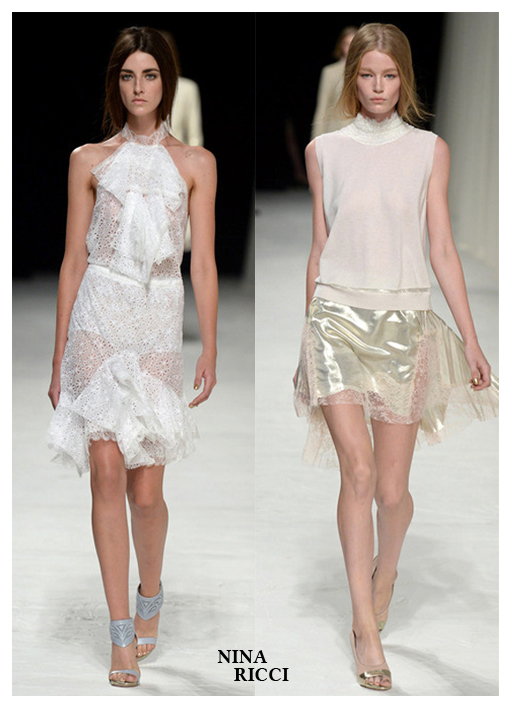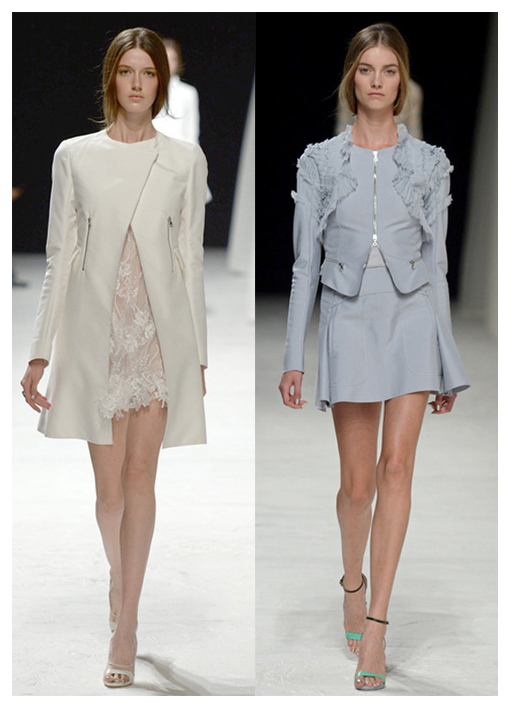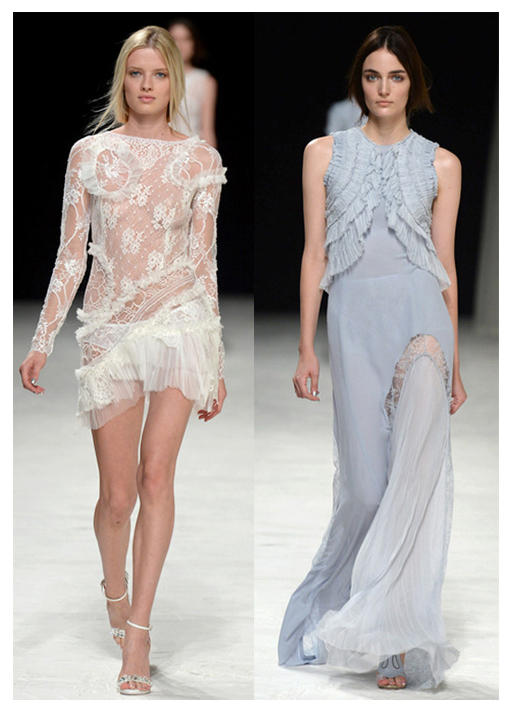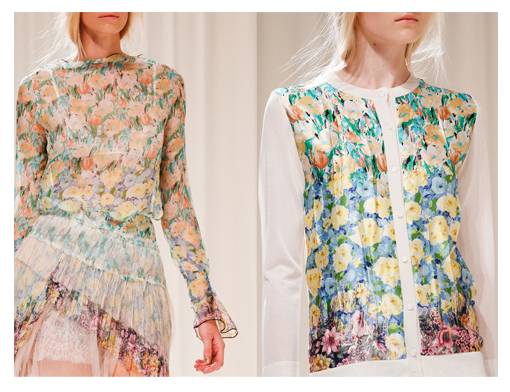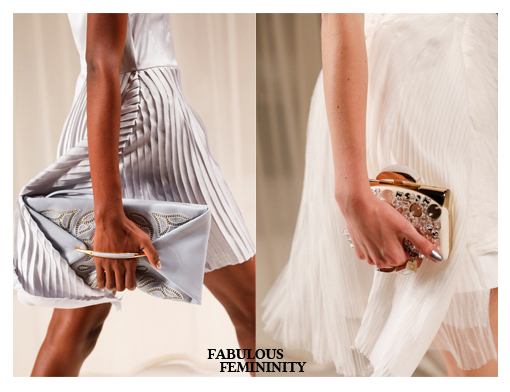 Alber Elbaz, the Lanvin creative genius, has once again "celebrated the individual", her style and how to put the light in a women's eyes. The best way? Lots of shine. I can't argue with that. In fact, I can't help but embrace it. For Spring 2014, he dipped into a yummy color palette from earthy gold tones (which seems to be a recurring theme in Paris) to the most flattering of jewel tones. Always fabulously chic, the evening wear was much more effortless (translation less structured) but also combined his signature sexy, elegant and relaxed vibe that women love. That's perfect for grown-ups, "it girls" of all ages, and Hollywood!
The sportswear was strong but honestly, the dresses that opened and closed the collection will be in editorials and on Red Carpets (maybe starting next week) and loaned around the world. I'll mail my address. Dresses ranged from sheathes, flappers, sexy silhouettes in over 60 fabrics (!!!!!). Lamés, tweeds, laces, brocades. Of course, no Lanvin runway outing is complete without those statement necklaces. Once again, I want everyone one of them. Did I mention my home address?
Some have said and written that luxury is not quite as luxurious anymore. Au contraire. Luxury is slipping on something so dazzlingly beautiful you feel yourself radiating. That's a fashion home run. Alber batted it in—again.
We also took notice of Dries Van Noten and his stunning parade of Byzantine gold, Ottoman tassels, and embroideries. I've always loved his mastery of fabrication and the complex juxtaposition he manages to balance between the opulent and the simple. The detail was extraordinary. Outrageous flounces of gold lamé ruffles, that remind me of Spain and flamingo dancers, an elegant gold and white contrast, and a funereal black seemingly straight from a Goya painting, eaching painting a picture of another time and place dropped into the 21st century.
Finally, we all love our dose of femininity and Nina Ricci delivered it for next Spring by mixing the feminine with the masculine. It started as a white out ( no surprise as white, white, white is almost everywhere) and then progressed into soft, stunning flowers and a heavenly shade of blue, delicate laces, touches of metallics, ruffles (are you sensing a trend?) and gorgeous clutches.
Je T'aime Paris
NJ Goldston, The Brunette