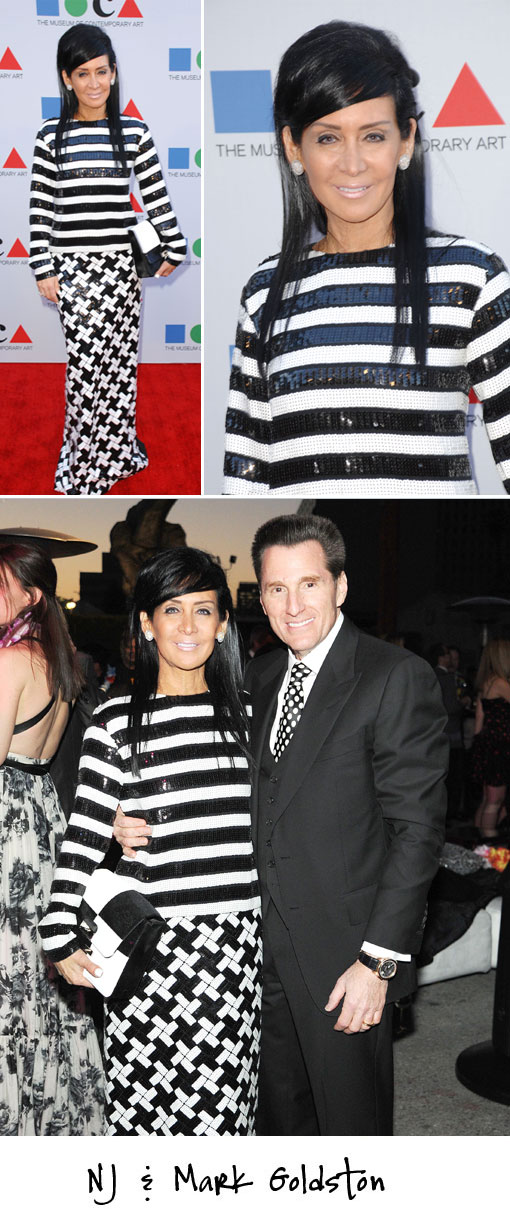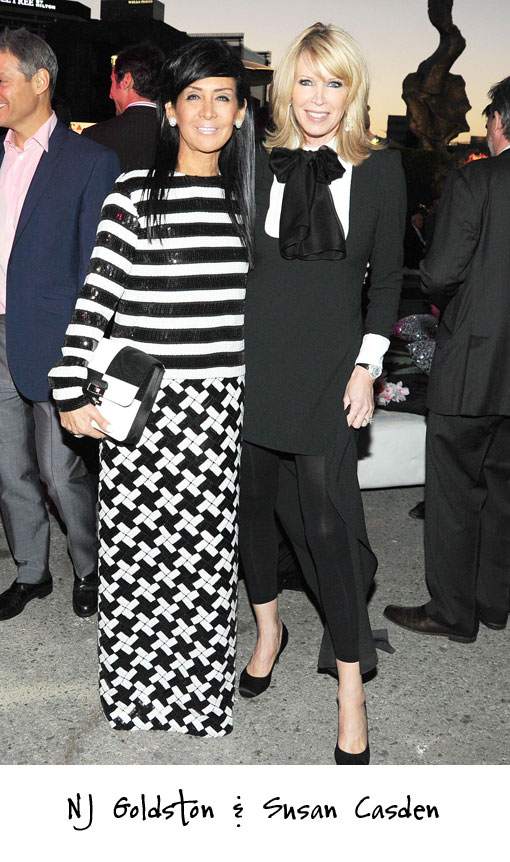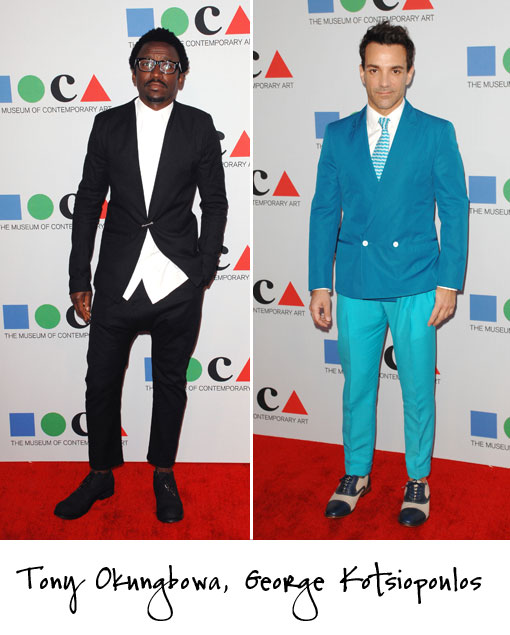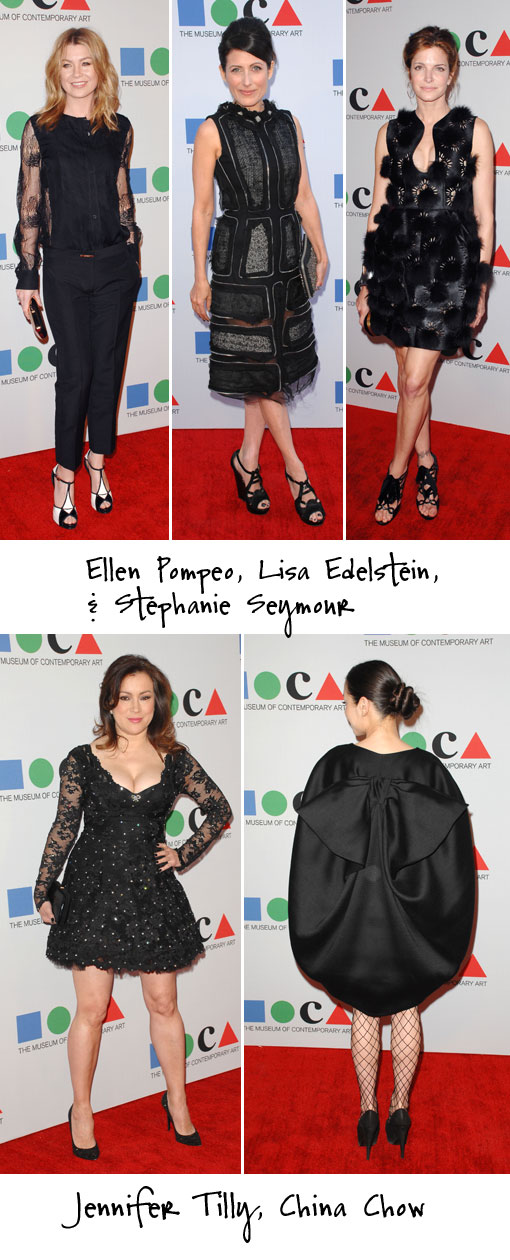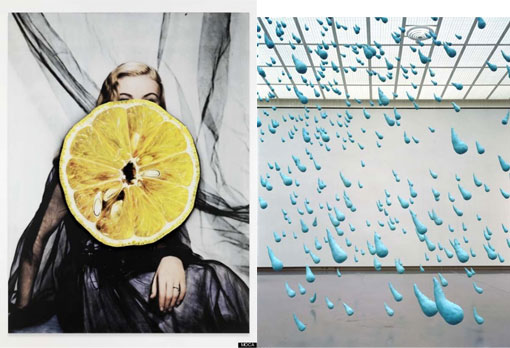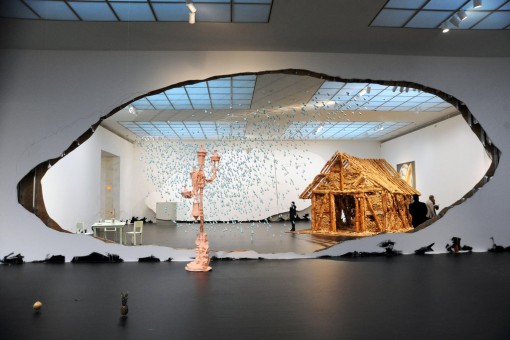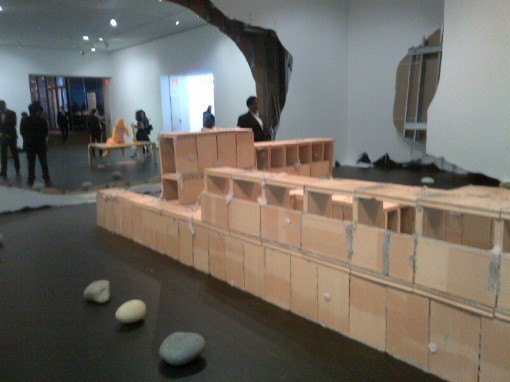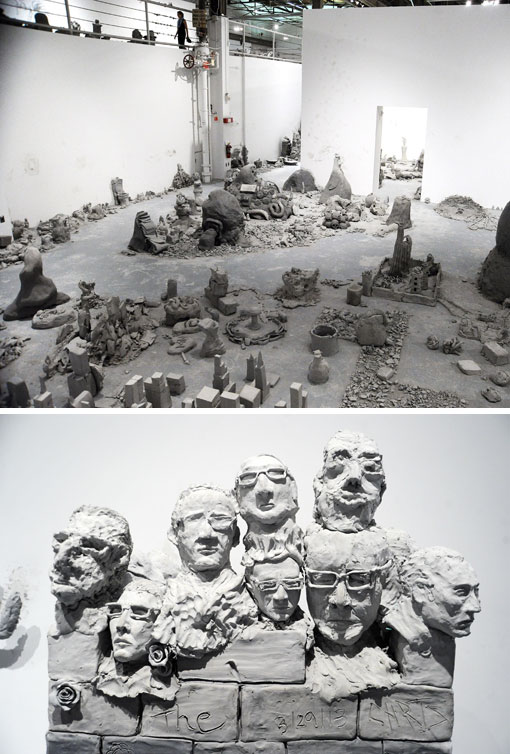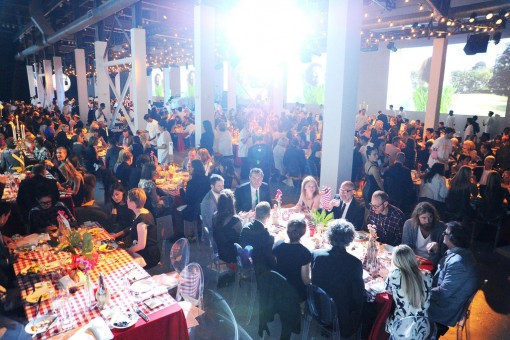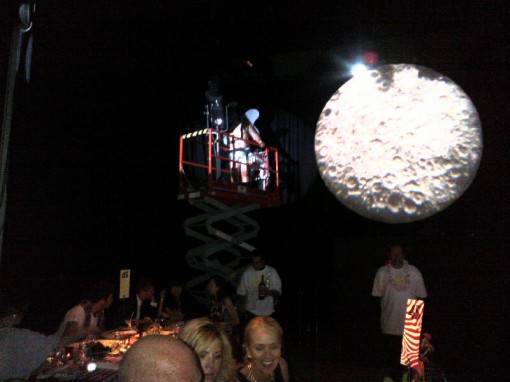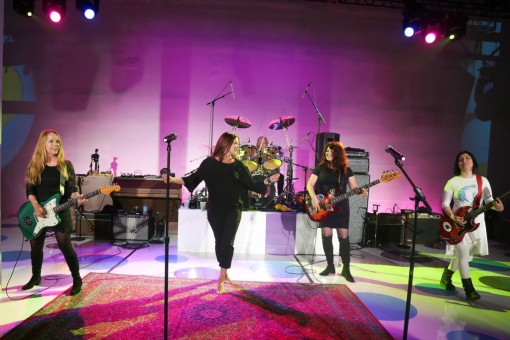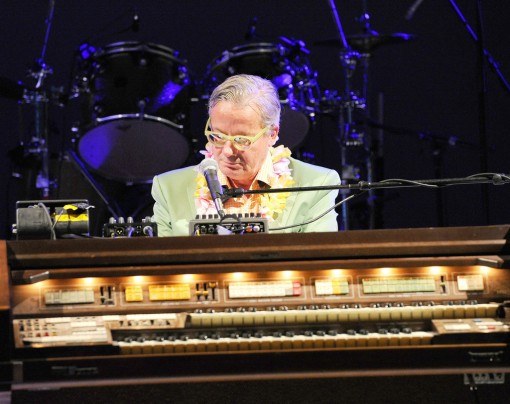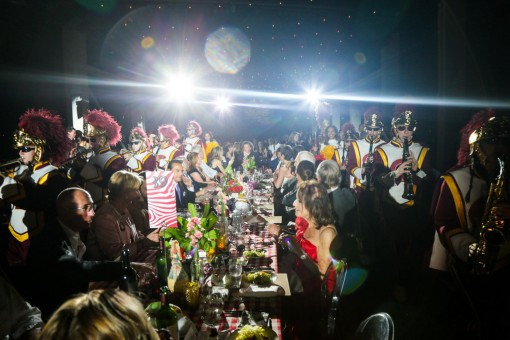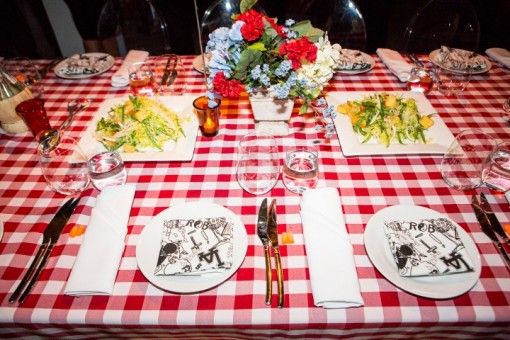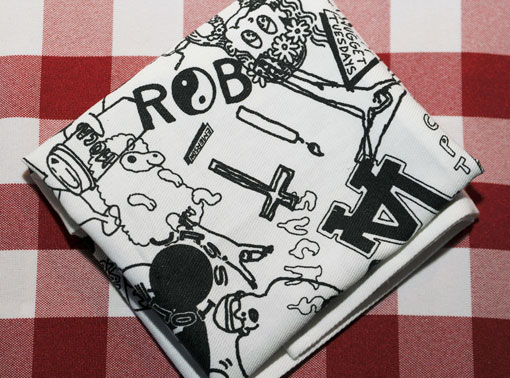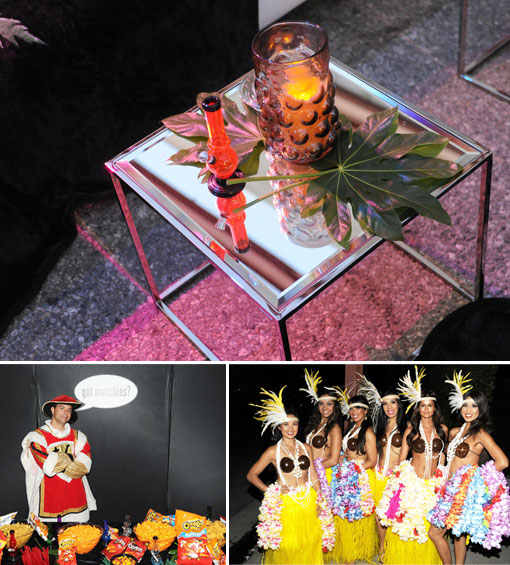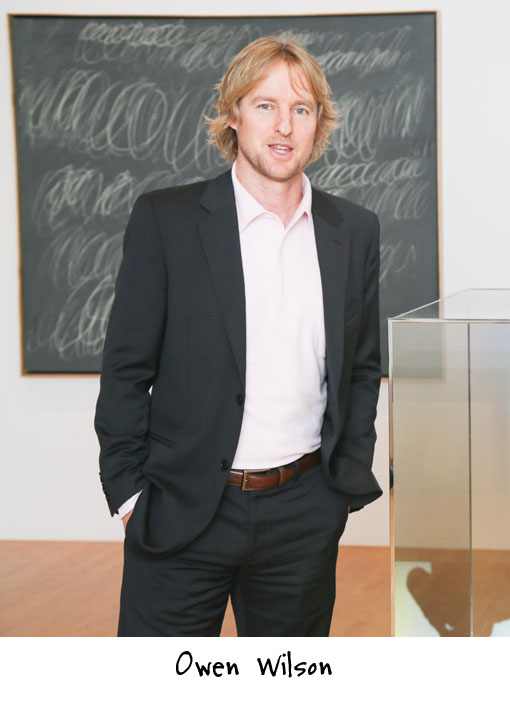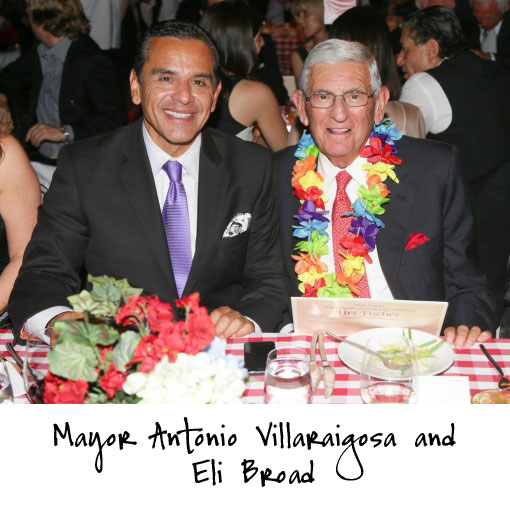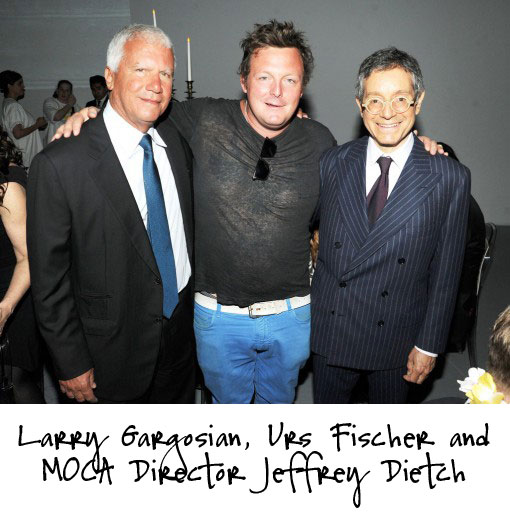 Photo credits: Patrick McMullan | MOCA | NJ Goldston | Billy Farrell/BFAnyc.com | David X Prutting/BFAnyc.com
Last Saturday night the annual star-studded MOCA gala said "YESSSS". This time under the "creative direction" of Rob Pruitt, the evening was envisioned as a "culture" or "power" clash of mismatched ideas. It was all about fun but a riff that included a collage-style mash-up of every party cliché you might ever encounter: mirror balls, couches, hula girls in coconut-shelled bras doling out leis, photo booths, a goat petting zoo (maybe not), trumpeters clad in medieval garb, wheat-grass shots, and saltwater taffy.
Courtesy of Ferrari, guests even had the option of driving their very own work of art to the MOCA Gala. If you did, there was an exclusive valet and red carpet on hand for owners and celebrities at MOCA Grand Avenue . What else would you expect in car culture LA-LA land? The arrival jumping off point, for a jam-packed evening, included the must-see viewing of the first major U.S. museum retrospective by internationally acclaimed Swiss born artist Urs Fischer.
But, wait there's more. Much more. First the fashion. The theme was festive and guests happily obliged in playful attire in the season's go to looks in black or graphic black and white. Stephanie Seymour and Lisa Edelstein both looked smashing in Alexander McQueen, Maria Bell, Gala Chair, wore Rodarte, and designer Laura Mulleavy was there to cheer her on. Christine Chiu choose a stunning Douglas Hannnant, while the irrepressible Jennifer Tilly, China Chow and Ellen Pompeo went with lace and elegant drama (adding sheers, fishnets or strappy sandals to amp up their style). Susan Casden was spotted in Saint Laurent.

The guys provided the real color for the evening including Cameron Silver, fresh off the plane from his latest NYC appearance to George Kotsiopoulis in an almost MOCA blue "suit" and Devo Founder, Mark Motherbaugh, who also performed, wore what seemed a MOCA green suit! Both men looked great on the step and repeat. Did they plan to match it? We'll never know. As a Dinner Chair, I went with a very high contrast black and white Marc Jacobs look paired with his white and black Louis Vuitton clutch. It may well be one of my favorite dresses of all time.

This was all before dinner. Guests then boarded specially decked out shuttles presenting a video by artist Cheech Marin to gather at the Geffen. Rob Pruitt continued his Po-Po-Mo, or "post-postmodern," party and put us all into sensory overload starting with the University of Southern California marching band, a performance by the Go-Go's, and Devo Founder Mark Mothersbaugh, on stage first on the electronic organ followed by comedic interludes from Nick Kroll and Kumail Nanjiani. This was all happening while bare-chested men in angel wings worked the spotlights, the smell of marijuana was pumped in, and video projections streamed across the walls over the course of the evening. Images alternated between the latest YouTube sensations, Internet cat memes, how-to videos, deep sea creatures, wild life documentaries, and a "Wolfgang-Puck-making-dinner" video.
Tables were set Italian trattoria style covered in red and white checked table cloths with Chianti bottle drip candles to simulate lunch at the the artists studio. Bright orange ear plugs were also provided. There was a noise factor. After all this was a bash!

Centerpieces included bong vases with hemp, Rob Pruitt napkins covered in seemingly drug-induced doodles and waiters wearing t-shirts with phrases from a poem by artist Marc Hundley, that when taken together said "Amazing things/Are happening/In this world." The ambiance was occasionally punctuated by the flurry of dollar bills that exploded from a nearby money cannon.
Sold out , we spotted a slew of interesting guests during the evening from resident DJ for The Ellen DeGeneres Show, Tony Okungbowa, Owen Wilson, Mayor Antonio Vilaraigosa, Gala Chair Eli Broad, Gelia and Wolfgang Puck, and Doug Aitken. During dinner guests also meandered through an expansive exhibit of clay animal figures fashioned by artist Urs Fischer and an army of 1,500 volunteers (including our very own Ashlee McNulty).
The result. MOCA grossed $2.5 million on the heels of the Board of Trustees' announcement that it has received commitments that raise the endowment to $75 million toward the goal of boosting the museum's endowment to an initial $100 million.
Now that's amore!
xo
NJ Goldston, The Brunette