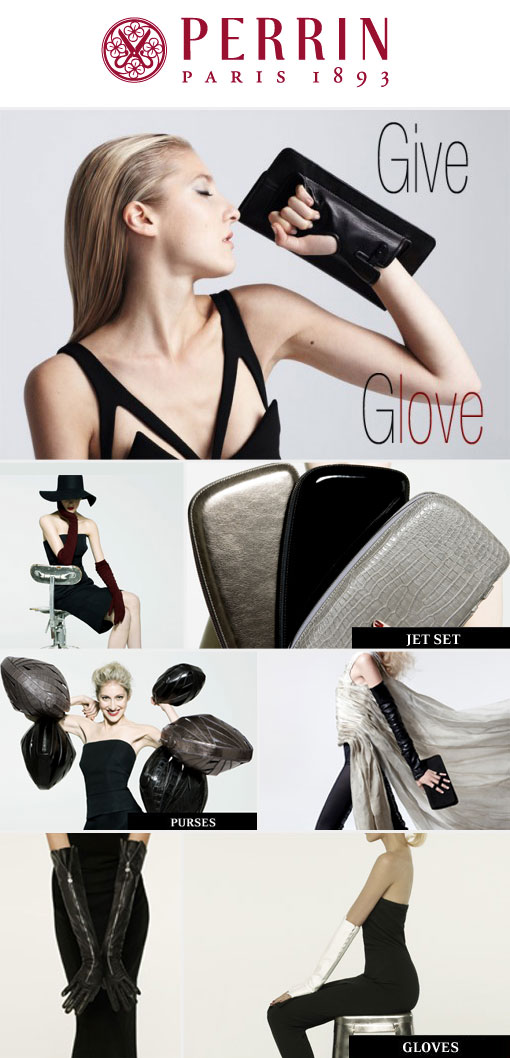 If you are thinking about "Giving Glove" or still personally a bit transfixed on great fashion fetish items, the House of Perrin is a very special choice for their ever so stylish "Ball Bags", Purses, Jet Set clutches, exquisite Gloves and dramatic Eyewear. Founded in 1893, with roots as master glove makers, Perrin is based in Paris and their flagship store is in Beverly Hills. They are a fashion fixture and style must in almost every high fashion editorial.
Today, the Perrin family continues to work with passion and a respect for it's longstanding tradition of quality craftsmanship. Michel Perrin opted to return to his roots in order to move the House of Perrin into the 21st century, launching a capsule collection of leather handbags and gloves in 2006. His stunning American-born wife, Sally Perrin, a former model and now the Creative Director, have taken the line to a whole new level with their very original line of luxury leather accessories.
One of our personal favorites at The Blonde & The Brunette is the daring Sacs Du Soir Manchette wrist sleeve clutch pictured. It seems like the perfect solution to an evening clutch with an exterior flap and interior zip pocket. Clutch on one hand. Glass of wine in the other. Available in black or brown. But I must say, we love the gloves most of all. Visit them online or at either boutique. Beverly Hills: 346 North Beverly Drive/Beverly Hills, CA 90210. 310.786.9936 or in Paris at 35, rue des Petits Champs 75001 Paris, France . 01 42 97 40 26.
NJ Goldston, The Brunette