NJ, The Brunette & Kathryn, The Blonde. Petra Stunt and Sari Anne Tuschman. Julia Sorkin, Christine Chiu and Marika Tsircou.
All photos by: Alex J. Berliner/ABImages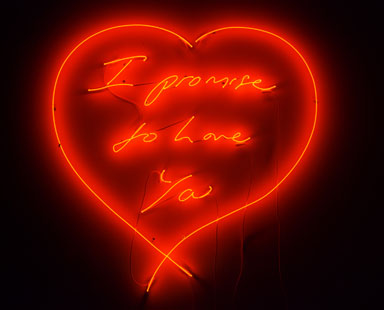 Tracy Emin Neon Light Sculpture
We love finding out about new designers and there is a new girl in town. Who is it? Petra Ecclestone Stunt, the 22 year old daughter of Bernie Ecclestone, recently transplanted from London and the newest resident of the former Spelling residence. Saks Fifth Avenue Beverly Hills and Los Angeles Confidential Editor-In-Chief, Sari Anne Tuschman, recently hosted an intimate luncheon to welcome Petra to LA and debut her STARK Handbag Collection.
The event was as perfectly structured as the bags. Guests mingled before lunch including a great interview, led by Sari Anne Tuschman, who asked Petra about her inspirations behind the line. She spoke about being influenced by her fashion model mother Slavica as well as being a devout collector of Tracy Emin's neon light pieces. When asked about who her ideal customer might be, she noted that she loves to create something unique for fashion forward women while injecting a youthful spirit. That's just what she did with her new collection which combines functionality (really!) in a wide array of neon colors.
Made in Italy, the Spring/Summer 2012 line of assorted cylindrical, box and rectangular clutches feature panther clasps, exotic skins, or stunning Swarovski crystals treatments with many in bright leopard prints. Each bag also has Petra's signature green lizard piping in the lining, with gold rivets and buckles. Petra's style tip for daytime was to pair a more casual day look with a sparkling clutch. So, of course, we all tried it and it works. We love the new trend.
Entry prices start at $475 for nappa leather up to $4,795. Materials include ultra-luxurious alligator skin, Nappa leather with gold studs or Swarovski crystals details. Available at Saks Fifth Avenue in Beverly Hills and other locations.
NJ, The Brunette and Kathryn, The Blonde