Last week, when Rachel Zoe took to the stage with Ken Downing, Fashion Director for Neiman Marcus, at the exclusive event showcasing her Fall Debut Collection at Neiman Marcus Beverly Hills, we had the rare treat of hearing them banter and critique every look including her exclusive pieces just for Neiman's. This time The Blonde & The Brunette thought we'd try something different so you could join in on the fun. You'll feel like you were there with us, as Rachel and Ken dish about the inspiration behind the looks. You'll hear some familiar names and role models who inspired "the uptown chic and downtown cool" of the collection.
RZ: I have a tuxedo obsession-in white. KD: This is how you say "Chic" and YSL at the same time for sure. Any women can and should wear it. RZ: Wear white with abandon. It's so super feminine.
RZ: Love, love sequins. By day, by night. What women doesn't love sequins? Come on! Oh, just, loving winter white now too. And this "Angelica" high-waist-ed pant is perfect for making your legs miles longer. My whole mission in life is making legs look longer. And the sequin top. Of course, it the Bianca. Named after Bianca Jagger. Can't you just see her in something like this in the 70's?
RZ: What can I say…faux Fur, real leather, skinny jeans, super comfortable platform boot with built in cushioning.
RZ: Maxi Dress! The Diane maxi-dress, inspired by Diane Von Furstenberg. Can't you just picture her on a yacht in the 70's in this. Of course, you have to be barefoot on a yacht but I sneak my heels on under my long maxi's. KD: The great thing about this look is you can wear it casual or dressy. Functional and fashionable. Big earrings! Wear great earrings!
RZ: The camel trimmed Ali Cape with black leather. Ali McGraw. Love Story. Loving camel and how this changes in different ways. Really 4 to 5 ways. KD: And this item, and in fact the whole collection, doesn't have an age on it. It's so versatile.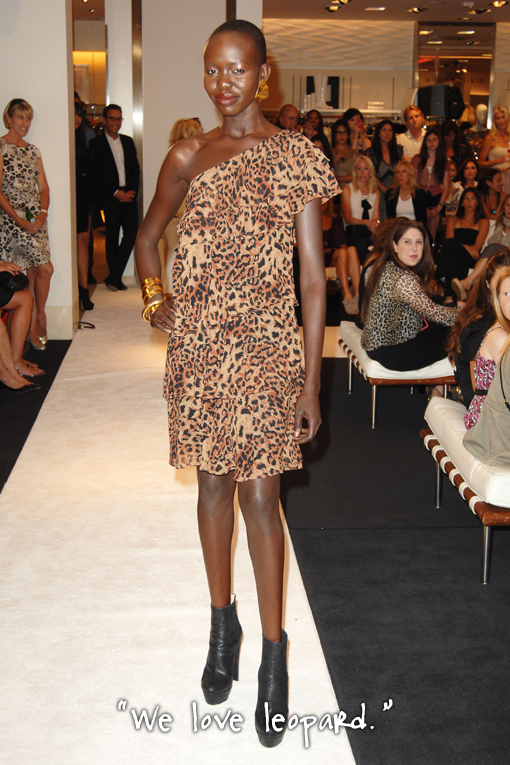 RZ: We love leopard. This is an ode to Ken and a NM Exclusive. Never too much leopard. (The whole audience is laughing). KD: We can never have too much leopard in the store! I'm saying it again. Never too much leopard!!!!
(Crowd is applauding.) RZ: We all love sequins!!! This is named the "54". After Studio 54. KD: It says, "Wear me and go dancing".RZ: Love with the ankle boot and the one shoulder is the most flattering silhouette. Exclusive! RZ: Even the boots. Lady Chic! (This ships in for holiday).
RZ: Ensemble dressing: it looks expensive, it looks chic. And I have no style rules.
RZ: Exclusive to Neiman's: The Iman top. Can't you just see her in it. The whole look makes you longer. So sexy.
RZ:This is the perfect flirty dress. KD: Flirting is the best sport in the world. Show some neck. Show your shoulders!
RZ: Nod to the mod. A lacquered sequin dress. KD: I'm just saying, "If you want stand out in a room. The best in a room. This is it." The Peggy (after Peggy Moffitt, we assume).
KD: Bordeaux or red is insane for Fall. Love this "Ginger" dress. Sexy, flirty & fun. RZ: This is a dress you can picture yourself in and it's still affordable. We're all looking for that great dress we can wear in the evening that's perfect for any event. This is it.
RZ: Bias and velvet panel dress with the diagonal bands. So flattering instead of a band across the hip. KD: Timeless elegance.
RZ: A Charlie Girl moment! A perfect fit with a masculine point of view. KD: Very Seville Row. London influence. RZ: I have to say it again. My whole mission in life is to give everyone longer legs. Love these boots with the gold buttons up the back.
RZ: Gold brocade jacket. KD: Ensemble dressing, all so new again. RZ: Dress up, everyone. Perfect cocktail dress with a perfect jacket.
RZ: More sequins with bugle beads and nautical blouse. KD: A nod to "mademoiselle". Great with jeans. The perfect cardigan.
RZ: The Diana dress in black sparkly print. Bohemian. KD: Effortless glamour. And of course, the subtle metallic leopard. Leopard!
RZ: Classic Parisian cocktail dress, ruffles!
RZ: More leopard, animal, sexy, elegant. KD: Amazing for fall or all year.
RZ: Large sequins (known as palettes), ruffled leather jacket. This was really about people buying the clothes not just looking at them!
RZ: A coat with faux fur. Military with an eskimo twist. Epaulettes at the shoulder. KD: Just perfect tailoring.
RZ: One shoulder white cocktail dressy. KD: The perfect flirty dress.
RZ: One piece tuxedo jumpsuit! Chic, sexy, androgynous look. One of my favorite looks.

Now it's your turn to try and decide which is your favorite look. Everything is available at Neiman Marcus, in store and online. And one other thing. I think I need a darker lipstick. I'm going to take Rachel's style lead and give it a whirl.
– NJ, The Brunette & Ashlee, Brunette Contributor