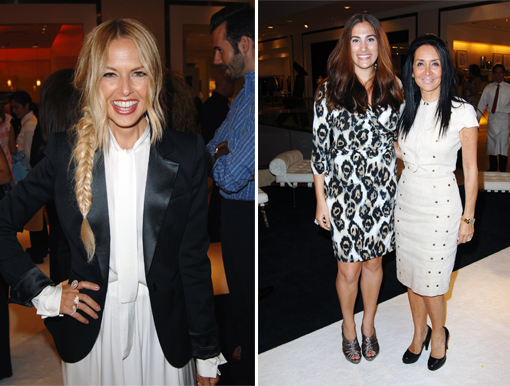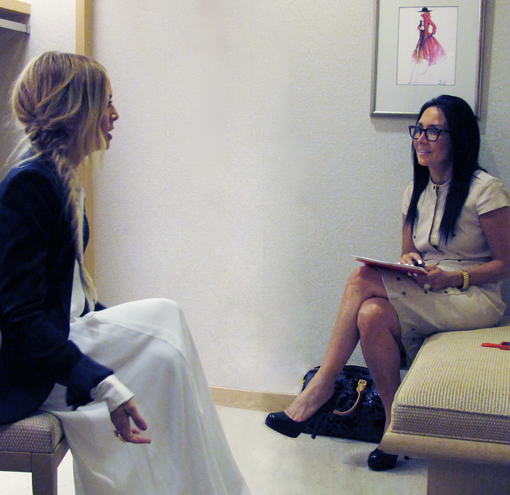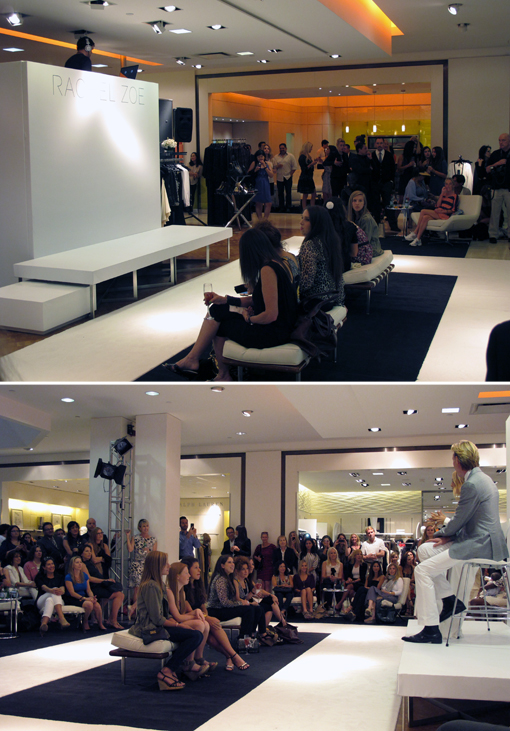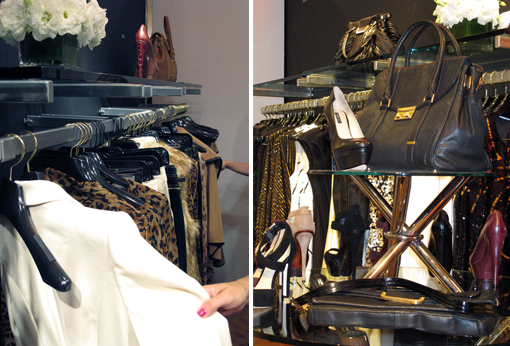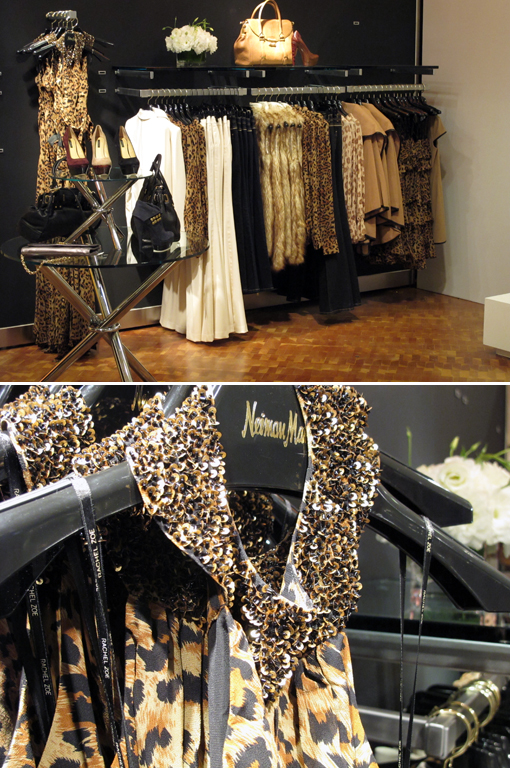 Did we mention how much fun it is to do The Blonde & The Brunette especially when Neiman Marcus Beverly Hills hosts an exclusive event to showcase Rachel Zoe's debut collection? Best of all, we sat down with Rachel, just before the big fashion presentation, to talk about her collection and get a few special snippets of fashion wisdom. Here we go!
B & B: Rachel, congratulations. Your debut collection is a huge success. You're an amazing role model and entrepreneur. You just get it done and you're leading the charge just as everyone is starting to talk about the economy and another dip. Let's talk about the elephant in the room. Why does fashion matter? Especially right now.

Rachel Zoe: Women always need to feel good about themselves. To be honest, after 9/11, I had a friend who is a brain surgeon in New York, and I said to her, I don't want to do this job anymore. My friend went through so much as part of treating patients during this time, she said to me that one of the only things that helped her get through the time, was just going out and getting a pretty dress and feeling like a person again. It's almost escapism. I don't want to go that deep but I think you make smarter decisions in a bad economy and you use your money much more wisely and you should. And I don't think you need to walk around in your pajamas but you still need to feel good.

B & B: We got The List (For Fall) from Neiman Marcus a few weeks ago. Bordeaux, Lady Chic, Color Blocking, Fur, Leather, Shimmer, Pumps, Handheld bags. Did you collaborate with Neiman Marcus or is it a happy coincidence that these themes have resonated with both of you?

Rachel: Yes. It's a good coincidence. Ken Downing (the Fashion Director of Neiman Marcus) and I have been good friends for a long time. We've sat next to each other at fashion shows for years. We have a similar eye for things. We really love the same things. We're totally in synch in a good way. (Lots of laughter) And we share the same birthday. September 1 (so the B &B started to think maybe those great Virgo traits are the perfect barometer for a successful fashion career). But it is just that, a great coincidence.

B & B: What item in your fall collection is the "must have" to add to your wardrobe?

Rachel: It's hard to say. I am very attached to everything. It's my first collection. I feel like every piece is my baby…the tuxedos…and I am very attached to the tuxedo jumpsuit. The Bianca top for sure. The Diane dress. Oh, I am really attached to every piece.

B & B: Do you have any looks you recommend for a blonde versus a brunette?

Rachel: Not really. Sometimes colors can vary for sure depending on things. I tend to love warm honey tones (for a blonde). But, it's not so much a blonde and brunette thing as much as a skin tone thing. It really depends. There are things I look awful in that friends of mine look great.

B & B: So I think we both agree that, as much as we love to use hair color to guide us, your skin tone is the crucial element in determining your your best color palette. Moving on, what do you think are the keys to looking great at any age?

Rachel: I think this collection is pretty ageless. It's more how you wear the pieces as opposed to which pieces. I like to use the example of the tuxedo. Buy the whole tux but then just wear the jacket with jeans, then wear the pants with a t-shirt alone. Then use the tuxedo for that great dressy look. If you're a teenager, wear the tuxedo jacket with shorts. Or I love the example of the Ali cape which my mother can wear and my sister can wear too. It's more a how you wear it. It's how you style it.

B &B: I think you are giving us all permission to allow ourselves to think out of the box. Be flexible. Love that. One of the things we love to do is ask a few rapid fire questions. Here we go.

B & B: The sexiest look for a woman is…

Rachel: A tuxedo look.

B & B: A confident woman wears…

Rachel Zoe: Pants! (Lots of laughter because Rachel is wearing a maxi skirt!)

B & B: If you are petite…

Rachel: Go with the maxi length! (more laughter)

B & B: If you are tall…

Rachel: Shorts. Show those legs. Just wear a bathing suit! (She's joking.)

B & B: Do…

Rachel: Buy classic.

B & B: Don't…

Rachel: Only buy trendy pieces.
Of course, we thanked Rachel for her time. She is thoughtful, fun and passionate about her work. She even congratulated The Blonde & The Brunette on our Webby honor, as it is in her words, "the Oscars of the Internet". Later that evening we also met her husband, Roger, who is the Founder and CEO of The Webby's. He couldn't have been nicer. Of course, baby Skylar was also there, supporting his mom. Fashion and family, what a great combination. We'll have more with Rachel next week. Maybe sooner.
– NJ, The Brunette & Ashlee, Brunette Contributor