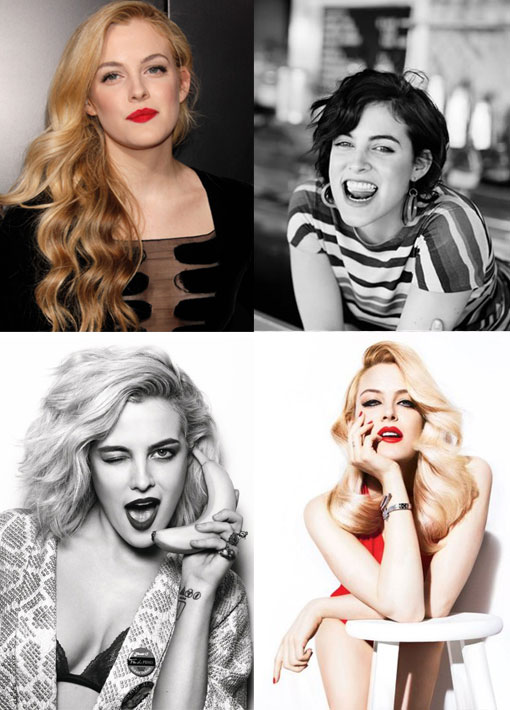 Just last week, Danielle Riley Keough (who goes by her middle name Riley) was able to sit down and chat with me before leaving on a 6 month trip to Namibia, Africa! She is currently there working on Mad Max, where she co-stars along talent such as Tom Hardy, Charlize Theron, Nicholas Hoult, Rosie Huntington-Whiteley, and Zoe Kravitz. I'm hoping to make it out there for a visit later this year, and I'll be sure to keep you updated as to how it goes!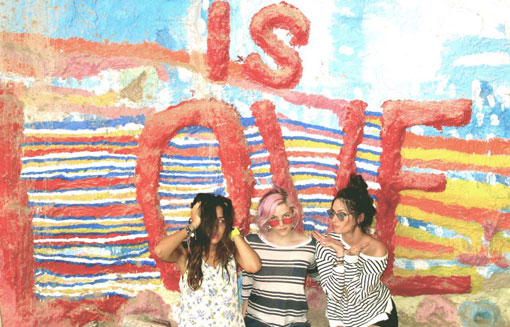 I've known Riley since we were both the wee age of two, and have been lucky enough to watch her blossom from an adorable little girl, to directing home movies, to walking runways in Milan (at a mere thirteen years old), to getting her first part in a feature film.
The sky is no limit for this girl!
At just twenty three years old, she is not only an inspiration, but she portrays the description of young hollywood glamour perfectly. Glamour: The attractive or exciting quality that makes certain people or things seem appealing or special. After a modeling career most people could only dream of, we are so excited to see her hit the big screen this year with a handful of movies pouring into the box office. From her start as Dakota Fanning's sister in "The Runaways" to Orlando Bloom's love interest in "The Good Doctor" (talk about jealous) to Jack and Diane, where she plays a young lesbian, she is about to take the film industry by storm. All this talk of movies, let's not forget "Magic Mike", her newest theater release due out on June 29th. We can't wait to see her work the pole as a stripper as she stars along side her real life fiancé Alex Pettyfer! Talk about hot!
Now let's get to the fun stuff. Introducing, Miss Riley Keough.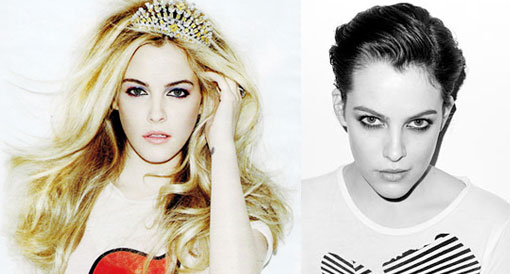 Who's your favorite blonde? (Dead or Alive) Abbey Lee Kershaw.. great looking blonde
Who's your favorite brunette? Hmmm.. Shelley Duvall
You've just wrapped up a handful of movies including Jack & Diane, Yellow, The Good Doctor and Magic Mike. Anything else that you're looking forward to? Well, I'm currently filming my next movie Mad Max, which is very fun. After that, I'm just looking forward to Christmas.
All your life you've had long blonde locks, but you recently shot "Jack and Diane" where you had to cut your hair into a short brown bob, as well as "Magic Mike" where you sported rainbow locks, now you are back to a classic blonde bob…
Which hairstyle do you like the most? I think pink was the most fun, I also had it light purple for a minute, that was neat.
Which do you feel the sexiest with? Probably red, or my natural color which is a dirty blonde.
What made you realize you wanted to take the plunge from being a model to becoming a full fledged actress. I have always wanted to do something in film. Modeling was just a way to make a bit of extra money, but I knew eventually I wanted to do something in film, never even necessarily acting.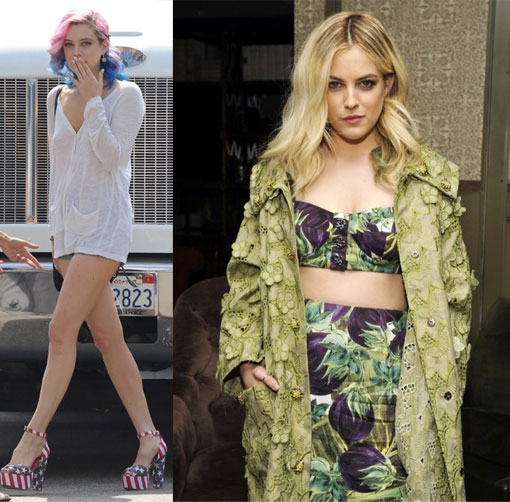 How would you describe your personal style? I usually like to dress comfortable. It depends on the weather. I love coats, and I love dressing up. When I dress up, I tend to stick with more classic dresses, I like black.
Lingerie or Naked? Naked.
Would you say you take a long time to get ready when you are heading out for the night? What about just running out for an errand? It usually takes me about 30 minutes to get ready. Unless its some kind of event then I take a bit longer. If I'm running an errand, only takes me 10 seconds, just enough time to grab my bag and put some shoes on.
What is your secret weapon when it comes to beauty? Any products you just couldn't live without? Sunscreen…I am a firm believer in it.
Do you prefer a giant or mini handbag? Mini, I like little things.
If you could raid anyones closet living or dead, who's would it be? Jane Birkins.
Favorite keepsake given to you by someone special? Any prized "bling" that is your favorite? A ring my father gave me, it was his mothers wedding ring, just a simple diamond band.
Favorite books? / What book is on your nightstand at the moment? I'm reading The Wind Up Bird Chronicles right now.
Do you have a favorite Quote? Words to live by? Treat others as you'd like to be treated.
Past fashion blunder that could have gotten you a spot on the Fashion Police? What were you wearing? I'm sure everything I wear could get me on the Fashion Police at some point. Just depends on what mood the Fashion Police are in, they're unpredictable, like real police.
Favorite travel destination? Japan.
Favorite Los Angeles hang out? My house!
Favorite online stores? I dont actually shop online. Ha ha ha. I'm old school.
If you could see one fashion trend come back, which one would it be? I feel like most of them have already come back. Maybe people dressing in full 18th century style? I would like that, I would dress up a lot more.
What is your idea of the perfect weekend? Eating ice cream and driving to the beach.
What is your favorite scent? Coffee…or lavender, rose and orchid. I love flowers.
Favorite designer: I honestly don't have one, there are just too many.
Go to travel outfit: T-shirt, jeans and a jacket. Airplanes are freezing.
Sunless tanner. Yes or Never? I prefer being fair skinned because its my natural color so I would have to say never.
Can't live without beauty professional: Sunscreen.
Since you are our favorite "beauty supply" junkie, what has been your most effective face product: There is a face mask called Glam Glow that I really like. You can get it at any department store. Most of my other beauty products are weird concoctions I've created along the way.
Favorite drug store product: I love Maybelline mascara. And nail polish, even though I never use it.
Necessary weekly "pamper": Facial.
Favorite workout: Yoga. It's the only thing I enjoy that's active, I absolutely hate working out.
Best diet trick / diet advice you've ever gotten: Not putting too much attention on that kind of thing. I feel like people who put too much attention it end up unhappy. Everything in moderation I suppose.
What is your one most necessary extravagance? Face products, and good food. Good cheese, good olive oil, and good wine.
Till next time!
Xx. Jadan Huter